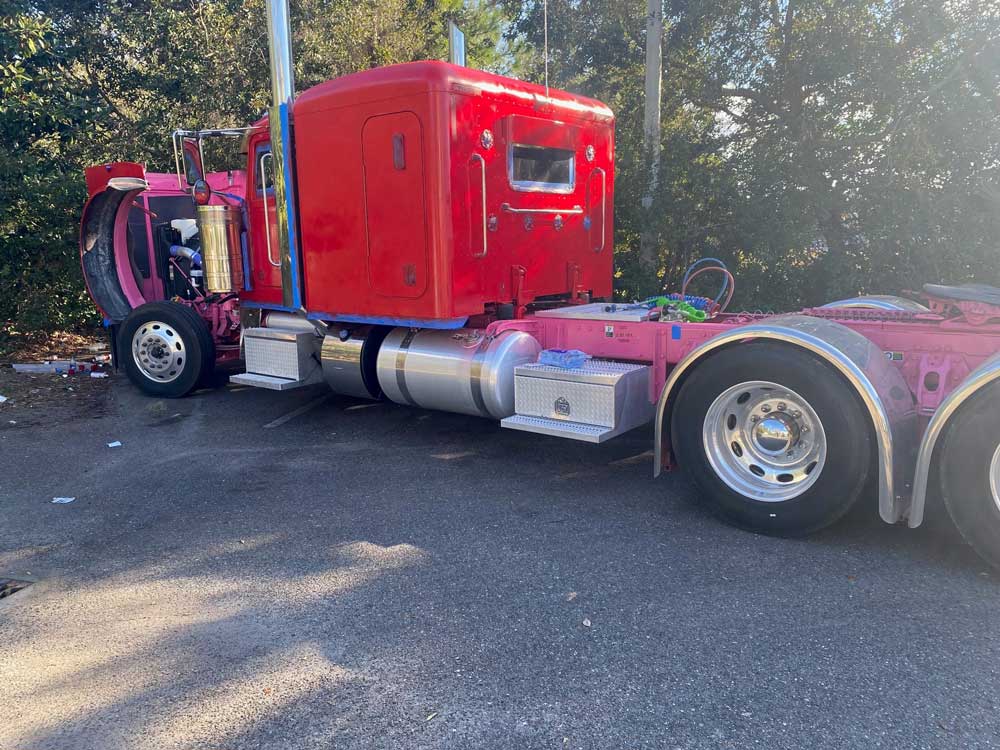 Dayanly C. Gonzalez, 33, and Reinier Perez Torres, 28, both of Tampa, are facing six felony charges between them for the alleged theft of a semi truck registered in Mississippi and belonging to Coral Gables-based Tobico Logistics.
The couple had themselves tipped off a witness to their theft when the witness saw them spray-painting what appeared to him to be a brand new truck in the corner of the parking lot at the Days Inn in Palm Coast Monday afternoon. They were doing so with bright, scarlet-red paint–the kind of vehicle color associated with vainglorious attention-seekers.
The witness called the Flagler County Sheriff's Office.
Gonzalez and Perez Torres were still there, spraying away–with red paint–when deputies arrived. But as soon as they spotted a deputy step out of a patrol car, they fled through the woods, toward I-95 by way of the southbound off-ramp. A deputy ordered them to stop. They kept going. He caught Gonzalez. Perez Torres kept going.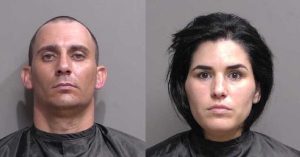 The chase set off quite the commotion in the area of Palm Coast Parkway as numerous sheriff's units converged and Flagler County FireFlight, the emergency helicopter, went airborne to assist in the search, causing residents passing by to speculate and fear a more serious crisis than was actually unfolding. The individuals were not armed.
Perez Torres continued to run south on the Interstate, and was seen trying to hitch a ride before hiding in the woods for two hours. As deputies searched for him and searched the area where the truck was parked, they found a GPS tracker that was traced back to the Peterbilt semi-tractor that, as deputies discovered, had been stolen hours earlier from Columbia County.




Perez Torres was not found, at least not during the initial search. Deputies dismantled their perimeter. But at close to 5 p.m., a driver reported that a Hispanic man was waving down cars in an attempt to hitch a ride. The description matched that of Perez Torres. A deputy drove to the scene, and that's the ride Perez Torres ended up getting–back to the Days Inn.
Gonzalez, who was identified through her Cuban passport, claimed to deputies that she was working with Perez Torres on an unspecified job, other than that it involved moving what she referred to as "cargo." She did not say what kind. She told deputies she'd known the other man for two months, and that the truck belonged to him.
Searching Perez Torres, deputies found the truck's VIN sticker in his pocket (that number had been entered in a law enforcement database in reference to a stolen truck, but out of Manatee County). They also found a dollar bill with a "white powdery substance" that, once field tested, "returned presumptive positive for fentanyl," according to his arrest report.




"Thanks to another concerned citizen calling after 'See Something, Say Something' our deputies were
able to catch two thieves and recover a stolen semi and return it to its rightful owner," Sheriff Rick
Staly was quoted as saying in a release. "They also get selected as the dumb criminals of the week award for thinking they could spray paint a semi in a hotel parking lot and not be noticed."
Both were booked at the Flagler County jail. Gonzalez faces grand theft and criminal mischief charges, both felonies, and resisting arrest without violence, a misdemeanor. Perez Torres faces grand theft, criminal mischief, forgery and controlled substance possession, all third-degree felonies, and resisting arrest. Gonzalez posted bail on $13,500 bond and was released. Perez Torres posted bail on $28,500 and was released Tuesday afternoon.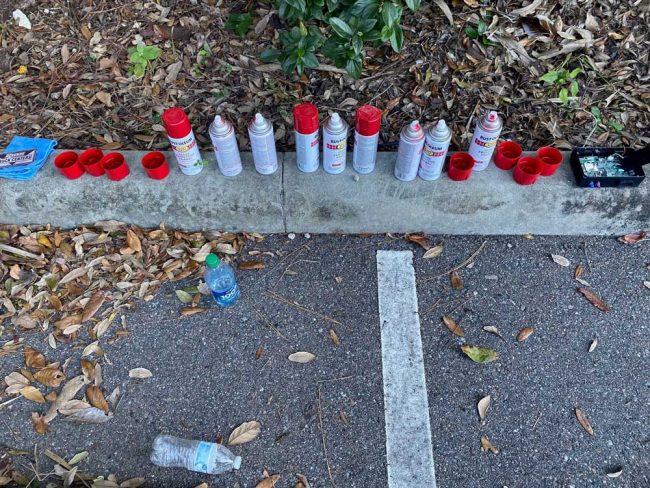 Reader Interactions