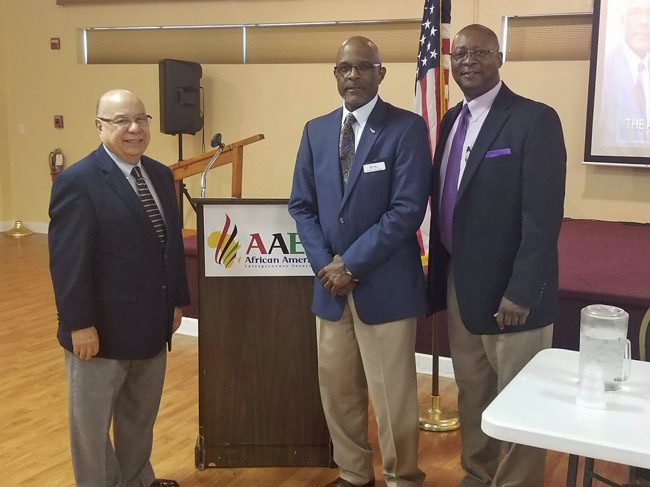 The emerging African American Entrepreneurs Association, a Palm Coast organization focused on spurring economic activity in black and minority communities, signed a partnership agreement with the Small Business Administration Tuesday to bring more education—and money—to those interested in starting a business.
The event was hosted by Leslie Giscombe, who heads the association, and the document—a "Strategic Alliance Memorandum"—was signed by Giscombe, Wilfredo Gonzalez, the district director of the SBA's North Florida district, and Thaddeus Hammond, an economic development specialist there.
The agreement will allow the African American Entrepreneurs Association to partner with the SBA to use the federal agency's resources and expertise in severely underserved business areas: it's not easy for blacks or minorities to start a business, not least because neither can land loans as easily as whites, even though the United States is set to become a minority-majority nation within a generation.
It's not all gloom of course: Forbes reports that in the 10 years until 2017, minority-owned businesses grew by 79 percent, or 10 times faster than the rate of all small-business growth in the country. Nevertheless, Forbes reports, " Minority-owned firms are much less likely to be approved for small business loans than white-owned firms. And, even if they do get approved, minority-owned firms are more likely to receive lower amounts and higher interest rates. According to findings from the U.S. Department of Commerce Minority Business Development Agency, these discrepancies have made minority business owners more likely to not apply for small business loans, usually out of fear of rejection."
That's where Monday's Strategic Alliance Memorandum, signed at Palm Coast's African American Cultural Society, comes in.
"Within the African-American community capital is an issue as far as growing your business, sustaining your business," Giscombe said. (Flagler's population is about 11 percent black.) The other problem is education and information, or lack thereof. So while blacks are in fact denied loans at rates much higher than whites, "what I have found was that a lot of applicants were not even prepared to get the loan in the first place," Giscombe said. "When you're prepared based on having the correct information and the tools and the education in preparing I think that would [alleviate] a lot of the denials." Flagler-Palm Coast is lacking in that regard: applicants don't have the tools necessary to prepare solid applications. The alliance agreement will help make that information available.
And to tap into a lucrative market. Gonzales, the SBA's district director, said the SBA is here to help in four regards: accessing capital to help start or expand a business and guaranteeing (but not providing) loans of up to $5 million; coordinating technical assistance through local chambers and small-business development centers, presumably like Palm Coast's Business Assistance Center; show prospective businesses how they can tap into selling to the federal government, which is required to award 23 percent of contracts to small businesses; and disaster relief, a sector that doesn't apply in the current context.
"We want to be able to collaborate in that service," Gonzales said. "We look forward to a long relationship."
Or as Giscombe put it: it's a matter of "empowerment."
Giscombe wanted to make two things very clear: just because the African American Entrepreneurs Association is signing the agreement doesn't mean that the arrangement with the SBA is directed only at blacks or minorities: white entrepreneurs are welcome to take part in whatever the agreement will provide. Second, "we're not here in competition with the chamber, with the business center, no, we're here to provide an additional resource in the community," Giscombe said. The presence of Jorge Gutierrez, president of the Flagler Chamber of Commerce, made the point.
"We're here to tell you that if you include everyone in that population, you're going to have a more vibrant population, a more vibrant community," Giscombe said.
The undercurrent, of course, as shown by years of evidence, is that black and minority businesses have not been generally been included. The Strategic Alliance Memorandum is intended to give Flagler an advantage in that regard, and Giscombe intends it to be a model for other communities.
The association is not all talk: it holds monthly events at the African American Cultural Society geared toward its goals. It will move into new offices later this month. Those interested in the new agreement can start by familiarizing themselves with the SBA's services at its website, and keep up with the association through its Facebook page.
The occasion was attended by a handful of politicians (all but one of them running for office; the exception was Commissioner Don O'Brien) along with Katrina Austin of Flagler government's economic development department and Gutierrez.