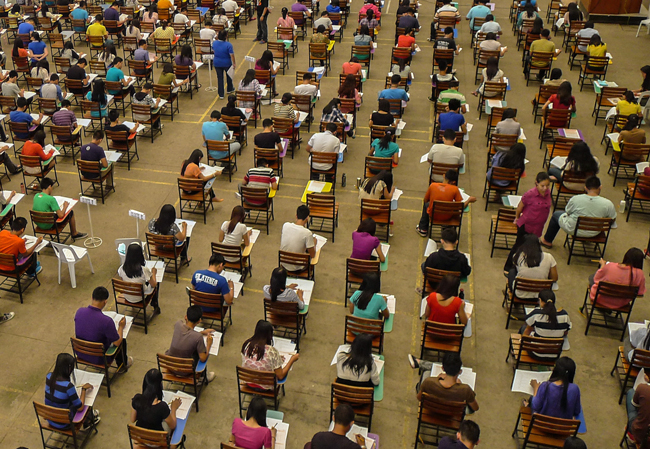 In any given year some 225 students at Matanzas High School and 275 students at Flagler Palm Coast High School will take the SAT, the college-entrance exam. That's half the number of eligible students. The other half is usually not on a college track, though some college-bound students choose not to take the SAT, and others opt not to take it because they can't afford it, or think they're not college material.
Students taking the SAT have to pay for it. It's roughly $50, not counting extras such as late fees, phone-registration fees or extra-report fees. And they have to devote the better part of a Saturday morning to the test.
This year it'll all be different for Flagler County's juniors. On February 26, a Wednesday, every junior at Matanzas and FPC will be sitting for the SAT. All 975 of them. They don't have a choice. It'll be called the SAT School Day.
In exchange, the SAT will be administered free to students, and it will be done during a school day. The first-time arrangement is the result of a partnership between the College Board, the New York-based organization that administers the SAT, and school districts in Florida, including Flagler.
The partnership is designed to give more students access to the SAT, and to perhaps enable them to discover a college readiness they either did not think they possessed, or were not thinking about. The College Board has been focusing on encouraging poorer students to think about college, especially after research from Stanford University reveal that poorer students who may well score high on the SAT may not even apply to the better colleges.
"We did believe that those kids should still be provided with the opportunity to demonstrate college readiness, with college and career readiness really being the theme of today's education," Shawn Schmidli, the district's testing coordinator, said.
Given that context, a free SAT to every junior in Flagler County should be a no-brainer. Instead, it was the subject of serious concerns by Colleen Conklin, a school board member, when the arrangement was submitted to the school board for approval late last month.
In schools where only college-ready students take the exam, the cumulative results would be higher, she said. In schools where all students are forced to take the exam, cumulative results would inevitably be lower, because they would include the performances of students who are not on a college track. The two outcomes, Conklin said, would tell "dramatically different stories." Those results would then show Flagler County in a poorer light.
It's not as if the school district can afford lower SAT scores, either: In the last two years, the district's overall scores have been lower than the state average, and considerably lower than the national average.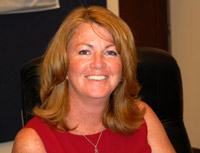 Schmidli agrees that there may be "a potential declining score" by doubling the number of students taking the test. But if average individual scores decline, school grades themselves won't. "The benefit that we looked at when having all of our students take the SAT is really one that relates to school grades as well,"  Schmidli  said, "because when you look at school grades and another metric that's included for highs schools is college readiness in reading and college readiness in math. For those two metrics, it doesn't look at the average score. A kid either demonstrates college readiness or he or she does not. And they'll take the best score for that student. So there's no way that this could hurt a school with regards to school grades. It can only help."
Conklin was not convinced.
"I'm not going to lie. This is very concerning to me, that we're going to do what we're proposing to do in this agenda item. And I understand it's not going to hurt the schools in regards to school grades. But I am concerned about what the final outcome and the picture it paints for those looking and viewing our school district," Conklin said, citing potential families or businesses looking to relocate to Flagler, but being turned off by lower SATY scores—a typical if not always accurate indicator that families and businesses do look at when evaluating a region's schools.
There are SAT prep courses at both high schools that students can take as electives, but as far as this SAT School Day is concerned, the majority of students will not have gotten any preparation.
But board member Trevor Tucker had no qualms about the program. "For me it definitely provides a great service for students because financially, there's probably a lot of students out there who are on free and reduced lunch who may not even think of that as an option because they can't afford the SAT," Tucker said. "Now they can go take the SAT for free. Who knows, they may get a scholarship, they may do very well when they didn't even expect that before. To me, to have everyone the opportunity to do this is way greater than whatever the scores looks like. OK, our district doesn't look as good as others. That's perception. If you're in this county and really want to know what our school district is, come to the schools."
Superintendent Jacob Oliva saw few downfalls to the SAT School Day as well.
"We're already getting skewed data from the perspective you're speaking about it now because we have may students who may not have been taking those exams trying to get concordance scores to meet the FCAT requirements to graduate," Pliva said, referring to students who are not college-bound but who take the SAT in hopes of overcoming poor results on the FCAT: if a student fails the FCAT, a passing score on the SAT can be used to fulfill the state's graduation requirement.
"If we open it to everybody, we might be able to catch kids that show readiness that might not be aware of it and be able to push them further into a direction where they might not even have been thinking about those options," Oliva added. "It's an opportunity to help maybe identify or counsel kids in a direction that we might not have had data on them before." Oliva, addressing Conklin's concerns, said the district can try the blanket approach this year and monitor its outcomes. "
It doesn't hurt to try," Oliva said, "see how it goes, and then present what we're finding and what we're learning, and make decisions based in the future on that."
Conklin then initially joined the board in unanimous approval of the program, but then asked to change her vote to a no.