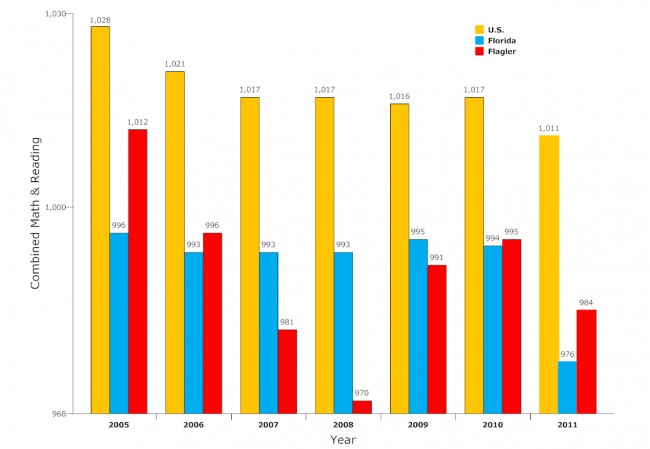 The Class of 2011 isn't the brightest bulb of the decade. Judging from the College Board's SAT scores for the year, it may be the dimmest: The combined reading and math score average of 1011 is the lowest since 1995, when the combined score was 1010.
But more college-bound students took the SAT than in any other high school graduating class in history, with some 1.65 million students participating. The class of 2011 SAT takers represented the most diverse class in history. Minorities have typically scored more poorly than whites on standardized tests. (See the chart below.)
Scores fell precipitously in Florida as well, to 976, and in Flagler County, whose 496 students taking the SAT scored an average 984 on the combined reading and math portions of the test.
The SAT is also testing for writing. Those scores fell in every category. The national average dropped from 492 to 489. The state average dropped from 479 to 471. And Flagler's average dropped from 477 to 474. The declines locally were led mostly by Flagler Palm Coast High School's class, whose reading, math and writing scores dropped. At Matanzas High School, reading scores dropped, math scores improved by three points, and writing scores stayed even.
The 496 students who took the test in Flagler represent 58 percent of the senior class. Students take the SAT to qualify for Bright Futures scholarships and to satisfy college entry requirements, or to meet concordant requirements for the FCAT. A Reading score of 420 and a Math score of 340 on the SAT satisfies the requirement of the concordant score.
"Not all students in a high school, school district, or state take the SAT," the College Board cautions. "Since population of test takers is self selected, using aggregate SAT scores to compare or evaluate teachers, schools, districts, states or other educational units is not valid, and the College Board strongly discourages such uses."