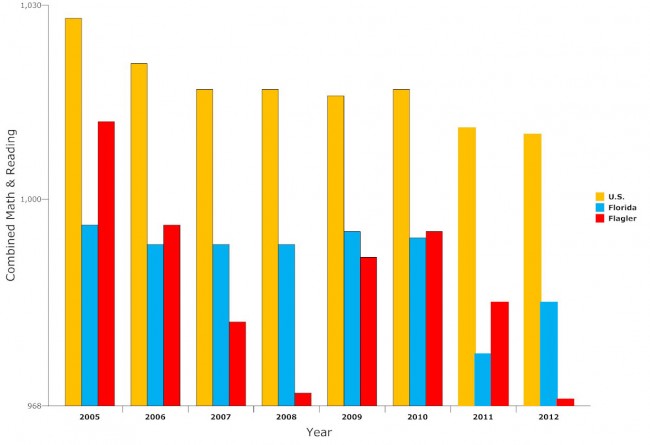 SAT scores in Flagler County fell significantly in 2012, with declines across the board in all categories except for a small, two-point improvement in reading by Matanzas High School students. The increase was erased by a six-point decline in reading at Flagler Palm Coast High School.
The Flagler school district's combined reading and math score of 969 is the lowest in at least eight years, going back to 2005, falling one point below the previous low set in 2008. The district's scores fell in reading from 471 to 463, and in math from 493 to 480.
The Florida average for combined reading and math was 984, an eight-point increase over the previous year. Writing averages also improved in Florida, from 471 to 476. But Florida's overall scores remain below where they'd been for several years between 2005 and 2010.
Flagler and Florida continue to trail the nation, as the state has for many years. The combined reading and math average for the nation was 1010, a decline of one point from the previous year, continuing a downward trend that started in 2005. The national average in the reading portion of the test, 496, is the lowest recorded going back to 1972.
"It makes you beg the question as to whether or not it's indeed the same test or whether it's being scored more strictly," said Shawn Schmidli, the Flagler school district's testing coordinator.
Schmidli said there are clear areas of concern in the new numbers but notes that unlike other states, students in Florida, and of course in Flagler, may take the SAT or the ACT test) in order to overcome failing marks on the FCAT (the Florida Comprehensive Assessment Test). Students may not graduate if they don't show proficiency in English and math on the FCAT. But if they fall short on FCAT, they may graduate if they get at least a math score of 380 on the SAT, and a reading score of 420. The SAT is scored on an 800-point scale. (See Florida's rules on FCAT and SAT concordancy here.)
In 2006, the SAT, produced by the College Board, added a writing test, also scored on an 800-point scale.
Schmidli said a significant number of students in Flagler are taking the SAT or the ACT to overcome grades on the FCAT, which explains to some extent the more depressed SAT scores. Flagler's ACT scores, released in August, declined for the fourth year in a row. When compared to the rest of the nation, Flagler's ACT scores were lower than Mississippi's, the lowest-ranked state.
In all, 505 students took the SAT at the district's two high schools (280 at FPC, 225 at Matanzas), 100 more than did in 2009.
The steepest drops were at FPC. In math, scores dropped from 496 last year to 480 in 2012. In writing, scores dropped from 471 to 457. Reading scores dropped from 494 to 488. At Matanzas, math scores dropped from 491 to 481, writing scores dropped from 478 to 472.
"The positive trend here," Schmidli said, "is we look at a four-year trend for Matanzas, they've actually increased for their critical reading and writing. The mathematics is kind of up and down. The trend we see at FPC, it's a little concerning, it's definitely gone down in the last four years." Math, he said, will be targeted as the area needing the most improvement.
There is a direct correlation between a family's wealth and a student's SAT scores. In Florida, students with a family income of $20,000 or less had a mean reading score of 431, and a mean math score of 430. Without exception, scores improve with every jump in the financial bracket. Students in households with incomes between $60,000 and $80,000 had reading and math scores of 500 and 499, respectively. Students from the richest bracket–those with family incomes above $200,000–had reading and math scores of 546 and 556.
There is also a direct correlation between the parents' level of education and their children's performance on the SAT. Again, the higher the level of education completed by a student's parents, the better that student's SAT scores. Nationally in 2012, 36 percent of all students reported their parents' highest level of education as a high school diploma or less, and 28 percent reported that English was not exclusively their first language (up from 27 percent in the class of 2011 and 24 percent in the class of 2008), which also affects SAT results.
The disparity in scores between students from richer and poorer families is one of the underlying issues with standardized testing: even when comparing students within a single school, comparing scores alone does not provide an accurate picture of the why and how behind the scores. Florida is also a notoriously stingy state regarding education, with per student funding ranking the state near the bottom, nationally, year after year.
College preparedness is a growing issue of concern across the nation. Only 43 percent of SAT takers in the class of 2012 graduated from high school with the level of academic preparedness associated with a high likelihood of college success, the College Board reported today. These findings are based on the percentage of students in the class of 2012 who met the SAT College & Career Readiness Benchmark, which research shows is associated with higher rates of enrollment in four-year colleges, higher first-year college GPAs and higher rates of retention beyond the first year.
"This report should serve as a call to action to expand access to rigor for more students," said College Board President Gaston Caperton, a former governor of West Virginia responsible for vastly improving that state's education establishment. "Our nation's future depends on the strength of our education system. When less than half of kids who want to go to college are prepared to do so, that system is failing. We must make education a national priority and deliver rigor to more students."
Schmidli said: "Our goal is to really exceed the state average in everything that we do. Once we achieve that, that's when we're going to start looking at the national data."