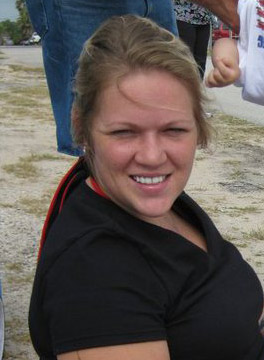 Last Updated: 4:46 p.m.
3:28 p.m. Update: Sarah Jean Namdar-Yeganeh's condition was changed from serious to critical subsequent to the wreck she was involved in Wednesday afternoon in Palm Coast.
Namdar-Yeganeh, 28, is the daughter of Flagler County School Superintendent Janet Valentine, who was on her way to a superintendent association meeting in Tampa when she got word of the wreck. Valentine has been at her daughter's bedside since, where she will remain "for an undetermined amount of time," Sabrina Crosby, a district official, said today, describing Namdar-Yeganeh's condition as "critical but stable." Namdar-Yeganeh suffered several broken bones and was in surgery today at Halifax Hospital. She has been in an induced coma since.
Valentine, Crosby said in a release, has requested privacy. "She appreciates everyone's concern and ask that you please honor her request for privacy at this most difficult time," Crosby wrote.
Today's earlier story is below.

Sarah Jean Namdar-Yeganeh, 28, Facing Several Charges After 2-Vehicle I-95 Wreck
When she recovers from her injuries from a wreck she provoked on I-95 in Palm Coast Wednesday afternoon, Sarah Jean Namdar-Yeganeh, 28, a resident of South Central Avenue in Flagler Beach, will face a slew of charges, including reckless driving, driving with a suspended license, driving without a seat belt on, and driving with faulty equipment (the car's tires were worn down), according to a Florida Highway Patrol report.
Namdar-Yeganeh was speeding north on I-95 just after 5 p.m. Wednesday. She was in the right lane, at the wheel of a 1997 Saturn. About two miles south of State Road 100, she drove up too fast toward another car, a 2008 Nissan Altima driven by Melody Travers, 55, of Palm Coast. Namdar-Yeganeh swerved to the right to try to avoid the Altima, but Namdar-Yeganeh's left-front bumper struck struck Travers's right rear bumper, sending the Saturn onto the right shoulder.
The Saturn first struck a call box at mile marker 281, then swerved back onto I-95, crossed all three lanes, struck the center guard rail, and began flipping several times, according to the FHP report. Namdar-Yeganeh was ejected through a window, and landed on the paved portion of I-95's median. She sustained serious injuries. She was transported to Halifax Hospital in Daytona Beach.
Travers's Altima sustained $3,000 in damages. Travers herself was not injured. Neither driver had passengers.
It's not Namdar-Yeganeh's first driving-related offense. In May 2009, she was booked into the Flagler County jail on charges of driving on a suspended or revoked license, and of possessing a controlled substance.