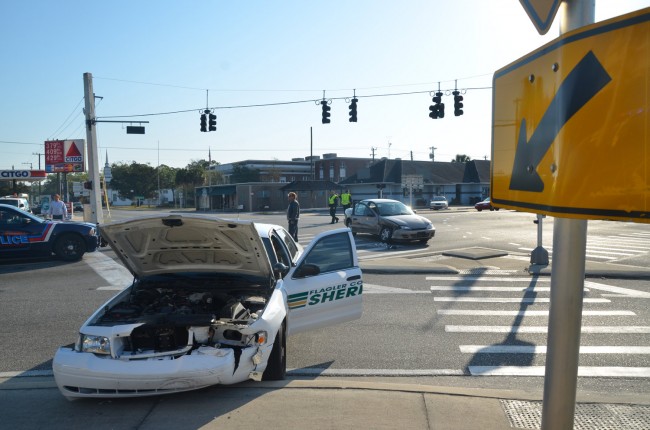 Sandy Gay, a corrections deputy with the Flagler County Sheriff's Office, was on her way to work Thursday morning when, according to police and a witness at the scene, she blew a red light at the intersection of State Road 100 and U.S. 1 and slammed into a four-door Chevrolet driven by Paul Salvador, a local wrecker company's employee. Gay and Salvador were taken to Florida Hospital Flagler.
"At this point, it looks like our deputy is at fault," Undersheriff Rick Staly said at the scene.
The Florida Highway Patrol is investigating the incident, but an FHP investigator at the scene confirmed that "the patrol car is at fault." The investigator had heard from a witness and watched a surveillance video from a gas station at the intersection that clearly showed the wreck unfold, with apparently incontrovertible evidence that Gay had, for no compelling reason, blown through the red light.
"The video is not going to show the red light," the FHP investigator said. "However, you'll see the northbound traffic begin to flow," meaning north on U.S. 1, car after car, "one, two, three, and then the crash happens. It's not like the light had just turned red. It had been red for a while." The investigator, after watching the video again, later specified: "The light had been green for northbound traffic for two to three seconds."
Gay was in a marked patrol car without the emergency lights on. Staly said she was on her way to work, heading west on State Road 100. The Flagler County Jail is less than two miles from the intersection. (She's been employed by the sheriff's office since October 1995; her current base salary is $51,723.)
A witness was behind Gay, in his own car. "I was behind the deputy. She ran the red light," the witness said. "She was probably about two car lengths in front of me. There was definitely traffic moving north and south. She ran right through it, without any hesitation. There was no brakes or nothing." He added: "I just watched it happen and pulled immediately to the side, that way there was a witness, and I called 911."
The extent of the two drivers' injuries are not known. Gay was taken to the hospital because the air bag deployed, but there was no indication that she had serious injuries. Salvador was taken to the hospital on a stretcher. The investigator estimated that Gay was traveling at 25 miles per hour, while Salvador was traveling at about 15, and that because of the slower speeds, their injuries would be limited. The deputy was wearing a seat belt.
Salvador is an employee with John's Towing, the wrecking company on rotation for that crash. The company's owner, John Rogers, was at the scene. "Normally he commutes up from Volusia County on his motorcycle," Rogers said of his employee. "Thank God he wasn't on it today. He drives on his motorcycle in all kinds of weather."
The crash took place at 8:36 a.m. Bunnell police and sheriff's deputies diverted southbound traffic on U.S. 1 on the approach to the intersection, which was cleared by 9:15, when normal traffic flow resumed.
For the sheriff's office, the crash, while not grave, is the latest in a series of incidents or issues that have diverted attention from Sheriff Jim Manfre's new administration. On February 13, a sheriff's deputy–Christopher Lee Crego–was at the wheel of a patrol car, speeding west to a call on State Road 100, when he rear-ended a van, killing Eduardo Luis Pacheco, 64, the driver. The sheriff's office is also dealing with two homicides that have taken place on Manfre's watch, one of them an execution-style killing at a local gas station. And there's been internal shake-ups at the agency, prompted by Manfre's management changes.
Manfre was at the Flagler County Library Wednesday evening, talking to the Flagler County Democratic Club–and to a room packed with nearly 70 people–about his new tenure and his vision for the sheriff's office. An account of that presentation was to appear on this site this morning, only to be preempted by the crash–an ironic illustration of the way Manfre's agenda has been, on many occasions, hijacked by events.