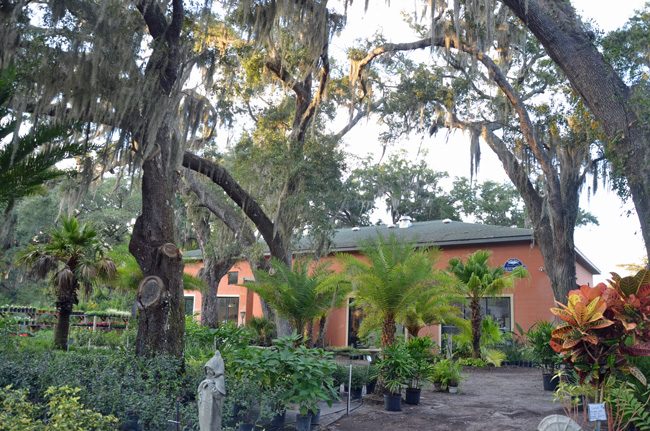 Salvo Art Project, the sought-after and vibrant art gallery and stable of artist studios, has been evicted from its home of two years at Nature Scapes in Bunnell by the owners of the nursery. Co-owners JJ Graham and Petra Iston, along with their artists, are to be out of the building by Jan. 7.
The eviction is the result of nearly two years of unsettled relations between Salvo co-owner JJ Graham and Nature Scapes co-owners Richard and Chris Baiata. Disagreements escalated to recriminations and an eviction notice in early November. A court hearing was scheduled before County Judge Melissa Moore-Stens this morning. But Graham and Chris Baiata, with their respective attorneys, agreed to the separation after two hours of mediation behind closed doors, making the hearing moot.
Graham emerged from the mediation despondent but with little choice, as the lease he'd signed with the late Mary Lou Baiata two years ago, just before she died, proved less than written in stone: Baiata had signed it as the property's landlord rather than as a trustee of the estate, a technicality that gave her surviving sons room to declare the document unenforceable. But the technicality was mostly a pretext: conflicts between Graham and the Baiatas began almost immediately after Mary Lou's death, and the past two years have taken such a financial and psychological toll on Graham that he did not see the benefit of risking a prolonged and expensive court fight.
"The thing that bothers me the most is we got so much support, so much energy, and there's a part of me that hopes we didn't let people down," Graham said after the mediation, citing the successful fund-raising that had enabled him to improve the gallery, including the installation of a $10,000 air conditioning system. But he knew his days there were numbered. He didn't know the end would be so nearly sudden. "I was hoping I could go to my studio artists and say we had until February. Now we have to move out over the holidays.. We have had some really good times there, we've done some really good things. I think the saddest thing is it didn't have to be this way."
Graham says he has no intention of leaving the county, and he has some options, most notably the very real possibility of a potential arts center in the making on 10 acres at the corner of Belle Terre Parkway and U.S. 1 owned by Thea Mathen, the Bunnell business owner and one of the county's most generous arts patrons. But, Mathen notes, it could be a long time before she can build there, if the U.S. Army Corps of Engineers gets involved: there are some wetlands on the property, which would require regulatory delays.
"It's going to be a long time before mine is ready," Mathen said. But it's in the works. "Landon already knows about the project, all the staff knows about it, most of the city council knows about it," she said, referring to City Manager Jim Landon. Holland, a Salvo supporter, has also been involved in conversations to find it a new home.
"It's beautiful, the county needs more of this," Mathen said of Salvo. "I feel like we're missing the boat on art. How many years ago was the Atlantic Center for the arts created, barely with anything? And look what it's grown to. Obviously there's a need."
Still, it's unlikely that Graham will find an immediate landing place, though there's also a possibility at City Centre in Town Center, in a building next to the Flagler Playhouse in Bunnell, and this morning he was suggesting looking at the large building formerly occupied by Sevyn, the short-lived nightclub near the corner of State Road 100 and Belle Terre Parkway. Failing all that, he says he's ready for a break. But he feels the pull of what amounts to a legacy still in the making. Chris Baiata did not return a message left at Nature Scape Wednesday afternoon.
It was with joyous fanfare that two years ago, Graham moved his art gallery from the strip-mall-like sterility of City Market Place in Palm Coast to the more loft-like and artsy grounds of Nature Scapes, off Bunnell's Old Brick Road. What had been known as Hollingsworth Gallery became the Salvo Art Project in a 6,000-square-foot brick building with 25-foot ceilings and plenty of room for studios, exhibition and performance spaces, and an atmosphere of artistic edge unique in the county.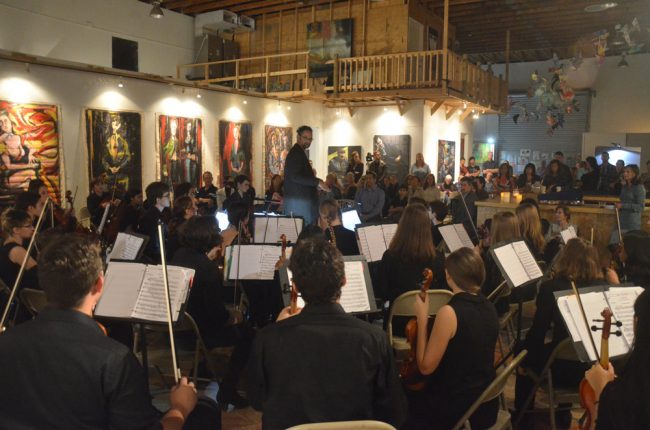 Despite its out-of-the-way location Salvo managed to do what it had done at City Market Place: transform a moribund space—the building had sat empty for years—into a hothouse of creativity and acting like a magnet for other arts groups. At City Market Place, the Flagler County Art League soon rented two storefronts not far from Hollingsworth and joined in the monthly art-show schedule, developing along with Hollingsworth. After Salvo, artists Weldon and Richlin Ryan, who'd had a studio at Salvo, opened their own gallery and started their own shows at Calypso Art a brief walking distance from Salvo, at Marvin Garden. Salvo itself quickly grew into its own, carving out a half-dozen studios to local artists, launching new shows with well-attended, jazzy openings. Salvo hosted live music performances, art classes with a loyal following, even business and political gatherings: it was the place to be for Palm Coast Mayor Milissa Holland's victory party, as it will also be for a private retirement party organized for Gail Wadsworth, the Clerk of Court, on Friday.
Graham had made the arrangements for his new digs with long-time Nature Scapes owner Mary Lou Baiata, who'd dreamed of transforming parts of her property into an artist colony. "It's a match made in heaven," Baiata had told FlaglerLive in June 2014. "I've been waiting for this for a long, long time. We're going to collaborate with events, art, nature, plants, everything. It's not going to be like anything else anybody else is doing in this doing in the state. A full-on art, nature community."
Baiata and Graham signed a 10-year lease on July 1, 2014. Baiata died 25 days later of cancer. Her son Chris assumed ownership of the grounds with his brother Richard and became Graham's landlord.
The relationship between Salvo and Nature Scapes quickly soured after that, becoming what neither Baiata nor Graham had signed up for: there were disputes over rent, over the uses of the space, over building additional studios in violation of Bunnell building codes, over the sort of events held at Salvo, over parking, grounds-keeping, allegations of cigarette butts and beer bottles (groundless, Graham says), and butting in: Richard Baiata was incensed by the Holland victory party, Graham said, saying political events were not part of the deal there, with Graham saying his use of the building to that purpose was his business. It was the next morning that the Baiatas slapped him with the eviction notice.
This morning, Chris Baiata and Graham, who had essentially stopped speaking, were sitting at opposite ends of courtroom benches, awaiting mediation, after Baiata formalized the eviction notice into a court action on Nov. 15. The immediate cause: past-due rent of $2,500, a sum Graham says he was intentionally holding back over other disputes with Baiata.
He was lowballing the amount owed considerably: the stipulation agreement he signed on Wednesday shows him agreeing to pay $10,250 in back rent (and $240 in court costs)–but only if he did not vacate the premises by Jan. 7, his lawyer said.
In September, Matthew Bothwell, the attorney the Baiatas had hired, wrote Graham to warn him of an alleged breach of lease and default, and intimated that Mary Lou Baiata had signed the lease under duress: Baiata, he said, was "taking powerful pain killers and various other medication," but that "even if the lease were found to be valid," Graham had violated its terms by building second-level structures inside the building without the proper permit from Bunnell. Graham, who kept copious documentation, acknowledged that he'd not initially pulled a permit, but also that Bunnell signed off on the construction on October 15 (he showed the proof).
What Graham didn't know is that he had himself played a role in undermining the legitimacy of his own lease. The lease had called for him paying $1,500 a month in rent the first year—but only starting six months after the installation of an air conditioning system, at his expense. Theoretically, he could have spent many months or years rent-free at the facility, absent an air conditioning unit. But without one, work in the building was unbearable. Graham says he started paying rent in January 2015, just three months into his stay at Salvo and long before the AC unit was installed, and increased rent payments to $2,000, then $2,500, before he had to (the lease calls for a gradual increase), for a total of $43,000 in rent payments before he finally decided to withhold rent over the latest disputes.
Why make the rent payments ahead of time to start with? Graham calls it "an act of good faith."
"I thought our fate was intertwined and our relationship would improve," Graham says. It did not. Chris Baiata had told him that "I was not an asset, I was an encumbrance on the property," according to Graham, and he resented the fact that the lease included a right of first-refusal for Graham, if the property was up for sale.
The property is up for sale, and the Baiatas, Graham says, have desperately wanted that provision out of the lease to make a sale easier. They also use images of the interiors of Salvo to market the property, an irony that rankles Graham, who says they never got permission to use his interiors' images. Finally, there was also an issue over insurance, which Graham says was—according to his broker—in line with the lease, and which the Baiatas say was not. (In a brief interview on Dec. 16, Joel Rosen of A.J. Enterprises, Graham's insurance broker, confirmed that the insurance was in order. "We sent proof og insurance time and time again," Rosen said. "It complied completely with what was in the lease."]
At this point those are the details of a dispute that, as such disputes go, can quickly become intractable the moment a conflict beyond the documents is unresolved. And between Graham and the Baiatas, conflict began soon after Mary Lou's death: her vision had meshed with Graham's. But their signature was not on his lease. None of that changes today's outcome—the settlement that results in Salvo's eviction.
Graham's most immediate concern late this morning was how to break the news to Iston, his partner, who had been teaching most of the morning and so had missed the mediation. "We both rolled up our sleeves and got to work, so it's heartbreaking to her," he said. "I'll just have to figure out how to rise out of the ashes."
It wouldn't be the first time.