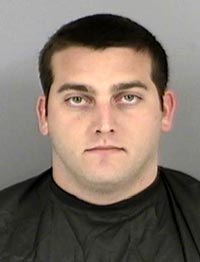 On a morning that saw a judge sentence a Flagler Beach man to death for murdering his ex-girlfriend because she was with another man, Flagler County Sheriff's deputies arrested a Palm Coast man who witnesses said fired several shots into the air around 2:30 a.m. today after finding his girlfriend with another man.
The woman was injured in the incident–but not from gunshots–and three children were inside the home the man was targeting.
Deputies reported Salvitore Kilday, 28, went to a home on Wendlin Lane looking for his girlfriend. When one of the residents of the home told Kilday the woman was in a back room with another man, Kilday became upset and warned that he would be back with a gun. He left and returned with a gun, forcing his his way into the home. Deputies said Kilday located the woman and struck her in the face with the butt of the gun. Kilday then went out onto the front lawn and fired seven shots into the air.
He fled the scene but was later located at his home at 23 Woodfair Lane in Palm Coast, where deputies took him into custody. Deputies have charged him with burglary while armed, aggravated battery with a deadly weapon and discharging a firearm in public. He is being held on $2,500 bond.