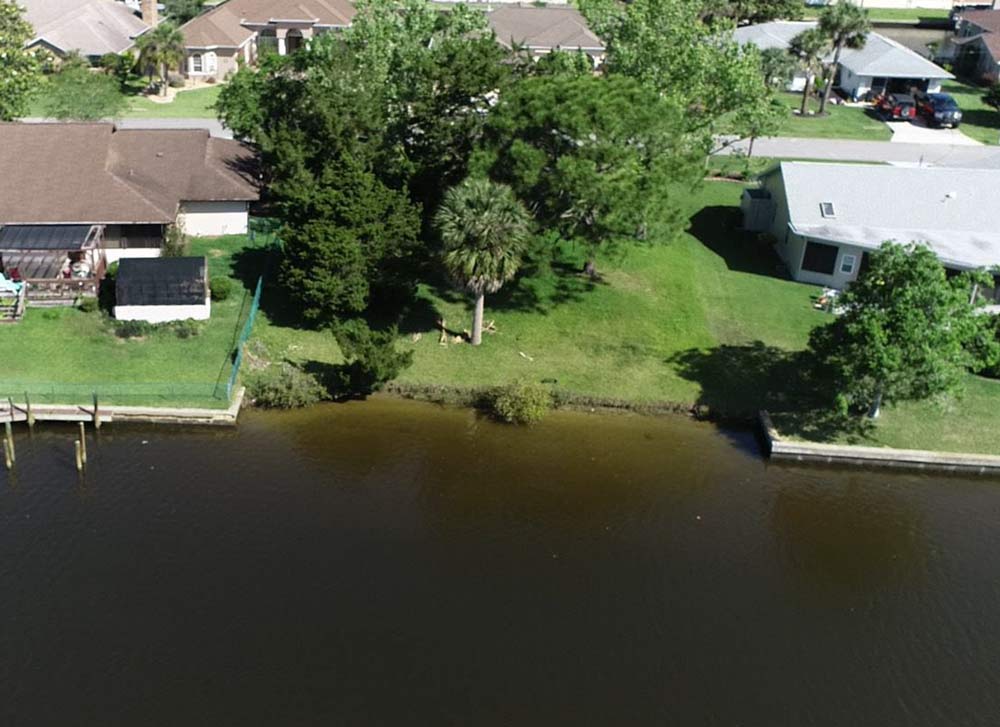 A long-anticipated analysis of Palm Coast's 26 miles of saltwater canals, the second since 2005 in the canals' half-century history, revealed to some surprise that the canals are in better shape than expected. While that diminishes the urgency, breadth and cost of necessary dredging, dredging would still be necessary and expensive where it's needed. The city has no funding mechanism.




For the past few years, as the the Palm Coast City Council has discussed canal maintenance, it has done so mostly in the dark. It ahs assumed that after 50 years, the canals have silted up considerably and that dredging them would be expensive. There's been a lot of debate about how residents would shoulder the cost–if it would be a special taxing district affecting primarily residents  on the canals, if it should be all city residents, or a hybrid, or if grants could shoulder the cost.
The findings by Tyler Engineering Consultants are changing the conversation to a degree. They are narrowing the range of needed dredging and recasting the discussion about where that should take place, and to what depth. Who should pay remains a key question. But the narrower the need for dredging, the less the justification for a broader tax or fee structure.
"Given these canals have not been dredged in their approximate 50 years of existence," Taylor Engineering's Terry Cake said at a workshop on Tuesday, "in my opinion these are in really good shape. There's a lot of canals out there that require dredging annually or every couple of years just because of the shoaling, just because that's the way the water moves and that's where the sediment travels." Shoaling means sediment deposits, or sand banks. He later added: "They're actually taking care of themselves actually pretty amazingly well."
That means the city should be more inclined to do "spot dredging," rather than wholesale dredging, Cake said–target areas where boats have issues, and avoid needless dredging where, say, deep-drafting sailboats cannot pass anyway, like areas constrained by a bridge.




"As soon as possible, we're probably going to want the public to be able to weigh in to hear their comments,"  Mayor David Alfin said, proposing that the discussion be made part of the city's comprehensive plan review process. The comprehensive plan is a city's blueprint for long-term planning and development. City Council member Theresa Pontieri would pair that with a presentation of the data to "consider the cost and the time and whether or not it's even doable and legal."
Councilman Nick Klufas would narrow down the discussion further: "If this is going to be such an expensive cost to us, why don't we just try to identify who exactly is being impacted by this so that we can solve it for them," Klufas said, "because it seems like if we were to go about a $10 to $20 million dredging process when we only have a handful of boats that are actually occupying our canals that put off enough water to be impacted by this, it just doesn't seem very financially prudent. And I don't think we currently have a list of all the individuals that say they're being impacted by this."
In other words, red-flag the affected properties and go from there, though Pontieri would prefer a more objective criteria than relying on homeowners to come forward, their hands raised. Still, she pressed for a survey of canal-fronting residents that would achieve Klufas's goal.
So the council's direction for now is to pursue Department of Environmental Permits for dredging the entire network, starting with an estimate of those permits' cost–Cake would report back in about a month–and to solicit public input, along with a survey. The city has to figure out what depth it would dredge , and define what and where it wants to dredge–where people are having trouble with boat access.




The city retained Tyler Engineering to analyze the condition on the 26 miles of saltwater canals and study the history of permitting, whether for construction or for dredging, going back to the 1960s. Not a single permit was found: "They weren't required when these canals were constructed," Cake said. They were built at a substantial depth of 8.77 feet. Today's canals are generally dredged at 5 or 6 feet.
Tyler surveyed all 26 miles to measure the current depth of canals. That's the heart of the matter. the shallower the canals, the more need for dredging. But the survey found barely any spots that were shallower than three feet. The greater majority were deeper than 6 feet at their center, or 3 to 6 feet at the edges, making them easily navigable to most boats docked along those areas.
"Most of the main canals are actually in pretty good shape," Cake said. For example the main canal along Club House Drive is deep, as is its perpendicular branch parallel to Florida Park Drive. The branchlets or fingers of those main canals, all along the small streets–Clarendon, Clearview, Clinton, Cloverdale, Cherry, Chesney, Chestnut, Floral, Fletcher, Flintstone, and so on–are shallower, in the 3 to 6 feet. Most of those dead-end canals show some shoaling.
There's shoaling at the entrance of the canals that are parallel to the Intercoastal close to the entrance, and shoaling in the long Creek Nature Preserve, a kayaking favorite. Kayaks don't need deep water.




The consultants also surveyed 52 miles of sea walls with a drone–recording eight hours of drone footage–which picked out some 200 "items of interest," from erosion to seawall damage, with some sea walls caving into the canals, to segments that have no sea walls. Erosion does cause some shoaling, but it is immediately next to properties that are eroding. So the canals are not collecting silt from the properties. "There's not a significant impact from seawall damage to the canals," Cake said.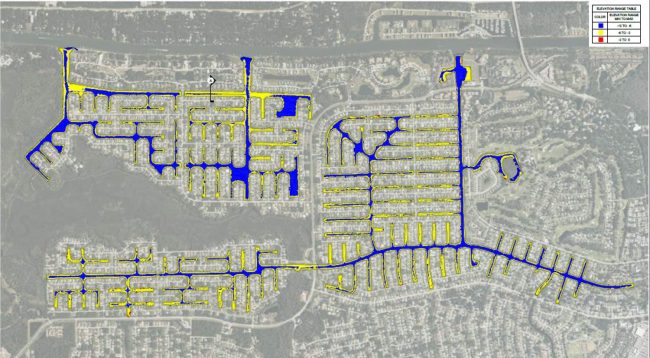 Sediment was collected from six locations. Unsurprisingly, it's made up of a mixture of sand and organic silt. It can't be spread on beaches, but it could potentially have uses as commercial industrial fill, Cake said. So the city isn't going to make money from getting rid of the silt. It may be more challenged to find a place to dump the stuff. The consultants spotted two places where the fill could be used.
Should the canals be dredged to deepen them? Cake was equivocal on that score. Dredging even a square foot down means that that has to be done at every point in every canal. "That's going to be a lot of volume, which translates to a lot of expense," and it could cause damage to sea walls, all of which were built on different standards. "But to deepen the entire system would be a significant effort."
Thirteen miles of canals are shallower than the optimal 6 feet at their center. That equates to between 250,000 to 500,000 cubic yards of silt to be dredged. It would cost $10 to $20 million, keeping in mind, Cake said, that "dredging costs are kind of veering all over the place with the cost of diesel and how many hurricanes have hit Florida and how busy the dredgers are."




Another caveat: if a homeowner's boat is silted in, it would not be the city's responsibility to dredge. Dredging would be limited to the center of the canals–the highway portion, essentially, not the docking areas. To free those boats, "the most common way is to let the property owner have responsibility for that part of the dredging," Cake said.
Sarasota County has an ordinance that makes it explicit: no dredging within so many feet of a private structures. That ordinance specifies: "Maintenance Dredging will be limited to the depth established by previous dredging, specific permit conditions, or a maximum depth of five feet, and shall be within a channel that is generally no greater than 30 feet in width and no closer than ten feet to any seawall, dock, structure, shoreline or embankment, unless otherwise approved by the Sarasota County Board of County Commissioners."
The 5-foot standard is notable, and could inform Palm Coast's decision: its application in Palm Coast would further considerably narrow the areas needed for dredging, as would the 10-foot rule, and therefore costs. It would also make a maintenance program more feasible, and affordable.
The consultants are still analyzing funding sources for Palm Coast. Most of those are geared toward areas that have a lot of public access. These canals do not. They are geared specifically for private uses. Of course any boater can wander in unimpeded. But purpose would be limited. That narrows down the grant stream, since public agencies that provide the grants want to see the money benefiting primarily public uses, not subsidizing private luxuries.
Some grants may be available for the entrances of the canal network at the Intracoastal. Some grants may be available to improve water quality. A more targeted dredging plan would make determining whether grants are available easier, Cake said.




The consultants recommend another set of evaluations to determine which canals are most used and most need to be dredged, while also figuring out at what depth the dredging should take place. Comparing the canals' 2005 survey with the new survey will help determine where "hot spot" areas are silting most quickly, and where the city could conduct spot-dredging, or  maintenance dredging, to contain the problem. The city could also conduct regular surveys and use the results both to monitor the system and to tie some of the silting to major storms, with dredging that could be financed by the Federal Emergency Management Administration.

saltwater-canals-aug-8