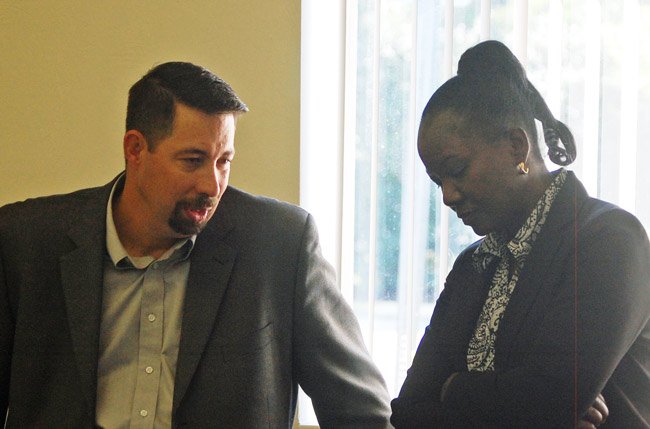 Flagler County Deputy County Administrator Sally Sherman received the Assistant For Excellence In Leadership Award Friday (May 24) in Orlando at the annual meeting of the Florida City and County Management Association.
Sherman was also appointed as District II director for the organization and delivered a keynote speech at an inspirational breakfast on the agenda.
The organization's membership is made up of City and County administrators from across Florida.
"Mrs. Sherman is a truly dedicated professional and an asset to our county," Flagler County Administrator Craig Coffey said. "Starting out as Clerk/Typist for the Seminole County Board of County Commissioners, she has risen up the ranks through her hard work and commitment, to serve as Deputy Manager in the cities of Leesburg and Deltona and in Seminole and Flagler counties." Coffey had worked with Sherman in Seminole.
Sherman is the daughter of migrant workers, with 11 siblings, making her way up from that internship clerk-typist position to deputy administrator in 20 years.
"She deserves this award and it comes as no surprise," Nate McLaughlin, chairman of the Flagler County Commission, said. "She is an excellent leader and enhances Flagler County Government with the skill she brings to our administration."
While rising through the ranks of county government, Sherman achieved a dual Master's Degree in Public Administration and Management from Webster University in St. Louis, a Master of Science in Human Resources from Troy State University and a Bachelors Degree in Business at Barry University's Central Florida Campus.
She came to Flagler County in September 2008 from a position of Assistant City Manager and Director of Economic Development in Deltona. Prior to that, she served as Deputy Administrator of Seminole County and Assistant City Manager of Leesburg.