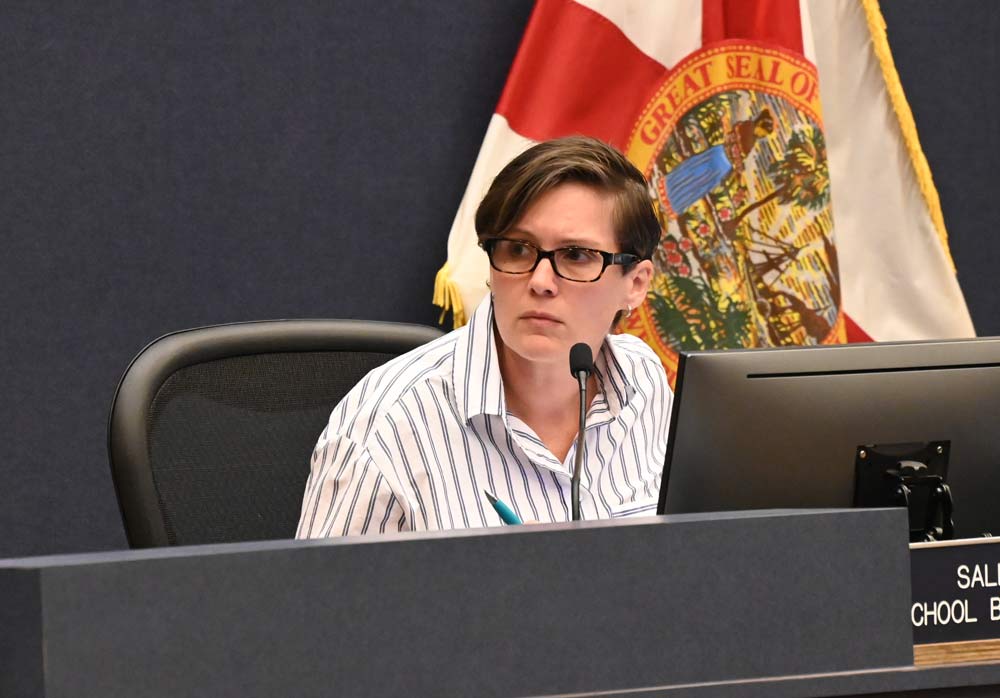 Flagler County School Board member Sally Hunt questioned whether district schools should continue to be used as shelters during tropical storm or hurricane emergencies, and whether the district could go to late starts rather than cancel whole days of school in certain emergencies.
The questions surprised her colleagues and Superintendent LaShakia Moore when Hunt brought up the ideas at the end of workshop last week–when, with increasing regularity, school board members spring grievances, demands or ideas for future discussion. Board Chair Cheryl Massaro and the superintendent had to explain to Hunt that schools are an integral part of emergency management, and that school closures are carefully calibrated between the potential risk of a storm emergency and the safety of students and staff.




Hunt's idea was prompted by the superintendent updating the board at a workshop last week on how some school staffers will make up lost time (and pay) on Oct. 16 because of the day lost to Hurricane Idalia, which caused one day's school closure in Flagler County.
Hunt jumped in, in a characteristically elliptical and not altogether coherent way: "Can I just add like a crazy thing to the conversation," she said. "When this last closure happened, actually where my mind went to was, again in the spirit of talking about community partnership–listen, I don't want to get into global warming. That is a whole topic. But there is a concern of mine that our schools are being used as shelters. So you know if we find year after year that there are more and more hurricanes."
She then talked about her childhood in northeast Nebraska. "If there was a potential blizzard coming, you did not know the day before if school was going to be opened or closed. They kind of, it was a wait and see, and maybe we had a late start because it was my understanding that as long as students are there for lunch, like you got the state funding." So her district had "a whole heck of a lot of late starts. And so my question is, just to go way off: Is it possible to work with Flagler County, other municipalities to find out–are there other buildings that could be used as shelters, like a community center, like so that because when you're talking about a hurricane and we just never quite know where it's going to go or how bad it's going to be, or not be?"




She talked about wind levels and bus safety. "I just hate the idea of us having to close down when maybe we didn't have to, or maybe just from a safety perspective, if it's at all stormy, we just want to close down. Anyway, I just–that was a thought that I had."
It did not appear that Hunt knew how emergency management determines whether or when to open shelters, or why schools are used as shelters. State law is explicit that "that this state not have a deficit of safe public hurricane evacuation shelter space in any region of the state." Statewide plans are devised every two years to ensure that space. The law also singles out schools as public buildings that would be part of sheltering plans worked out long in advance of emergencies, in coordination with local emergency management and the health department, which submits its requests for special needs shelters.
Schools are built to resist significant hurricane winds (up to a point) more than most buildings, are roomier than most buildings, enabling the groupings of populations when necessary (such as the segregation of covid patients during those periods), are always equipped with kitchens that serve large populations, which are essential during sheltering emergencies, and are often equipped with back-up power generators, also essential at special needs shelters. Few other buildings combine those amenities.




Typically, the county's special needs shelter has been located at Rymfire Elementary, and its general population shelter at Bunnell Elementary, In more dire emergencies, additional shelters–or schools–are lined up as potential locations. The county's emergency management director, in consultation with county and school officials, is responsible for deciding if and when shelters are needed, and district officials–not board members–are responsible for making space available.
Typically, the emergency management director will err on the side of caution, so as not to take risks, which could result in needless loss of life. So school closures end up being more likely than not when a storm's path is in a gray area of doubt. That was the case with Hurricane Idalia earlier this month. "When that decision was made, that decision was made based on the potential for weather that we had," Superintendent LaShakia Moore told Hunt. The closures are a matter of safety for school and staff, not just because some of the schools may also serve as shelters, she said.
"This past storm I think ended up being a bit of a nothing burger, right?" Hunt said of Hurricane Idalia.
"It happens," Massaro said.
"I guess maybe just to put it out there that if we find that there are more and more hurricanes, that is just something that I would recommend," Hunt said, "that this board think about to see if again, if it's a 10 o'clock late start."




There was not much interest in that approach. "We want to be sensitive also to the needs of our families and our employees," Moore said. "So making the call at the right time to determine, can people plan appropriately, can they safely evacuate or come in if they need to? So we're thankful that that last storm did not have an impact on us. But I believe that we made the right call."
Hunt didn't question the call, but she again referred to "unprecedented weather" and wondered "what if we did ever have like eight hurricanes that were in the area or potentially in the area," which could cause many days' closures. (Florida experienced four hurricanes in six weeks in 2004, though not all in the same parts of the state. In Flagler, only Hurricane Charley had an impact that year.) But she appeared to concede that the matter is properly coordinated between the district and emergency management. conceded: "It sounds like there's a lot that goes into it," she said.