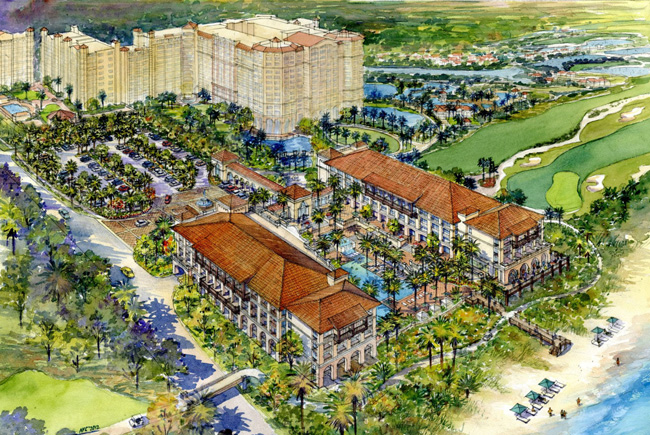 The Flagler County Planning Board voted 3-2 late Tuesday evening to recommend against a proposed 198-room beachfront hotel at Hammock Beach Resort, in place of a 20-room golf lodge. The vote, coming at the end of a nearly four and a half hour hearing, is the latest in a series of defeats for the developer, though the binding decision does not take place until the Flagler County Commission hears the proposal.
For the past several months, Salamander Hotels, the management company that runs Hammock Beach Resort, has been lobbying Hammock communities and hoping to sway county government to approve a proposal to build a massive, twin-building, 198-room hotel adjacent to 16th Road. The proposal revived bitter resistance from Hammock residents who less than three years ago successfully fought a proposed development there of twice that size, taking their fight to the Florida Cabinet.
Salamander strained to show that its proposal is vastly different, and that the management company has been more accommodating and inclusive of public concerns than Lubert Adler had been three years ago—even though Lupert Adler still owns the resort: Salamander is its junior partner.
Salamander's proposal in its various mutations failed in two separate votes to get the support of the county's Scenic A1A committee. It failed to get the support of the Hammock Conservation Coalition. It appeared before the county's planning board in October. The board voted to reject the application—until Salamander's officials pointed out that the proceedings had failed to give them a chance to rebut arguments at the end of the lengthy hearing. That resulted in a rehearing that took place tonight before a standing-room only crowd at the Government Services Building in Bunnell. Half the audience wore white shirts emblazoned with "YES" to the Hammock Beach proposal. The other half spoke its "NO."
Planning Board meetings rarely draw a crowd. The board's decisions are non-binding. They're recommendations to the county commission, which makes the binding decision. But Planning Board decisions also reflect public sentiment, and in this case both such meetings have brought the intensely contentious issue to the fore as the proposal three years ago did not. The difference this time is that a considerable segment of the Hammock community is behind Salamander, starting with the club's membership and including many individuals and business representatives who had opposed the 2011 proposal.
Two reasons prevail: First, Salamander is arguing that it needs to expand its hotel to better attract conventions and conferences, otherwise the resort could fail financially. Second, Salamander claims it will bring several hundred additional jobs. But Salamander has also been willing to compromise, sometimes with surprising nimbleness. For example, one of the reasons the 198-hotel proposal drew so much opposition was a 240-space parking lot, including 50 beneath the hotel and 180 near 16th Road. The lot would have obliterated many trees.
The latest proposal had cut that parking lot by half. But Tuesday evening, Prem Devadas, Salamander's president, said he would scrap the parking lot altogether. "I'm going to propose that we simply eliminate that parking," Devadas said. "If it is such an issue, and there's such a sensitivity to this vegetation, we are certainly prepared to eliminate that, to leave it as is, and to remove—as you know, we are not removing any other trees in this plan, and really to stop talking about that as an issue."
It was one of three changes he was proposing to appease the opposition. Another was to move the hotel 15 feet back from the beach. A third was proposing a $2-a-guest donation to an environmental fund for every night booked. Guests would have an option to opt out, but in another Salamander property, a similar "donation" draws 97 percent support from guests, Devadas said. In Flagler, that could net $100,000 a year.
But tonight Hammock residents repeatedly pointed out what one woman summed up in two sentences: "Hammock Beach resort is not the Hammock. The Hammock is all the people who live there." In other words, Salamander was drawing its supporting voices for the project mainly from people within the Hammock development's gates. Those gates stood as a stark divider, physically and symbolically, between proponents and opponents.
Attorney Michael Chiumento, who represents the Hammock Beach Homeowners Association, gently ridiculed the donation proposal as he urged the board to focus on the relevant rather than the speculative. He alone also pointed out what was not a minor development Tuesday. Until recently, Salamander's application had been for a site development plan review in a planned unit development. Sometime in November, Chiumento noted, Salamander's application morphed into a rezoning application, "a whole different monster that you all are tasked with."
Yet the planning board took its meeting Tuesday evening as a continuation of its October meeting, when Salamander's application was in that significant respect different.
"I have no idea where there's an application for a rezoning," Chiumento said, pointing out the lack of surveys indicating what was being rezoned. "I'm here to tell you right now, procedurally, this item is flawed," he said, reminding the board that for a quarter century, the golf course property in question has been deed-restricted, disallowing hotels. "Are you giving entitlements to the entire golf course property?" Devadas's promises, he said, are "fantastic," but, Chiumento asked, "where are they written?"
Addressing Chiumento's points, Henderson called the Salamander application an amendment to the planned unit development, with a proposed ordinance that would amend the PUD. "The process is in place to be able to afford the change to the PUD," he said. "We believe we have the right to do that."
Two months ago Devadas had made his case before the same board in language he did not retract tonight. The resort "was losing exorbitant amounts of money" before Salamander took over, he said. "Within one year we turned a staggering multi-million dollar loss into a positive," enabling raises for employees, among other benefits. But the buildings "have deteriorated greatly,"   affecting the resort's ability to attract group business. Competitors have between 300 and 600 rooms. "We settled on the number of rooms that we needed to be able to sell to a group as being 325 rooms, and corresponding function space that we needed to support those groups."
Salamander settled on developing 325 rooms "in order to win back market share and propel us into the future." It already has one-bedroom units in the main building that function as hotel suites. They're old, but Salamander has been working on a renovation of those 127 units. That left 198 new rooms, 450 square feet each, to be developed. That's the 198-room number that's now in the beachfront hotel complex under contention.
It comes down to this: does Salamander's plan for a 325-room hotel conform with the so-called "Golf Course Plat" restriction—the "promise," in many people's view–on the books currently? The restrictions are spelled out. The parcels in question, the restrictions state, "shall include golf course land, lake, clubhouse, appropriate associated golf course facilities, open space, parks, dune preservation or such other appropriate recreational or governmental uses approved by the Board of County Commissioners."
Salamander argues that the new lodge proposal is consistent with those restrictions. The reason: the Flagler County Commission in 2001 approved the building of the current, much smaller lodge on that land, thus setting a precedent for a hotel there, in apparent contravention with its own rules. The county administration now agrees with Salamander that using the land for a hotel is now permissible. It even goes so far as to say that developing up to 561 rooms might be permissible, even though the 2011 administrative law order denied such a proposed expansion, and was upheld by the Florida Cabinet.
Jeff Southmayd, who lives in Ocean Hammock and is a member of the club, detailed the contradiction when he spoke to the planning board two months ago. "Salamander apparently recognizes they can't build a hotel there, and that may be the reason they call it the New Lodge, suggesting that the new Lodge is going to replace the old lodge equally," Southmayd said. "But if that's what's intended that's certainly not the case. In 2001, the county approved a 40,000 square foot clubhouse for the golf course. And that was allowed under the deed and plat restrictions because it specifically said, you can have a clubhouse. What Salamander is proposing to do is build a 171,000 square foot building with, as Prem mentioned, 198 hotel rooms that will be 450 square feet each. That means the hotel rooms will total 89,100 square feet, or will be 53 percent of the building. Mr. Chairman, if the building is 53 percent rooms, it's a hotel. And in fact, a 198 room hotel I believe would be the biggest hotel in Flagler County. And that's what they're proposing to build in the middle of my golf course."  Southmayd tonight reiterated his opposition.
Salamander's supporters were equally adamant. "You have to look at the facts," one supporter said. "And the facts are pretty straight-forward. They did the survey, 87 percent of the people that voted supported this. The facts are that the investments that they've made, that Salamander has made around the country in projects like this have gone tremendously well. The facts are that this will create a lot of revenue for not only Hammock Beach but for Flagler County. The facts are that this will help with employment. The facts are that this will help with merchants and restaurants and different people that benefit from conventions and conferences and people that come in to Hammock Beach."
Tuesday evening's hearing replicated in large part the October hearing, though this time Devadas had brought in a legal heavyweight as Salamander's attorney: Clay Henderson of Holland and Knight, a reputed environmentalist who nevertheless represents developers. After Adam Mengele, the county's chief planner, recommended that the board approve the proposal and Devadas and Henderson spoke briefly, the board opened the floor to public comment. About two hours of comments followed featuring some two dozen people, opponents somewhat outnumbering proponents.
To Henderson, Salamander's attorney, the board's responsibility was narrower than the public comments' scope. "Your expert witness which is your staff has said that this is compatible" with the county's comprehensive plan, Henderson told the board. "You've heard no evidence to the contrary, and on that basis alone you have to recommend approval."
The board didn't. The breakdown of the vote was Russ Reinke, Thad Crowe and Michael Duggins opposed, and Pam Richardson and Michael Boyd in Favor. Laureen Kornel had left at 10 p.m. In October, she had voted against the proposal.