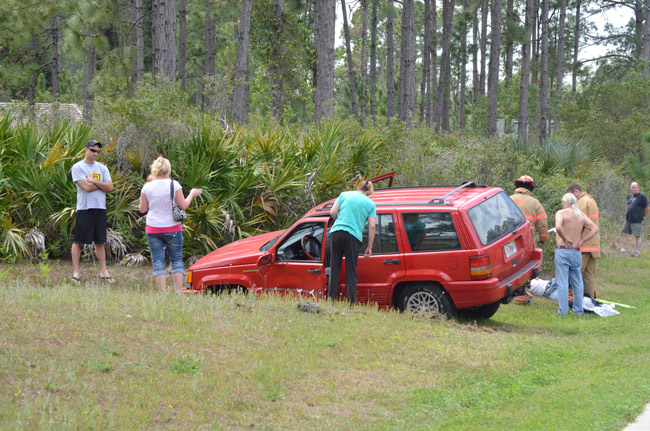 Last Updated: March 18, 9:30 a.m.
A Jeep Grand Cherokee rolled over on Rymfire in Palm Coast just before 2:30 p.m. Sunday, injuring the driver, who was taken to Florida Hospital Flagler.
The SUV appears to have been heading east, toward Belle Terre, when, about 100 yards before Belle Terre, it lost control and swerved left. The passsenger-side tires had gone off the road, the driver overcorrected, sending the car spinning.
The driver, 24-year-old Aaron Naill, was on the grass near the car immediately after the wreck, awake but in obvious pain as Flagler County Fire Rescue paramedics tended to him. He sustained minor injuries, according to a Florida Highway Patrol report.
Allison Isom, 24, of Ormond Beach, was a passenger in the SUV. She was not injured.
"The crash was alcohol related and charges are pending the results of blood alcohol testing," the FHP report reads.
The Palm Coast Fire Department and the Flagler County Sheriff's Office also responded. Rymfire Drive was reduced to one lane, with the Palm Coast Fire Police regulating traffic. The wreck was not expected to affect traffic there past 3:30 p.m.