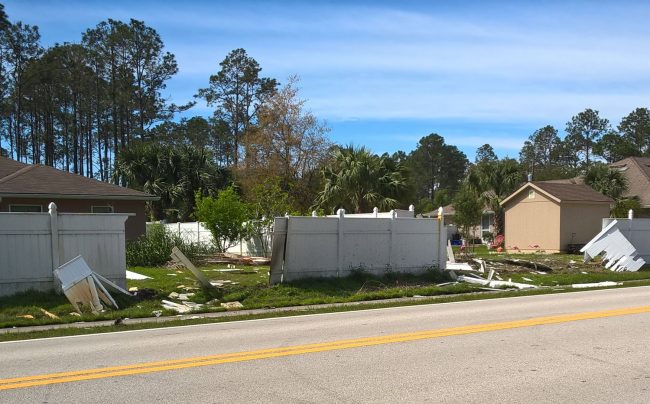 The Dodge Durango did quite a bit of damage to the white property fencing along Rymfire Drive between Ravenwood Drive and Rae Drive when Robert Sewell drove through it, demolishing it in two separate sections early this morning, at close to 1:30 a.m. The damage affected at least two property owners, along with damage to the swales along the road.
Sewell, 31, would later tell Flagler County Sheriff's deputies that he'd drunk some beer and Southern Comfort before leaving his home at 27A Ryarbor Drive in Palm Coast, very close to the scene of the crash. His two blood-alcohol tests at the jail, according to his arrest report, read 0.202 and 0.191. The legal limit in Florida is 0.08.
The property damage was estimated at $2,500.
When a deputy first arrived at the scene, Sewell was in the driver's seat of his 2003 vehicle, the key in the ignition. He was slurring his words, had bloodshot eyes and was unable to complete a proper sentence, his arrest report stated. He told the investigating deputy that he could not remember anything that had happened before the crash. He could not remember what direction he'd been traveling—only that he was heading to the Kangaroo convenience store.
When he walked from his vehicle, the deputy saw him stumbling. A Pabst Blue Ribbon beer can was right under the driver's side door of his Durango. He conceded to the deputy that he wasn't sure he'd be able to complete field sobriety exercises.
He did not.
He was placed under arrest, charged with drunk driving with property damage, a first degree misdemeanor with a maximum penalty of a year in jail (very unlikely in the case of first offenses, which usually result in a few months of probation or a fine, unless contested or dismissed, though property damage may change the equation) and driven to the Flagler County jail, where he spent the rest of the night. He was released without bond at 10 a.m.
Sewell, the doting father of a young son—based on effusive postings about him on Sewell's Facebook page—had displayed a conscience about the dangers of the road and less conscientious drivers, as when he reposted an article about a truck driver who rammed a reckless driver to keep him from hurting bystanders, or when he reposted a shocking video about the dangers of texting and driving.
Sewell is under a pre-trial supervision order until the disposition of his case.