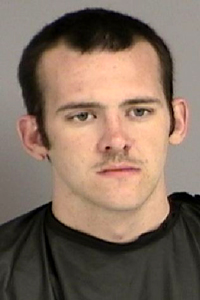 What is it about the sons of Bunnell City Commission incumbents or prospective members? A little over a week ago it was Donlad Flynt, the 24-year-old son of incumbent Jimmy Flynt, arrested and jailed on a minor fraud charge emanating from an unpaid bill for a plasma TV. On Tuesday (Feb. 22), it was Ryan Rogers, the 20-year-old son of John Rogers, a candidate for the commission and long-time rival of the older Flynt. Both men own wrecker services in Bunnell. They're facing each other in next month's election.
The younger Rogers was jailed on more serious charges, and not for the first time. He's been booked into the jail six previous times going back to June 2009, on charges ranging from disorderly conduct, aggravated assault with a deadly weapon, battery, theft, cocaine sale, marijuana possession and probation violation, among other charges, many of which were dropped. The latest charges include violating probation, trespassing after a warning, resisting arrest without violence, and possessing less than 20 grams of marijuana. Bond was set at $1,500. He remains in jail.
"He's going to have to suffer the consequences for his actions," Ryan's father, John, said.
According to a report filed by Augustin Rodriguez of the Bunnell Police Department, Rodriguez was patrolling southbound on Bunnell's Chapel Street on Feb. 19, just before 5 a.m., when he saw the younger Rogers in the 400 block of South Chapel. According to the report, Rogers had previously trespassed on property there belonging to the Flagler County Housing Authority. The cop u-turned, parked, and began approaching Rogers, who'd by then been walking behind the houses on South Chapel toward the 400 block on South Beacher Street. When Rogers realized Rodriguez was walking toward him, Rogers allegedly began running, according to the report. Rodriguez chased him, then lost him. After speaking with Rogers' probation officer, Rodriguez filed the new charges.
Rogers, who was on probation for burglary, was seen again on Feb. 22 by Sergio Pina, another Bunnell cop, along the 300 block of East Booe Street, where he arrested him on the charges Rodriguez had filed against him, allegedly found a small amount of marijuana on him, and detained him there until Rodriguez arrived. Rogers was then taken to the Flagler County jail.
April 6, 2011 update: Rogers was sentenced by Flagler County Circuit Judge Raul Zambrano on April 6. Most of the charges were dropped except for the violation of probation on a suspended sentence. Rogers will serve 24 months in state prison, but was given 300 days' credit for time served.