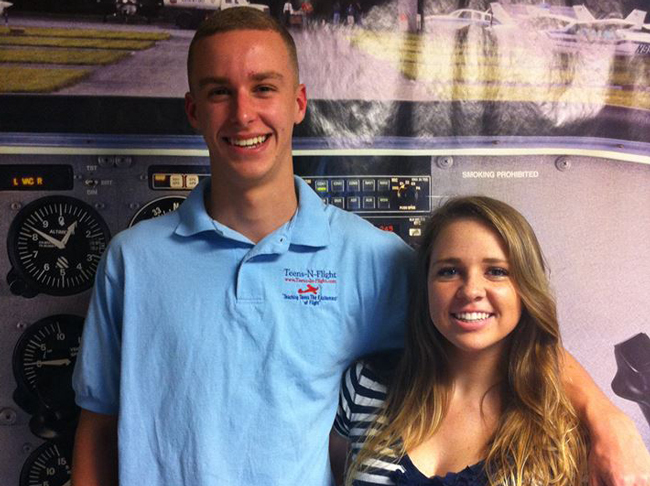 Two Teens-In-Flight students–Ryan Peeling of Flagler Palm Coast High School and Cora Rand of Seabreeze High–have earned admission at Embry Riddle Aeronautical University for the Fall 2014 session, with scholarships.
"Every time one of our students goes on to college, it makes everything we do worth it and keeps us motivated to continue to grow and develop our program," Col. Jack Howell, the Palm Coast non-profit program's administrator, said.
In addition to both students receiving scholarships to ERAU, they have passed their FAA Ground School Private Pilot examination, and are just a few flight hours away from earning their Private Pilot license.
Teens-In-Flight is non-profit foundation formed to support the families of the U.S. military, providing flight training and aviation maintenance scholarships to teens who have lost a parent in recent wars or are the children of a parent wounded in action and disabled. Another phase of the program also focuses on selected teens that are considered "at risk" providing a positive aviation intervention experience.
The program could not exist without the generous donations of partners such as FourStarAero, a private aviation company that donates office space, flight instructors, and the aircraft for Teens-In-Flight students. FourStarAero is owned by father and son partners Wayne and Josh Jackson. Josh is the chief flight instructor for Teens-In-Flight.
For more information, contact 386/569-5685. The Teens-in-Flight office is located at Hangar B, Flagler County Airport in Palm Coast. Visit Teens-in-flight on the web, or on Facebook.