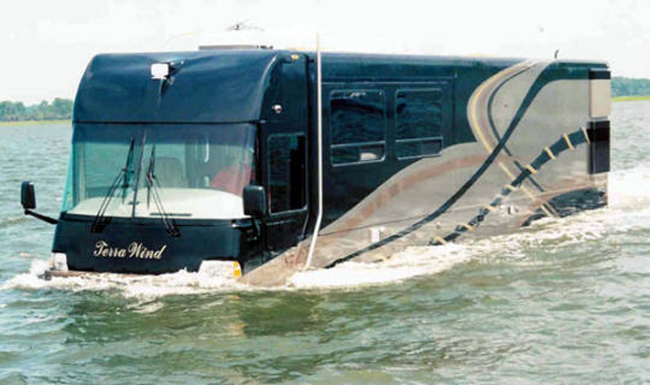 It was RV ordinance time at the Flagler Beach City Commission again Monday. More than 80 people jammed the commission chambers in a special meeting set up to hear residents' ideas about—and objections to—proposed changes to the ordinance, which regulates RV parking and storage.
The final result was not to have a final result, at least not yet. So the ordinance isn't changing for now. City officials will spend the next several weeks auditing the whereabouts of RVs and what problems they do (or don't) pose: vehicles parked in the right-of-way, vehicles that block vision by, for example, jutting out of a driveway, vehicles that violate setback violations in side yards, fire hazards, trailers in disrepair or untagged. That information will be analyzed and brought back to the commission for discussion on May 12.
Out of dozens of people who spoke, at times with enough decibel power to tickle the city's noise ordinance (which is also under discussion), just one couple was in favor of banning RVs from residential areas.
Monday's three-hour meeting could be summed up in City Manager Bruce Campbel's words: "Most of them from what I heard, they don't want any ordinance," he said. "They don't want anything to change yet they don't want anything enforced."
Flagler Beach doesn't have that many boats and RVs to start with. A census of boats and RVs by the city a year ago totaled 130 boats, including 10 jet skis (83 at the north end of town, 47 at the south end), and 20 recreational vehicles, 16 of them at the north end of town. There were also 93 boat trailers.
The city's RV ordinance lacks precision, but overall, and ironically, the proposed ordinance would have been more permissive to RVs by some interpretations, but it would also have been more enforced. The existing one isn't being enforced. The proposal would require RVs to be parked away from right-of-ways and any areas that obstruct other drivers' views. RVs 40 feet long or more would not be allowed on a property unless fully enclosed in a garage. Visitors' RVs would be limited to 72 hours' parking time. No more than one RV or utility trailer would be allowed to be parked outside a garage at any given time. Those trailers or RVs could be parked in back of a house as long as it doesn't take up more than 30 percent of the back yard area.
The proposal also gives RV owners cited for a violation up to 90 days to come into compliance.
One of the sticking points is this: most people don't have a large enough yard where to park their RVs without exceeding the 30 percent limit. They would not be allowed to park their RVs in front of the house. Essentially, the new ordinance would result in a ban on RVs for those residents, who consider the measure too draconian. It's costly and inconvenient to store an RV elsewhere. Then again, in Palm Coast, RVs are banned outright in most circumstances. Flagler Beach residents supportive of RVs say they're a beachside community that naturally should make allowances for recreational vehicles.
In May, Drew Smith, the city attorney, will draw up yet another version of the ordinance, if necessary, based on information gathered by the city's code enforcement officer in the intervening weeks.