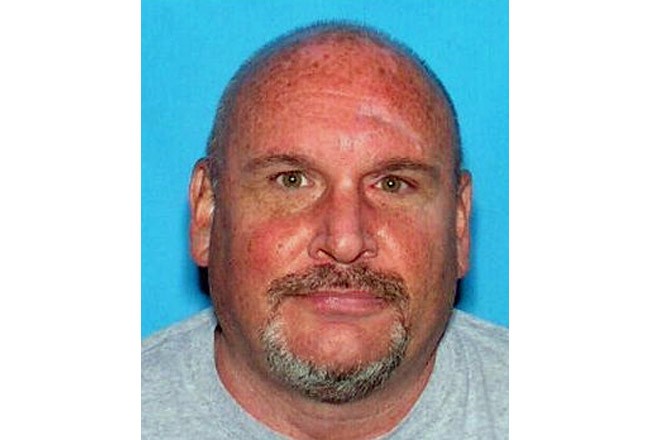 Update: At 11:30 this morning the Sherioff's Office announced on its Facebook page that Russell Muller was found safe in Daytona Beach.

Flagler County Sheriff's detectives are seeking the public's help in locating a Palm Coast resident missing since last week.
Russell Muller, 52, of 17 Patrick Place in Palm Coast, is a student at Flagler Technical Institute and a full-time employee at Walmart. He has reported to neither place since Oct. 8, and his car, a cream-colored four-door PT Cruiser, was discovered Tuesday (Oct. 14) near 300 N. Ridgewood Avenue in Daytona Beach, empty.
Muller is described as 5'11'' tall, weighs 200 pounds, is bald and has hazel eyes, and he has an eagle tattoo on his right arm. He was last seen at Flagler Technical Institute on Oct. 8 around 8 p.m.
Muller's 71-year-old aunt, Linda Maxwell, told police that she last saw her nephew the afternoon of Oct. 8 when she left to play cards with her mother. Muller was at home when she left. He was due at FTI that evening. When Maxwell returned around midnight, Muller's bedroom door was closed, which was not unusual when he slept. But the next day Maxwell discovered that he'd never returned home. She told police that he will go places without telling her but normally comes home every night.
Muller has a girlfriend who lives in New Jersey, and who's previously stayed at Bulow Camp Ground when she has visited. Staff at the camp ground had not seen Muller. Aside from his full-time job at Walmart (where he did not call to report being sick), the only other place his aunt knew he'd go to was Daytona Beach. Maxwell told police that Muller had a prior substance abuse problem but has been clean for five to six years. "A check of Russell's bedroom for evidence of substance abuse met with negative results," an incident report states. "There were no notes left and nothing appeared suspicious in Russell's bedroom or in the common areas of the residence." His aunt said he is not suicidal and has no mental health issues, his only medication being limited to treatment for high blood pressure.
Muller's father lives in Palm Coast's P Section. His mother lives in Maine.
Anyone with information about Muller is asked to call the Flagler County Sheriff's Office at 386-586-4801 about case 104468-15 or call Detective Elizabeth "Annie'' Conrad at 386/586-4844.