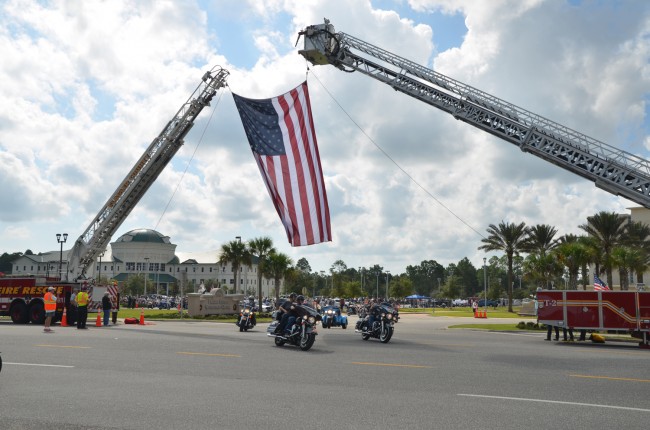 By 9:30 Sunday morning the parking lot in front of the Flagler County Courthouse was all glittering chrome, American and black P.O.W. flags, leather jackets,  tattoos beading in the sun and the occasional helmet as 400 to 500 riders gathered for the annual 9/11 memorial ceremony and ride across Flagler and Volusia.
"I think it's great the turnout you get for ceremonies like this 12 years after the event," Flagler County Fire Chief Don Petito, one of the featured speakers this morning, said before his turn at the mic. "We keep it in everybody's memory, we keep it alive, and one of the things I mention during my talk is that the last time we were attacked on U.S. soil is 1941, and there's a day already designated for that. We continue this on, we'll get our own day designated."
There were prayers, hymns, a few speeches, a 21-gun salute, "Taps" and solemn remembrances of a day that witnessed the loss of 2,977 people, among them 343 firefighters and 60 police officers.
The ceremony and 67-mile ride is sponsored by the Red Knights, the Blue Knights, the county and Rue, Ziffra and Caldwell, the Daytona Beach law firm, one of whose partners was among the riders. It began at the courthouse and looped down to Volusia before ending at the White Eagle Lounge on U.S. 1, a different sort of sacred ground for bikers.
Four of Flagler County's five county commissioners turned up–Chairman Nate McLaughlin, George Hanns, Charlie Ericksen and Frank Meeker–along with Bunnell Vice Mayor John Rogers (Mayor Catherine Robinson made an appearance later, but did not speak) and Flagler County Sheriff Jim Manfre. Flagler County Fire Flight, the emergency helicopter, flew over the scene as a coda to the national anthem. A 9/11 survivor, Yvonne Robinson, sang "Wind Beneath My Wings." The ceremony was emceed by Patrick Juliano, the Palm Coast firefighter.
See the gallery below.

[nggallery id=103]