Roy White, the 39-year-old Jacksonville resident whose wreck on I-95 in Palm Coast in June 2014 was at the origin of a series of crashes that resulted in the death of six people, was found guilty of a driving infraction today, fined $1,000 and had his license suspended six months.
One of the six people killed was 17-year-old Michael Smith, a passenger with White. Smith was ejected during the wreck and died at a hospital later. Also killed was Pamela Thor, 56, of St. Augustine. She was killed when White's Chevy went airborne after hitting a guardrail and landed against Thor's car, which was traveling in the opposite direction.
White appeared in court before County Judge Melissa More-Stens this morning. He was found guilty of failing to drive within his lane. He was visibly and audibly dejected immediately after the judge's decision, shaking his head and calling the decision "bullshit" as he walked out of the courtroom. His attorney, Reid Hart, was also displeased after the judge rendered a decision without giving Hart a chance to make closing arguments, though by then both sides had presented their witnesses and made their case. "Wow," Hart said, when Moore-Stens told him: "I'm going to find him guilty."
White was at the wheel of a pick-up truck on June 1, 2014, with passenger Michael Smith, 17. They were driving north. According to White in court, he saw some debris in the road about a football field's length from where he was and attempted to avoid it. When he did so, Smith for some reason took the wheel and the two men wrestled. White could not explain why, but claimed Smith was having issues and was on drugs.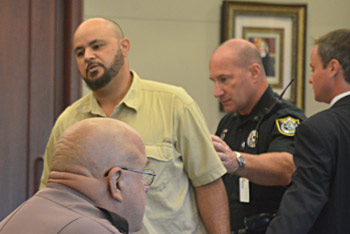 "I don't know what happened," White said, describing the incident as something that unfolded extremely rapidly. "Michael grabbed the steering wheel and we kind of fought." He added: "I couldn't get control of the truck, his hand was on the steering wheel." Next thing he knew, he was hitting the guard rail. He had first swerved to the right shoulder's emergency lane then overcorrected, sending the truck against, then over, the guard rail at such speed that it then flew against oncoming traffic–and Thor's Honda, shearing off that car's passenger compartment.
At one point a Florida Highway Patrol investigator asked him if, while struggling with Smith for the wheel, he'd let Smith know that he was in control. White said the incident unfolded too fast for such an exchange to take place. "Everything happened so fast," he said. "It was a blur."
"Do you typically announce to your passengers whenever you're going to change lanes?" Hart asked him.
"No sir."
"This makes no sense," White said in court when Moore-Stens handed down the verdict. A bailiff, taking note of White's demeanor, quickly got behind White and ushered him out of the courtroom.
The wreck had taken place near the intersection with Palm Coast Parkway. The Interstate was shut down in both direction for a period, and the southbound lanes remained shut down for hours. The wreck in Palm Coast caused a back up that stretched 12 miles into St. Johns County, setting up the next crash, which killed four people when a tanker truck rammed into stopped vehicles. The victims who died were Nilda Valentine Rivera, 41, of Palm Coast; Barbara Carol Pennington, 50, of Lakeland; Jonathan Jay Ruiz, a 1-year-old boy from Jacksonville, and Kristin J. Ruiz, 25, of Palm Coast.