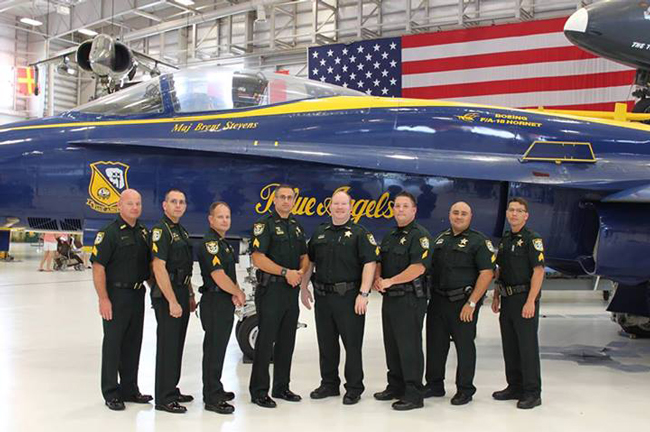 Escambia County Sheriff David Morgan has been defending the bizarre July 27 shooting of Roy Middleton by his deputies, which is currently being investigated by the state and has been the subject of protest by civil rights groups in the area.
Middleton, an unarmed 60-year old black man, was looking for a cigarette in his mother's car when deputies shot him 15 times. Morgan told reporters Middleton "refused to obey commands and lunged at the deputies who fired their weapons." At the time he was thought to be a car thief, sheriff's office officials have claimed. Middleton has since been recovering after two rounds hit his left leg and shattered it.
According to the Pensacola News Journal: "Morgan said that one major reason was that [Middleton], whom he referred to as a suspect and a victim, did not immediately comply with officers' instructions to put up his hands as they approached. 'If we rolled on the scene and Mr. Middleton had been compliant and Mr. Middleton had followed all directions of the law enforcement officers, I can give you with a 99.9 percent of assurance that this shooting would not have occurred,' the sheriff said. 'But when an individual, a suspect, or victim in this case, is not compliant, then the officers react to that.'
"Morgan's statement contradicts what Middleton told the News Journal during an interview from his Baptist Hospital bed on Saturday. He's recovering from a gunshot wound to his leg, was listed in good condition Monday and believes he may be released Wednesday. He said he had been rummaging in his mother's car for a cigarette but backed out of the car with his hands raised when the deputies came upon him. He said they immediately opened fire when he turned to face them. 'It was like a firing squad,' he said. 'Bullets were flying everywhere.'"
This isn't the only incident, as of late, that Morgan has had to smooth over, either.
Just a week or so after the Middleton shooting, deputies "climbed through the window of a Warrington couple's home in search of a suspect, despite having no search warrant, and shot two dogs, one of which died," the News Journal reported on August 6:
"Cristina Moses, 32, and her fiance, Travis Nicholas, 22, on Tuesday recounted what they said was a horrific scene that included one of about a half-dozen deputies shooting the dogs in the couple's bedroom after awakening the couple at about 10:30 p.m. Saturday and dragging them to the hallway. Moses' 13-month-old blue pit bull, Gracie, was euthanized early Monday because of the gunshots, Moses said. Her other dog, a 3-year-old bulldog mix named Rocky, was shot in the leg but is recovering at the couple's home. …The Sheriff's Office provided limited information and said an investigation is continuing. A sheriff's news release stated that deputies believed that a suspect in an armed disturbance earlier in the evening on the couple's street, Flynn Drive near Corry Station, frequented the home where Moses and Nicholas lived."
While it isn't surprising that either of these two incidents has spurred a lot of controversy, Morgan's defense of the Middleton shooting, in particular, has been pretty interesting.
The News Journal reported that Morgan said in a speech last week at a Rotary Club of Pensacola meeting that his department was "hobbled by the law" and could not probably defend itself.
Because the case is currently being investigated by the Florida Department of Law Enforcement, the sheriff cannot say too much about the shooting. Morgan said, "I cannot sit with the media and give you specific details … No one is more frustrated with that than me," the News Journal reported.
According to the News Journal: "The sheriff said the purpose of his speech [that day] was to address the apparent "lack of race relations" in the county. 'The dialogue needs to begin, again, based on statistical data and the truth,' he said.
Dahlia Lithwick of Slate commented recently that the Rotary Club speech was "a case study in grievance- and blame-shifting."
"The video," Lithwick wrote, "includes a horribly painful opening joke referring to the recent police actions and the attention they garnered as 'turds' he was being forced to swallow. Your call whether the humor is rankly offensive, mildly inappropriate, or fair game. But the meat of the speech appears to be an attempt to recalibrate the media outrage generated by armed officers shooting at an unarmed black man 15 times, into media outrage that is somehow both race-blind, and targeted at black offenders. The substance of Morgan's argument is that the community must 'address statistics for what they are and not inject race.' Then he proceeds to inject race. And then he does it again."
Lithwick closed her article by opining that "what bothers [Morgan] is that Americans are still capable of outrage when innocent people are brutalized in their homes by his police officers. What should bother the rest of us is that he is not."
Both the Middleton case and the Warrington couple's case are both being investigated by state officials.
—Ashley Lopez, Florida Center for Investigative Reporting