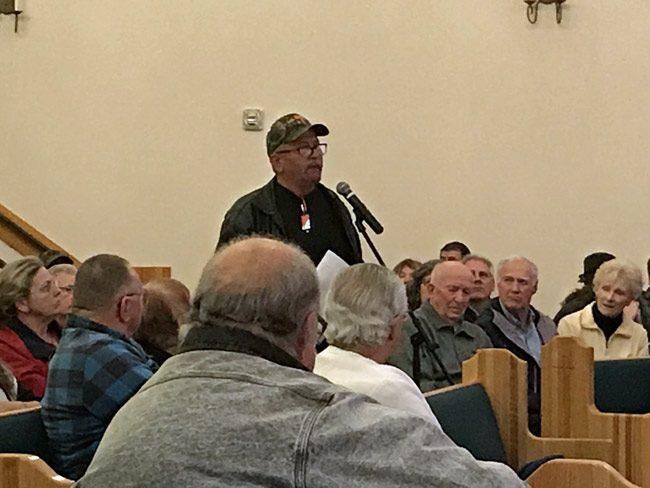 The open house and public hearing about a proposed $2.9 million roundabout at the deadly intersection of U.S. 1 and Old Dixie Highway began at 5:30 p.m. Thursday evening.
Flagler's 911 dispatch center got the call about a severe crash with injuries at the intersection of U.S. 1 and Old Dixie Highway at 5:32 p.m. Two vehicles. Airbags in both deployed. Occupants in each were still in the two small sedans, one a Nissan, the other a Volvo. One of the vehicles was driven by a Putnam County Sheriff's deputy. He was not injured seriously. The woman in the other car was.
Meanwhile state transportation officials mingled among some 400 people who had gathered for the open house not far from the crash site. They were all within walking distance of the crash site, down Old Dixie Highway at the Community Baptist Church. There was something morbid in the irony of the timing, and the irony of what was to follow inside the church: with near-total unanimity, those who spoke about the proposed roundabout, intended to drastically reduce severe crashes, opposed it.
Just about the time when all lanes on U.S. 1 were shut down to allow for Fire Flight's landing to collect a critically injured woman and fly her to Halifax hospital in Daytona Beach, the actual hearing began, with transportation officials explaining the purpose of the roundabout by way of a recorded presentation and members of the public filing up to a microphone to speak their objections in two-minute increments.
Sheriff Rick Staly began with noting the crash that had just happened: "I can tell you it's critical injuries, she had to be fireflighted back to Halifax hospital, and the highway patrol is doing the investigation, so what tells me as sheriff is the likelihood that she could die from this crash," he said, asking the crowd to keep the woman in their thoughts. He then summarized what he'd told FlaglerLive earlier in the day: he's not objecting the roundabout, deferring instead to transportation official's expertise, and predicted a mix of views ahead, about the roundabout: he was being more hopeful than what would unfold.
"I have to respectfully disagree that the roundabout is the safest thing," Pat Cody said immediately after the sheriff. "I'm here to oppose this one, but I'm also here to oppose the one at Cody's Corner." The transportation department is designing additional roundabouts for the intersections at State Road 11 and County Road 304, and at U.S. 1 and Matanzas Woods Parkway. "I have over 450 signatures against the one at Cody's Corner." She had emailed questions to the transportation department's Steve Olson in June of 2017 with some questions, hearing back that a traffic study concluded a traffic light at that intersection was not feasible. "How much less traffic is needed for a roundabout?" she asked. She also doubted the suggestion that the roundabout would not need to encroach on further property.
And so it went.
Don White had several questions, including how the roundabout would work when I-95 is shut down and its traffic flows up and down U.S 1. Mark Langello, a property owner in Bunnell and a member of the county's planning board, said he was "fundamentally" opposed to the roundabout, saying traffic won't slow down approaching it. "A lot of people who are dying out there, possibly even tonight, it's serious issue," Langello said, "so we appreciate the fact that you guys are going to do something, but if the solution you're coming up with doesn't work, then that doesn't help anybody, and roundabouts usually are successful in city environments where the traffic already is slow, not on a road where people don't have the visibility and are already going fast." (Transportation officials project traffic having to slow down to 35 to 25 mph before taking the roundabout.)
Rebecca O'Shane said a red light would make more sense. Several others, including a truck driver, said the same. John Dance a retired Florida Highway Patrol traffic homicide investigator who lives in Flagler, spoke his opposition to the roundabout by starting to say that "There is nothing wrong with that intersection," then going on to blame the victims killed there. "Unfortunately for the people who perished at that intersection," he said, "based on my training and experience, you can't fix human error. I feel really bad for the family of five that died at that intersection, but you can't pull out in front of an F-350 and not see it, and in 2017, the next one was a motorcycle, pulled out of a pick-up truck." He also questioned the engineering and the proposed elevation of the roundabout at the intersection. "It's not going to work," he said, calling the whole effort "a knee-jerk direction for a five-person death at Old Dixie Highway." He repeated: "You can't fix human error."
But as transportation officials might have told him had they used the platform to respond that evening—they did not—all road engineering is designed not so much to "fix" human error but to mitigate and minimize it.
Dance was followed by a trucker who said he'd rather see a red light there, and by David Shaw, who called the roundabout "a high-speed obstacle," preferring a lowering and enforcement of the speed limits (though Staly said "we cannot enforce our way" out of the problem, FHP and the sheriff's office not having the personnel to patrol the area as constantly as the public expects). Another man called the roundabout "a stupid decision" that had already been made. Others who spoke included a mail carrier who travels the road constantly and noted that drivers blow through stop signs routinely, or "rolling" through the stop signs, triggering wrecks. "A stop light is the answer," she said.
Marvin Clegg of Flagler Beach, who owns property in western Flagler and drove through the intersection for 20 years, going to work, lent credence against any assumption that those opposed to roundabouts are only those not familiar with them. He said he hoped the plan was just "a trial balloon," enabling the transportation to back off and come up with something else. "What you would be doing with this proposal would be to force traffic off of 325 and Old Dixie to go into this what I would call a Russian roulette wheel of a roundabout, whereas right now they don't have to do that. They can stay off of U.S 1 and do their interactions between 325 and Old Dixie. It is a bad situation. It's a bad layout. Use some of that $2.9 million that's being proposed to do some eminent domain," meaning acquisition of nearby private property to reroute traffic, putting a stop to people crossing U.S. 1 there.
Rare were those who, like George Mayo–a familiar face at county commission and Palm Coast City Council meetings–spoke of their opposition to the roundabout but also noted that they should keep an "open mind" to the proposal. If the roundabout were to go forward, he said, then at least one of the entry points into it should be eliminated.
"I think we're all in agreement, something needs to be done," another man said. The roundabout isn't it, he said.
Toward the end of the hearing–essentially, after he'd heard where the wind was blowing–County Commissioner Nate McLaughlin, who is running for re-election, said he was speaking "on behalf of Flagler County" and pleading with the transportation department "to reconsider" the project, along with the two other proposed roundabouts. "This just isn't going to work for the situation we're in," he said. "So please on behalf of Flagler County don't treat a roundabout as the answer to every situation. It's not. Let's do a little bit more homework, please, and come back with a better solution." The Flagler County Commission has not weighed in on the matter, so McLaughlin was assuming much when he claimed to be speaking on behalf of the county. But McLaughlin's ear is also sharply tuned to popular will: whether he was speaking on behalf of the commission or not, he was certainly speaking on behalf of public opinion.
It's not clear to what extent Thursday's hearing will weigh into the transportation department's plans for the roundabout, which has not yet been engineered, according to transportation documents. But the immediate suggestion is that a traffic light would not be considered, making the roundabout still the favored approach.
Steve Olson, the transportation department's spokesman, who was at the hearing Thursday, emailed the following summation this afternoon: "FDOT District Five Traffic Operations will begin preparing a brief summary for individual responses describing how FDOT first considered a traffic signal at Old Dixie Highway and U.S. 1. It will describe why the close proximity of the adjacent intersection (County Road 325) 40 feet to the east precludes any safe way to install a traffic signal. Several of the public speakers noted this adjacent intersection as a problem, so it is likely many of the local residents understand this challenge however don't yet realize how it makes a traffic signal impractical, as the intersection exists today."
Thursday evening's hearing ended at 7 p.m. At 7:01, the 911 dispatch center recorded that the crash scene at U.S. 1 and Old Dixie had been cleared and all lanes reopened.
The victim of the crash is Alice Howell, a 71-year-old Flagler County resident. According to family, she has six broken ribs, a punctured lung, a fractured pelvis, and two broken bones just above the ankle.


The Full Transportation Department Presentation On the Roundabout:
Click to access SR_5_Roundabout_FINA_Public_Hearing_Slides.pdf