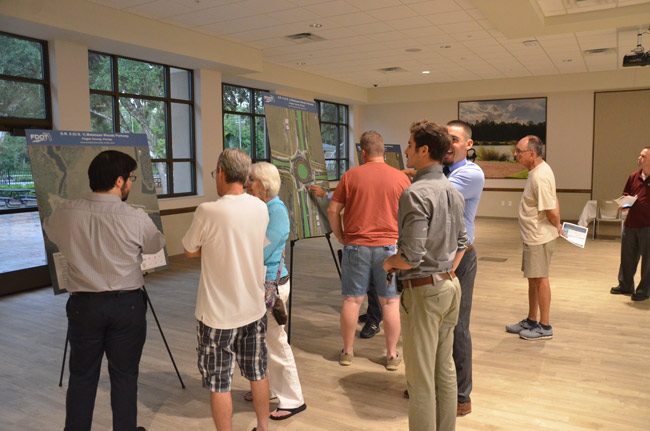 The Florida Department of Transportation appears to have learned what to do and what not to do when presenting information about roundabouts: putting up colorful design plans and letting officials speak with residents one-on-one, like counselors calming agitation, is OK. Giving residents a crack at an open mic is not.
The department hosted an open-mic public hearing in January when it unveiled plans for a $2.9 million roundabout at U.S. 1 and Old Dixie Highway. It didn't go well. Nearly every speaker was staunchly, at times angrily opposed to the plan, including a county commissioner who joined the opposition and even spoke "on behalf of Flagler County" to oppose the thing, even though the commission had not taken a position.
It was a different story Wednesday evening at the Palm Coast Community Center, where the transportation department unveiled plans for the $2.2 million roundabout planned for U.S. 1 and Matanzas Woods Parkway. There was not a mic in sight, and the only few chairs in the room had been positioned before a screen where a controlled video about the project looped for the two-hour duration of the event. Meanwhile, the department's own officials and representatives of the design and engineering firms it hired for the project were arrayed next to colorful drawings of the proposed roundabout, ready to answer questions one-on-one.
Some 80 people turned out to hear about what most of them don't want, though the roundabout is coming anyway: construction is planned for next year, a project expected to stretch over 14 months.
Construction on the roundabout at Matanzas Woods would start in the summer of 2019. Construction on the roundabout at Old Dixie and U.S. 1 was scheduled to start this month. Though the bids are in, it's being delayed to the beginning of 2019, a transportation department spokesman said.
A third roundabout was also planned in Flagler, that one for the intersection of State Road 11 and County Road 304, or Cody's Corner, at the southwestern end of the county. But that roundabout is now on hold. "Certain things have come up in our research that maybe we want to reconsider," Steve Olson, the transportation department spokesman, said. Instead, the intersection will get additional lighting and perhaps other safety devices such as flashing reds and orange signs. The roundabout proposal was set aside for now in part because of low traffic numbers at that intersection. But it may be revived in the future.
---
Watch the Transportation Department's Presentation on the US1/Matanzas Woods Roundabout
The two other roundabouts are a certainty.
The transportation department is designing and building roundabouts across Florida. They're the new method of traffic control, at least in this country (they're old hat in Europe), a way to diminish fatal and injury-prone crashes: numerous studies show that roundabouts not only decrease the net number of crashes, but significantly diminish the number of fatal crashes and crashes that result in severe injuries.
Many people who turned out Thursday, like Palm Coast resident Sharon Rigo, wondered why, as there are existing traffic lights along U.S. 1 as it is, the department wouldn't continue the trend.
Olson explained, citing one of the intersections in Flagler: "If we were to have that very same peoposal before us today, the roundabout would be what we'd be thinking about at that intersection." In other words, get used to roundabouts wherever transportation engineers have the option.
That sort of explanation tends not to satisfy those opposed to roundabouts.
"To me, it's not as controlled as having traffic stop one way, traffic stop the other way," said Ernest Aquilio, a Palm Coast resident of the B Section who drives Matanzas Woods Parkway and U.S. 1 often. He was among those questioning the plan Thursday evening. His preference, as is that of most people who oppose roundabouts, is for traffic lights, even though traffic lights stop traffic dead, whereas roundabouts merely slow it down. He described the proposed roundabout as "nice and fancy," but costly and disruptive to traffic in a way that a traffic light would not disrupt.
Two county commissioners turned out for the information meeting–Donald O'Brien and Dave Sullivan–as did two Palm Coast City Commissioners, none of them opposed to the plan even if their enthusiasm for it varied. The Matanzas Woods/U.S. 1 roundabout is in O'Brien's district. O'Brien is fully for it, as people who have driven in Europe tend to be. O'Brien has, meaning that he's experienced driving on roundabout-rich roads in regions where it's possible to drive for dozens of miles through several towns without ever encountering a traffic light.
"They have intersections that have major traffic flow, and they work so well, it's mind-boggling how well they work, and there's no traffic lights anywhere," O'Brien said. He uses the Matanzas Woods-U.S. 1 intersection three to four times a day. He sees the functionality of a roundabout there, and calls the general trend toward roundabouts "progress" that keeps up with research on traffic safety. He also supports the roundabout at U.S. 1 and Old Dixie.
"The FDOT is going this route no matter what we do," Sullivan said, "and I think in this case it makes sense. FDOT statewide is going to this type of intersection."
In an appearance on WNZF's Free For All Fridays this morning, Palm Coast City Manager Jim Landon said he knows better than to dispute expert findings about such things as roundabouts, though he, too, spoke a common misconception: that overall crashes don't decline with roundabouts, only severe crashes do. That's not accurate, with study upon study showing net decreases overall as well as more dramatic decreases in grave crashes.
Landon addressed a common complaint in the city–the roundabouts in Town Center (where there's never been a fatal vehicle crash), saying that those were poorly designed and don't fit the current design standards of roundabouts. The devices at times confuse drivers.
Confusion and lack of familiarity with roundabouts is often the reason drivers resist them, older drivers in particular, which helps explains the resistance to roundabouts in Flagler, where the median age is 50.
Bob Cuff and Vincent Lyon were the Palm Coast council members who turned up at Thursday's Community Center meeting. Cuff noted that the Matanzas Woods roundabout may seem out of place now, but is in fact good planning ahead of expected and significant development in that quadrant of the city. Still, Cuff was characteristically quick with the sort of witticism that illustrates roundabout navigation in places unused to them: "I did sarcastically suggest that maybe some speed-activated landing nets like they use on aircraft carriers might not be a bad idea," Cuff said.