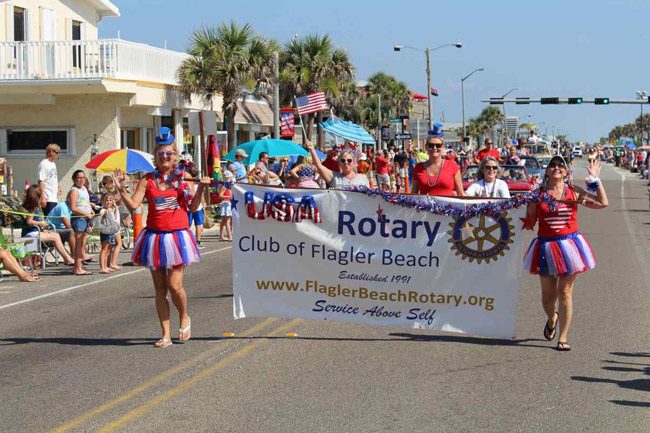 The Rotary Club of Flagler Beach is once again hosting the Fabulous Fourth Parade in Flagler Beach on Wednesday, July 4 at 10 a.m.
This year's parade theme is "Freedom for All". Applications can be found online here and entry deadline is July 1st. There is no cost to enter a float in the parade.
Participants will line up between 8 a.m. and 9:45 a.m. in and around the grounds of Santa Maria del Mar Catholic Church toward the north end of town. They will receive an entry number and map to their location before July 3rd via email. The parade route is east on North 6th St., south on Ocean Shore Blvd., then west on South 6th St.
There will be a Best of Parade trophy and 1st, 2nd, and 3rd categories for Judges Choice, Best Marching Unit, Best Float, and Best of Theme. Awards will be handed out in Veteran's Park immediately following the parade.
For safety reasons, the City of Flagler Beach bans the throwing of anything from moving vehicles. Candy can be handed out by accompanying walkers.
For any questions, contact Andrea Verdi at 386-986-0214 or [email protected] Further details are attached and available via this link.
The parade is the morning highlight of Flagler Beach's July 4 celebrations, which continue with activities, music and food and culminate with the fireworks of the Flagler Beach Pier at 9 p.m.