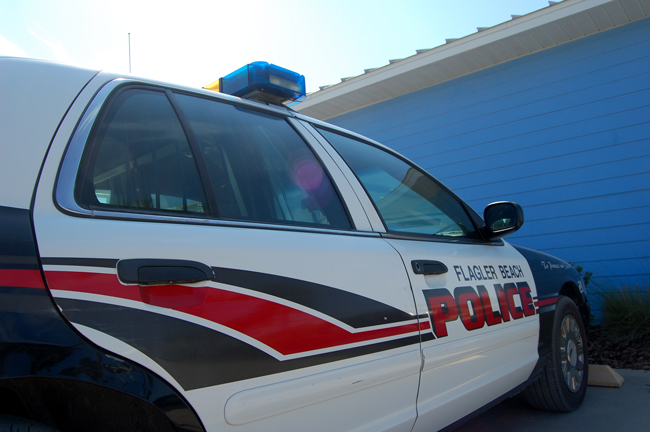 The Flagler Beach Police Department's Lt. Robert W. Milstead was known for taking on tough-man challenges on behalf of fellow officers: in 2007, and again last year, he took part in the state's grueling Tour de Force competition, a 286-mile bike trek through 65 law enforcement jurisdictions around the state. The event raises money for the families of law enforcement officers killed in the line of duty.
Last year, Milstead was one of just 28 officers, from a starting lineup of 102, who finished the tour. "These guys are setting the example for the rest of the department," Flagler Beach Police Chief Dan Cody said at the time, referring to Milstead and another officer who'd taken part in a different, equally grueling training competition.
On Monday, the Florida Department of Law Enforcement arrested Milstead, 55, on charges of abusing citizens he is sworn to protect, going back to incidents that took place in 2008 and 2009. He was booked into the St. Johns County Jail on $105,000 bond at 8:10 p.m. Monday evening. He posted bond 20 minutes later.
According to an FDLE release, the state police agency began an investigation in January after receiving complaints about Milstead. Agents with the Jacksonville Regional Operations Center identified two incidents when Milstead used excessive force, according to FDLE.
The first occurred during a traffic stop on April 3, 2008 in Flagler Beach. Milstead had stopped David Bellish on State Road 100, near Colbert Lane. Bellish, according to a police report, had reportedly backed into another car while leaving the parking lot of Finnegan's Bar in Flagler Beach. Milstead asked Bellish to get out of the vehicle. Twice Bellish told Milstead that he was unable to get out of the vehicle without using his cane. Bellish had sustained substantial injuries from a car crash in 1999, and had required the use of a cane to conduct day-to-day activities since 2007. He'd been receiving disability benefits for several years.
Bellish and another, unnamed police officer, according to the police report, "indicated that Lt. Milstead immediately jerked Bellish from the vehicle and threw him onto the ground." Milstead then ordered Bellish to get up, even though Bellish had told him he could not walk without his cane. "A law enforcement witness present at the scene indicated that Lt. Milstead jerked Bellish to his feet and ordered him to walk," the report states. When Bellish did not, Milstead dropped him to the ground and sprayed pepper spray in Bellish's face, according to the report.
FDLE agents obtained several law enforcement officer and witness statements that indicate Bellish was not being combative or physically resistant during the encounter.
The second incident occurred Nov. 27, 2009, when a Flagler Beach Police Officer was dispatched to a disturbance call at the 100 block of S.R. 100 in Flagler Beach. There, Charles Jackson, who is black, was upset because his girlfriend was allegedly using drugs in front of his children. As the responding officer was talking to Jackson, Milstead, who was off-duty at the time, arrived in his personal vehicle. As he spoke to the responding officer, Jackson began to curse at his girlfriend. The responding officer told Jackson to calm down and that they'd be free to leave after the situation was resolved. At that point Milstead, after identifying himself as a Flagler Beach police officer, told Jackson: "Shut your mouth so you don't go to jail."
Jackson a few minutes later again became argumentative with his girlfriend, at which point Milstead ordered the responding officer to hand him his handcuffs, which Milstead immediately placed on Jackson before putting Jackson in the patrol car. Jackson, in the car, started yelling. According to the police report, Jackson said Milstead walked over to the patrol car, opened the door, and said: "Are you going to still run your fucking mouth, nigger?"
The rest of the police report reads as follows:
Jackson told Milstead to get out of his face. Lt. Milstead closed the vehicle door. Lt. Milstead opened the door a second time and said, "Are you going to still run your fucking mouth, nigger?" Jackson told Lt. Milstead to get out of his face or he was going to spit on him. Jackson stated the last time Lt. Milstead opened the door, he (Jackson) made a spitting sound as if he was going to spit but didn't. Lt. Milstead slammed the vehicle door and walked towards the other FBPD officer on scene and asked for his pepper spray. Jackson stated that Lt. Milstead returned to the patrol car, opened the door, and said, "I got something for you now, nigger." Lt. Milstead deployed the pepper spray onto Jackson's face while he was handcuffed behind his back and sitting in the patrol vehicle. One law enforcement witness on scene stated that Lt. Milstead opened the patrol car door to deploy the pepper spray in Jackson's face on at least two occasions.
Milstead worked at the Flagler County Sheriff from 1981 to 1983, and at the Holly Hill Police Department from 1985 to 2007. He's been with the Flagler Beach Police Department for two and a half years. He is paid $47,700 a year.