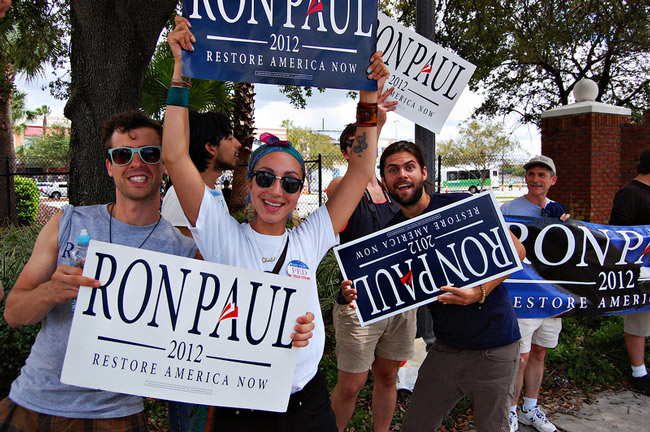 Big Names to Speak to Florida Delegates Thursday
When Florida Republican delegates gather for breakfast Thursday, they could get a jolt. The expected roster of speakers: U.S. Rep. Allen West, U.S. Senate candidate Connie Mack, former Ambassador John Bolton, former U.S. House Speaker Newt Gingrich and New Jersey Gov. Chris Christie. State Agriculture Commissioner Adam Putnam, who has been serving as emcee for daily breakfasts during the Republican National Convention, said delegates should be ready to hear the outspoken West first thing in the morning. "He's kind of a sleepy-type speaker," Putnam said, drawing laughter. And as for Bolton: "That guy will tell it like it is. He is not afraid," Putnam said. He also noted its swing state status. "Everybody knows how important Florida is," Putnam said. "The Florida delegation is a desirable audience."
Delegates Really Want to Beat Wasserman Schultz and Alan Grayson
Republicans Karen Harrington and Todd Long have uphill fights in their congressional races this fall. But when Agriculture Commissioner Adam Putnam mentioned them Wednesday during a Florida delegation breakfast at the Republican National Convention, Harrington and Long received outbursts of applause. The enthusiasm might have as much to do with the Democratic candidates in the races: U.S. Rep. Debbie Wasserman Schultz, the chairwoman of the Democratic National Committee, and former U.S. Rep. Alan Grayson, a liberal firebrand.
Putnam described Long as "valiantly" trying to prevent Grayson from returning to Congress in a Central Florida district. "There's nothing that will send more message across the country than, not only not re-electing this president, but taking down the DNC chair," Harrington said.
Most Lawmakers Don't Attend the Delegate Breakfast
Florida's delegates to the Republican National Convention have gathered every day this week at 8 a.m. to hear a parade of speakers. But noticeably absent from the gatherings have been Republican lawmakers. A few have showed up — incoming House Speaker Will Weatherford and Reps. Bill Hager, Ronald "Doc" Renuart, for example — but most lawmakers have been nowhere to be seen. Statewide Republican officials have attended. Agriculture Commissioner Adam Putnam is emceeing the breakfasts, and Gov. Rick Scott, Attorney General Pam Bondi and Chief Financial Officer Jeff Atwater have each made appearances. Also, showing up at least once have been Congressmen Steve Southerland and John Mica and congressional candidates Karen Harrington, Adam Hasner and Ted Yoho.
Late Night, But Not for the Fun Reason
It was a late night for many Florida delegates to the Republican National Convention – but not necessarily because they were out partying. The delegation is posted way up north of Tampa in Palm Harbor in Pinellas County. Normally, that's nearly an hour drive from downtown Tampa.
But the buses hired to move delegates around the region haven't exactly run on time. After some buses didn't show up to take delegates downtown on Tuesday, buses to take them back out to the Innisbrook resort took it a bit slow. Some delegates said it took them 4 hours to work their way back to their hotels after the evening convention. Agriculture Commissioner Adam Putnam joked about it at the delegation's early morning breakfast. "When's the last time you saw 3 a.m.?" Putnam asked as three-quarters full breakfast. Other delegates weren't taking all the travel difficulties so happily. The Tampa Bay Times quoted Hillsborough County GOP Chairman Art Wood on what he thought when buses failed to show up to take delegates to the convention hall. "Well, that sucks," Wood said. GOP spokeswoman Katie Betta said Wednesday that after Tuesday's problems, the state party went out and hired its own buses for the delegates to use the rest of the convention.
–News Service of Florida