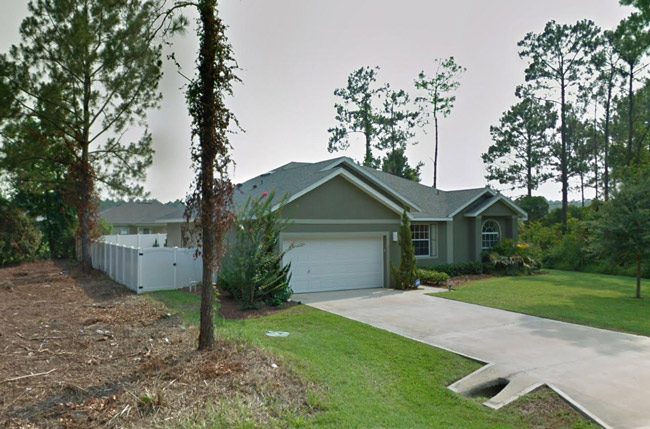 The house at 68 Riverina Drive in Palm Coast was the target of a burglary this evening, drawing a substantial response from Flagler County Sheriff's units and resulting in the detention of three teens. It is the second time in three days that a trio of teens was involved in burglaries resulting in arrests in the R-Section.
The person who called 911 is a neighbor of the residence in question and the caretaker for the house, a 1,700-square-foot house that is homesteaded, according to the Property Appraiser's documents. The caller heard glass shattering and was concerned that a burglary was in progress, a Flagler County Sheriff's spokesperson said.
Numerous units responded after the 6:08 p.m. call (a witness said up to 10 vehicles converged on the area). Deputies noticed a broken window on the side of the house. They established a perimeter and used a public address system to order whoever was inside to come out, the spokesperson said. Three individuals did so: two girls (15 and 16), at least one of whom lives in the area, and Dezmon Kearse, 18, of Daytona Beach. One of the girls had been reported missing. It's not yet clear from where.
Kearse was booked in at the Flagler County jail, according to a sheriff's release, under no bond. He has an adult criminal history starting in January of 2017. This arrest is Kearse' 3rd this year and has previous arrests in 2018 for aggravated battery in Volusia County. The juvenile offenders were processed at the jail and released to their parents as directed by the Florida Department of Juvenile Justice.
Early Saturday morning, three teens–19, 18 and 16–were arrested and charged after they were found in possession of a wallet stolen from one of six cars they had allegedly attempted to burglarize in the R Section.