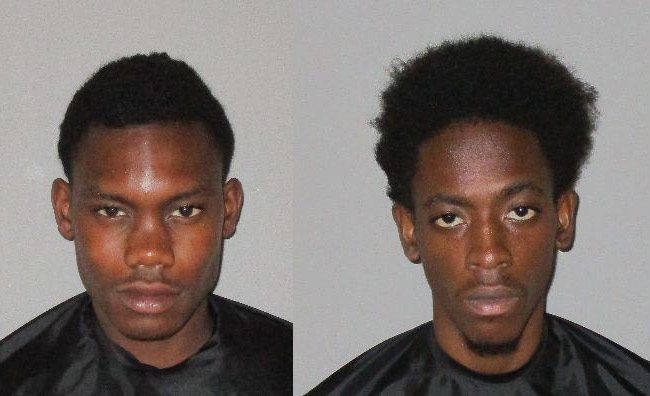 Between 2 and 3 a.m. Saturday Flagler County Sheriff's deputy Daniel Malta was on a routine patrol in Palm Coast's R-Section when two individuals running across Rymfire Drive caught his attention. Before long, three teens were under arrest and charged with burglary, and two of them were charged with contributing to the delinquency of a minor: the third suspect is 16, and the three had been working in concert.
Those running across Rymfire were Willie Green, 19, of Alexandria Circle in DeLand, and a 16-year-old resident of DeLand. When Malta stopped them, he observed that both were wet, muddy, and had several items about them that they could not explain. Malta, joined by other deputies, discovered a digital camera, two black cloth gloves and a wallet belonging to a 23-year-old woman who lives on Red Barn Drive. The deputies then denoted several muddy footprints and a single Nike flipflop in the ditch behind the house at 1 Red Clover Lane, a property that backs up to Rymfire.
Not far from there, the deputies discovered another flipflop and another woman's wallet. Since the two individuals Malta had stopped were wearing shoes, the deputies deduced that a third accomplice was nearby. Deputies set up a primeter, and that individual, Wayne Williams, 18, was found and secured.
The woman on Red Barn confirmed to deputies that her wallet had been stolen from her burglarized car.
Green agreed to speak and was interviewed by detective Joe Costello at the Palm Coast precinct at City Market Place. He told the detective that he'd burglarized several vehicles–all of them left unlocked (a bane of local enforcement, since the majority of car burglaries involve unlocked cars). Green told Costello he'd picked up the 16-year-old boy from his home knowing that the boy was already on probation.
After the interview, Green showed a deputy the targets of the night's burglary spree: vehicles at 3, 16 and 22 Red Birch Lane, and 22, 23 and 26 Red Barn Drive. Before cops showed up (someone had contacted 911 to report a suspicious person simultaneous with Malta patrolling the area) the trio had been successful at one of the six attempted burglaries. Green admitted to taking the woman's wallet on Red Barn, according to his arrest report.
Green is charged with felony burglary of an unoccupied conveyance, criminal attempt to conspire, and contributing to the delinquency of a minor. He was being held on $4,500 bond. Williams, of Knox Avenue in Bunnell, is charged with felony burglary and contributing to the delinquency of a minor, and was held on $2,000 bond. The minor is charged with felony burglary of an unoccupied conveyance and criminal attempt to conspire.