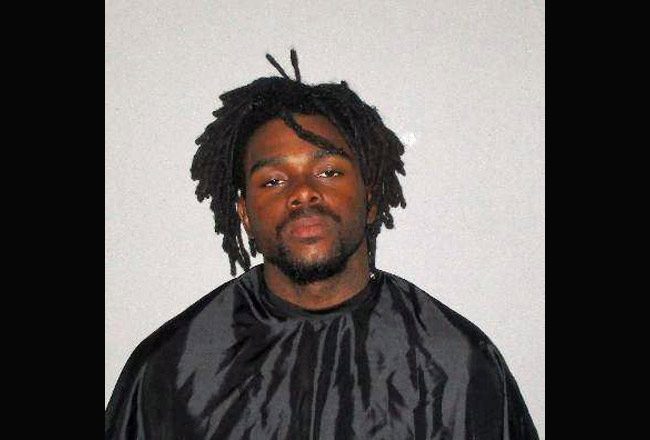 Rico Ransom had reason to let out an expletive when he saw the blue lights of a cop car in his rear-view mirror as he drove a stolen car on Palm Coast Parkway Thursday evening. Ransom is only 21, but he has a long history of arrests and felony convictions, among them a conviction for grand theft auto two years ago, and an armed carjacking charge three years ago.
The carjacking charge was dropped, but he was in jail on the grand theft conviction  until a few months ago. And he's since been  charged with another in a string of domestic violence and assault charges. He was out on bond on that one when he saw the blue lights in the mirror.
Ransom was driving a black Honda with an obstructed license plate and a cracked taillight when a Flagler County Sheriff's deputy activated his patrol car's emergency lights, going west on Palm Coast Parkway at 7:30 p.m. Within moments the deputy learned that the tag had been reported stolen out of St. Johns County, and later learned that the Honda had been reported stolen out of Volusia. The Honda began to swerve aggressively through traffic, according to the deputy's report, apparently trying to elude the cop, who followed until the intersection with Belle Terre Parkway. At that point the deputy got orders to stop the pursuit, in accordance with a policy that places public safety ahead of catching suspects when the suspects are not believed to be involved in a violent crime.
The Honda sped off, ran a red light at Palm Coast Parkway and Pine Lakes Parkway, then crashed in the woods at the intersection of U.S. 1 and Palm Coast Parkway. Alexis Jackson, a 19-year-old, emerged from the woods. After initially being hesitant to speak to cops, she identified the driver of the vehicle as Rico Ransom Jr., her boyfriend of five months.
Ransom had just picked her up from her home in the Hammock, she explained, and the two were on their way to the AT&T store when the traffic stop was attempted. At that point Ransom exclaimed, "oh shit," and began to flee, Jackson said. After the crash he climbed over his girlfriend to get out of the vehicle and ran into the woods. She initially went with him but was unable to keep up with him, so she doubled back and decided to speak with cops. She told them she'd never seen the Honda before since the couple usually uses her car, but they didn't have access to her car on Thursday. Jackson said she didn't know the Honda had been stolen.
By then a perimeter was set up, Flagler County Fire Flight, the emergency helicopter, was assisting the search from overhead, K-9s sniffed around on the ground, but Ransom was not found. John's Towing removed the crashed Honda from the wood-line. The Sheriff's Office is still searching for Ransom.
If you have any information on the location of Rico Ransom Jr., please contact the Sheriff's Office at 386-313-4911 or call Crimestoppers at 1-888-277-TIPS (8477) to remain anonymous. You could be eligible for a reward.