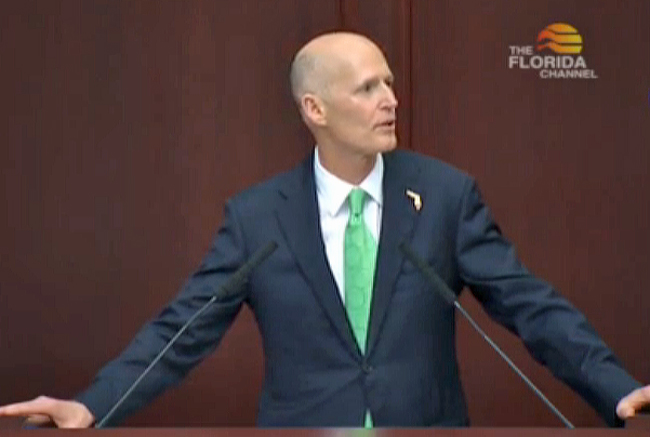 With a difficult battle for re-election looming, Gov. Rick Scott on Tuesday used the final State of the State address of his first term to frame the campaign and the role of his personal biography in it.
The half-hour speech, delivered before a joint meeting of the Legislature, plowed little to no new ground on the policies the governor will tout during the 60-day session that opened Tuesday. But Scott used the speech to connect his family's financial troubles when he was young to his quest to bring more jobs to the state, and to introduce what seems to be his theme for the fall: "Let's Keep Working."
Scott also used the occasion to flay the administration of former Gov. Charlie Crist, a Republican predecessor now running for governor as a Democrat.
"Four years ago, people were down on Florida: high unemployment, shrinking home values," Scott said. "Florida was in retreat. … But now, we are on the rise. Jobs are coming back, career opportunities are growing, home values are improving, and there is simply no reason that Florida cannot be the number one state in the country to find a good job, raise a family and achieve the American dream."
The speech comes as Scott continues to trail Crist in the polls and has slimmed his legislative agenda to focus on one politically popular major issue: $500 million in tax and fee cuts.
Scott also spent much of his time Tuesday highlighting the stories of Floridians who had found work in the last few years, as well as recognizing Florida State head football coach Jimbo Fisher for the Seminoles' national championship.
Democrats saw politics at play in the governor's remarks, saying the speech was more focused on the campaign than the issues lawmakers will confront in the legislative session.
"Floridians heard clearly that Rick Scott only cares about his own re-election," Florida Democratic Party Chairwoman Allison Tant said in response to the address. "This speech wasn't about the state of Florida. It was about the state of Rick Scott's campaign, and he is desperate."
Republicans pushed back against that idea.
"I thought it was a speech that reflected on the last three years and where we had come, and I think it reflects where we need to go in the state of Florida," said Sen. John Thrasher, the St. Augustine Republican who doubles as Scott's campaign chairman. "To me, I don't think it was a campaign speech as much as I thought it was a roadmap to what we need to do to continue to be successful in our state."
---
Sen. John Thrasher takes advantage of the speech for a little anti-Crist smackdown. 
---
But while he pointed out that Crist was never mentioned by name in the speech, Thrasher slammed the former governor nonetheless.
"Charlie Crist left this state in a disastrous situation," Thrasher said. "He did. He was more interested in promoting his own personal interest in running for vice president and then running for United States Senate than he was trying to help fix the problems of the state of Florida."
Crist, who himself faced allegations that he sometimes used the State of the State to boost his campaign, slammed Scott's speech and the governor's polices over the last three years.
"With the blessing of the people, next year I will deliver a State of the State that puts people first," he said.
Scott's speech followed remarks by House Speaker Will Weatherford, R-Wesley Chapel, and Senate President Don Gaetz, R-Niceville, who highlighted their priorities for the session. The two leaders have unveiled a joint House-Senate "Work Plan" meant to guide the chambers through the next two months.
"My friends, we're on the shot clock," Gaetz said.
Gaetz then spent about 20 minutes highlighting work-plan items like toughening laws dealing with sexual predators, approving a proposal aimed at helping soldiers and veterans, expanding school vouchers, requiring elected officials to live in their districts and overhauling the pension system for public employees.
The erudite Gaetz wrapped up by quoting Theodore Roosevelt.
"Some say that the second year of a presiding officer's term is not supposed to be ambitious," Gaetz said. "I commend to you instead the advice of Theodore Roosevelt who said that each of us is given his 'crowded hour' to do great things even when risking failure, but to never be 'with those poor spirits who live in the gray twilight of fear and indecision that knows neither victory nor defeat.' Starting now we have 60 days. Sixty days. Let's fill them with crowded hours."
Gaetz's speech was at times overshadowed by the chants of members of the Dream Defenders gathered in the fourth floor outside the chamber doors. The organization held a sit-in outside Scott's office for a month this summer to call for changes to Florida's self-defense laws and school discipline policies.
For his part, Weatherford presented the work plan as an anti-poverty initiative. Democrats nationwide have signaled that they are prepared to try to use the issue of income inequality to bludgeon Republicans in the fall, but Weatherford said small-government policies will help lower-income Floridians.
"I believe that strong families, a quality education and a good paying job are the only ways to disrupt poverty in this state and this country — particularly when they're generational," he said.
The speaker also reiterated his call to provide in-state tuition at state colleges and universities for students who are living in Florida illegally after being brought to the state by their parents.
"We invest tens of thousands of dollars to educate them through the 12th grade," he said. "And then we shut the door on their future. And we no longer treat them as if they're Floridians. It makes no sense fiscally, it makes no sense economically, and it makes no sense morally — because we should never punish a child for the mistake of their parents."
But that proposal is not included in the work plan and could run into trouble in the Senate.
–Brandon Larrabee and Dara Kam, News Service of Florida