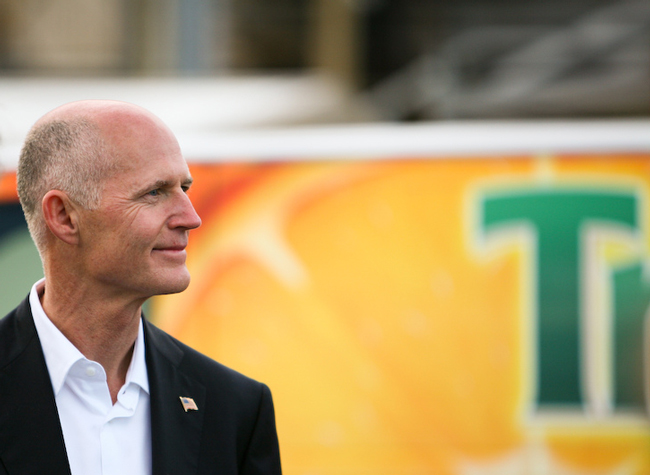 Gov. Rick Scott played Flagler tonight.
The governor, in town for an early breakfast meeting at the Flagler County Chamber of Commerce Monday, stopped in at the Golden Lion restaurant in Flagler Beach for an early evening dinner. WNZF's David Ayres, who was there (and contributed the video below), at first mistook him for Bill Butler, Palm Coast's landscape architect: the two men share the same gangly look all the way up to their Kojak skull, though Scott had an entourage of look-outs rather than trees.
The moment the Golden Lion announced the drop-in on its Facebook page, the comments began to dribble in:
"Dislike!!"
"yuk"
"GOOD FOR HIM"
"Sorry to hear that."
"Sorry to hear he's there!"
"Take his money!"
"bummer."
"Really? He has great taste."
"Slap him."
"The only good decision he's made since taking office."
The reactions were significantly more expectorative on Kendall Clark-St. Jacques' Facebook page, where news of Scott's whereabouts had, to the author's dismay, spread.
Scott's appearance at the Golden Lion coincided with a wreck outside the restaurant on A1A–more symbolic than serious, as it turned out. Ayres described it as "a blend between the firetrucks and the governor's secret service."
Scott had dinner upstairs at the Golden Lion, where recognizing him was hit and miss. He then returned downstairs and sang, or appeared to be attempting to sing… dare we say it without ruining it for legions of Pointer Sisters fans? "Fire."
Not, needless to say, the governor's best choice, considering his last dismal performance in Flagler, back in June, when he parachuted in during the wildfires for a quick appearance at the county's emergency operations center. Scott didn't exactly sing so much as play with a tambourine and flex his knees. He then sang a Beatles song that has not yet been identified.
After the restaurant, Scott took a walk on the Flagler Beach pier, where he is likely to have shared stories of his recent fishing trip to the Keys (where he caught "a beautiful grouper," in his words).
The video below has the same grainy quality as videos that have emerged from the streets of Syria, Libya and Egypt during the Arab Spring, though the aims of the wreckage on display is somewhat less lofty. (There's a whole lot better live music coming right out of Beach 92's studios tonight–local bands, local music. Listen here).
---
Rick Scott Unplugged[media id=239 width=500 height=400]