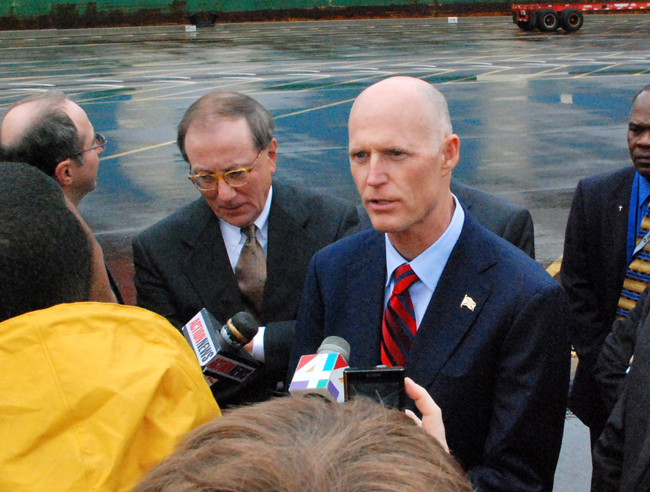 On the same day Gov. Rick Scott spent much of the morning talking with reporters about any subject they wanted over coffee and doughnuts, a top aide said the governor next week will begin meeting with editorial boards.
Scott became the first successful candidate for Florida governor in recent memory to consciously skip meeting with editorial boards as he sought the governorship. He did speak with one, at the Lakeland Ledger, but otherwise intentionally skipped meeting with any others – something most candidates would not do.
The Tallahassee Democrat reported Monday that Scott will sit down with its editorial board next week, the first time he's given an interview to editorial writers since becoming governor. The governor's new chief of staff, Steve MacNamara, told the paper Scott will likely do others – perhaps one a week – after that.
"They made a political decision during the campaign, now he realizes he's got to do it," MacNamara told the Democrat. "It's the realization that there's more mediums out there he needs to be responsive to."
Scott has struggled in recent months with low popularity in polls, even as he's claimed credit for adding more than 8,000 jobs to the economy, seemingly moving toward fulfilling his central campaign promise of getting the state back to work. While the dip has been small and incremental, the state's jobless rate has dropped since he's been in office.
As governor, Scott got off to an icy start with the media in general, beyond the editorial board snubs. His first few months in office were marked by clashes with the press handlers in his office and members of the capital press corps over access. Scott also had the misfortune of succeeding former Gov. Charlie Crist, who was accessible to the point that many reporters had his cell phone number. Crist routinely gave interviews.
Scott has recently done extensive interviews with radio stations around the state, and also has been more accessible to the Tallahassee press corps, sitting for a number of one-on-one interviews and doing short phone interviews, including one last week with The News Service of Florida.
Scott also appeared recently as a speaker at the Florida Society of News Editors-Florida Press Association annual convention in St. Petersburg, where he took questions from editorial page editors. He's also gotten into the habit (as previous governors did) of holding "gaggles," speaking to crowds of reporters upon arriving at or leaving events.
Scott's wide-ranging interview Monday morning that was open to every capital media outlet was relaxed and friendly. Several reporters noted how at ease the governor seemed as he discussed policy issues with the jostling press corps that he's mostly kept at arm's length.
"We've never done this before," Scott said. "I thought it was a good idea. I've been here seven months."
Another recent change has been the addition of MacNamara to the governor's inner circle. Several reporters walked freely through MacNamara's office adjoining Scott's on Monday, and chatted with him, a reminder that he's an insider already familiar with many in the press corps from years of working around the Capitol.
MacNamara, a former legislative staffer who most recently was chief of staff to Senate President Mike Haridopolos, replaced Mike Prendergast, who was named director of the Department of Veterans Affairs.
Scott talked a little about MacNamara's experience on Monday morning, though he didn't specifically mention media relations as part of the equation.
"I think just because of relationships he has, you know, if there's an issue, he says, 'Well, I know this person, I can make phone calls.' I think that's helped," Scott said of MacNamara. "I think the fact that he's run agencies before, he knows what these agency heads are dealing with, so I think that's positive."
Scott also noted Monday morning that when he ran for governor in 2010, he was unprepared for the level of press interest, and remembered his first trip to Tallahassee to sign paperwork for his candidacy. He was pressed against a wall by a phalanx of reporters. On another visit to the Capitol before he was elected, Scott was reportedly stunned that reporters would try to follow him into Capitol elevators to ask him questions.
"I never knew what a gaggle was, and I never asked," Scott said. When he paid his filing fee at the Division of Elections last year, he found out.
"I was just shocked at how many people were asking questions all of a sudden," Scott said. "I had never done it before. But I figured out what a gaggle was. But I hadn't been in Tallahassee that much. That was fun."
–David Royce, News Service of Florida