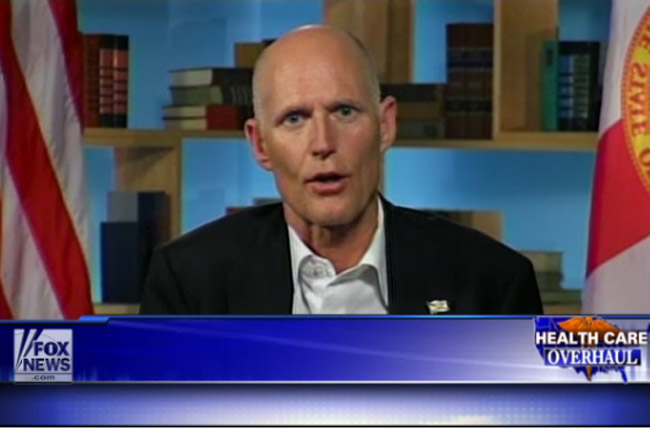 Continuing a national media blitz against last week's U.S. Supreme Court decision on the Affordable Care Act, Gov. Rick Scott fielded some penetrating questions from radio hosts about statements he's made since the high court ruled.
Those included queries based on a PolitiFact review – the fact-checking website by the Tampa Bay Times – which awarded Scott a "pants on fire" and two "falses" for remarks he's made since the ruling. "In expressing his strong opposition to the Affordable Care Act," Politifacts wrote, "Scott also got his facts wrong. He gave a one-sided and misleading account of how much the Medicaid expansion would cost the state, badly misrepresented requirements on small businesses and used a widely debunked talking point about 'rationing.'"
The "pants on fire" award was prompted by Scott's answer to Fox's Greta van Susteren on Friday. The governor said he'd spoken with an unnamed small business owner who had 20 employees and feared going out of business at the end of 2013, because the mandatory insurance provision of the health care law would go into effect and cost too much for his business to survive. Scott's actual words: "I was in a business the other day, and they walked up to me and said, governor, is this really going to be come the law? Because if it does, we're out of business. We have 20 employees, we know we won't be able to buy any health care for anybody."

In fact, as PolitiFact noted, the new health care law exempts businesses with fewer than 50 employees from the requirement to insure employees, and actually provides tax credits for small businesses such as the one Scott mentioned (with 25 employees or fewer) should those businesses choose to provide health insurance to employees. What the law does not do is fine or tax or penalize those small businesses for not providing health insurance, making it impossible for those small businesses to go out of business, at least as a result of the new law. "The law also creates a health insurance exchange for small businesses, with the idea being they can comparison shop for plans," Politifacts reports, although Scott is also pledging not to enact exchanges in Florida.
America's Radio New Network host Lori Lundin asked Scott about the discrepancy Tuesday.
"You made the comments regarding small business just going under because of this health care law," said Lundin. "According to the fact-checker, it says that businesses with under 50 employees won't be required to offer coverage under the Affordable Care Act."
"That's not the issue," Scott said. "The issue is small employers; their health care costs are going to go up. There was a study that came out of the [National Federation of Independent Business], and what it said was nationwide, we're going to lose, I think it was, 125,000-plus jobs because the cost of health care is going to go up, and so these employers will not be able to afford it." Again, Scott was misstating facts, since there is no issue of affording it (or not) as far as small businesses are concerned.
The National Federation of Independent Businesses has staunchly opposed the ACA, and was a plaintiff in the lawsuit challenging its constitutionality. Meanwhile, Senate Democratic Leader Nan Rich, so far the only Democrat running against Scott in 2014, said the health care reform law would create jobs and save the state money.
"Medicaid is jobs," said Rich, D-Weston. "And health care is one of the few areas that didn't suffer job losses during the recession." Spending money – mostly federal dollars – as part of the Medicaid expansion would put more money into a health care industry that has been among the leading growth industries, but has been threatened by cuts from Tallahassee, she said. Karen Woodall, an advocate at the Florida Center for Fiscal and Economic Policy agreed, saying expanding Medicaid would create 65,000 Florida jobs over five years. "Medicaid expenditures go to hire people," Woodall said. "They go to pay physicians, nurses, health care workers, CNAs, pharmacists…It defies logic to state that it's a job killer."
PolitiFact also challenged the governor's estimate of the eventual cost of the program. Scott said it would cost Florida $1.9 billion a year.
"Don;t believe it," Politifact reports. "Scott's Medicaid figure is an oversimplified estimate that relies on several assumptions and ignores how the Medicaid expansion would actually be implemented as part of the health care law. Even if you believe the assumptions and ignore how the law would be implemented, Scott is still quoting the wrong number, according to the most recent estimate created by his own Agency for Health Care Administration." The website estimated the cost at $500 million, using data from the Florida Agency for Health Care Administration – but also noted that figure won't apply until 2020.
"The federal government agreed to fund 100 percent of the cost for states to expand Medicaid for three budget years. The federal government would cover 95 percent of the costs in 2017, 94 percent of the costs in 2018, 93 percent of the costs in 2019 and 90 percent of the costs in 2020 and beyond,' Politifacts writes.
Additionally, Scott said on Fox News Monday that the ACA will mean health care in the U.S. will be comparable to the health care systems in Great Britain and Canada. "But you don't get it, because it's rationed," he said.
PolitiFact gave that a "false," too, saying the new law leaves the current system in place but expands Medicaid and allows others to buy into state health insurance exchanges.
Aside from Scott's statement that in Britain and Canada "you don't get" health care because it's rationed (actually, everyone gets health care, but some may have to wait for it), the website noted: "Here's the bottom line: The health care law rations care no more nor less than the current health care system does. The current health care system — whether it's private insurance, Medicare or Medicaid — does not allow people to have all the health care as they want. Under the new law, people still can't have all the health care they want."
That question also came up when Scott appeared on Tuesday's "Morning in America" show with Bill Bennett on Salem Radio. Bennett asked the governor whether any of the state-run health-care systems in Europe have gone under.
"Have the people revolted anywhere and taken it back?" Bennett wondered.
Scott replied that while he isn't familiar with all the European countries, "they're trying to bring in more of the private sector" in the United Kingdom.
"And as you know, with [the ACA] they're going to have this group that's going to review what's the right way to practice medicine, which is code for, 'You know, we're going to look to see what we can afford and then decide, Well, gosh, we can't afford that so we won't cover that.' That's exactly what they do in the U.K.," Scott said.
Lundin's co-host on America's Radio News Network, Chris Salcedo, also asked Scott about one of the governor's earlier statements.
"You along with several other Republican governors have signaled that you simply are not going to comply with the 'Obamacare' mandate – some of the edicts included in that law" Salcedo said.
"Oh, no, we're doing exactly what we said," Scott replied. "We're going to comply with the law. But the Supreme Court allowed us not to implement a couple of things. First, we always had the opportunity not to do the health care exchange if we felt it was not in the best interests of our state. Second, the Supreme Court said we can opt out of (the expansion of the) Medicaid program."
Scott reiterated a frequent response: that the federal government would pay for Medicaid expansion at first, but ultimately would pass nearly half the cost to the states–yet another falsehood.
While the Legislature may not be ready to sign off on Scott's decision -it's not clear whether they'd have any choice because Scott has line item veto power over the budget, and controls the state health care agency that runs Medicaid.
House Speaker-designate Will Weatherford said he hadn't yet spoken with Scott or Senate President-designate Don Gaetz, but predicted the House would take a "rational, deliberative" approach to deciding whether to expand coverage.
Scott also claimed Sunday that "Florida already has health care safety net programs for those with the greatest need, including assistance for families with incomes up to 133 percent of the poverty line, and Florida KidCare to ensure no child goes without health care in Florida."
Some children's advocates disputed that on Monday, saying that Florida still has half a million uninsured children, ranking it third nationally in that regard. The state currently faces a class-action lawsuit on the grounds that Medicaid children don't get adequate care.
"We still have groups of children that don't receive coverage," Woodall said, but if Medicaid were expanded, that would be ended.
"I was no big fan of Obamacare, that's for sure," Weatherford said. "But we also have to recognize that it has been upheld by the court."
Weatherford said he hopes the election in November will relieve Florida of the need to make a decision – Republican Mitt Romney has promised a repeal – "but we can't really count on that," the Wesley Chapel Republican said.
–FlaglerLive and the News Service of Florida