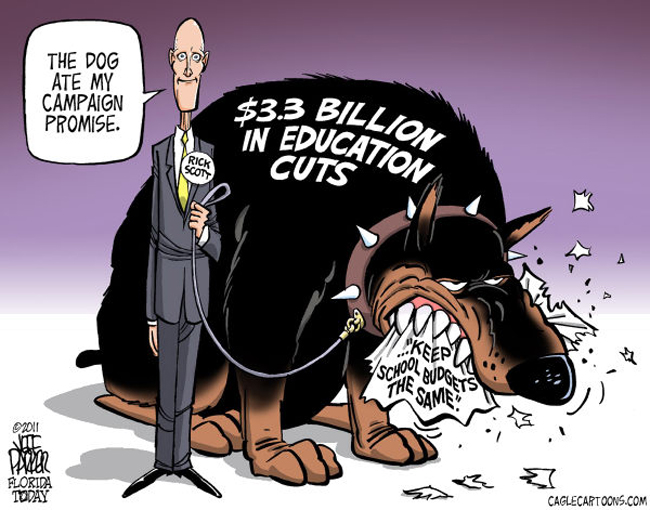 FlaglerLive Editor Pierre Tristam's weekly commentaries are broadcast on WNZF on Fridays just after 9 a.m. Here's this week's.
It's become one of Governor Rick Scott's favorite clichés. "Government," he says, "has no resources of its own. Government can only give to us what is previously taken from us." It's a strange view that reduces everything to a dollar figure or a power play, as if the only thing between a citizen and his government is a cash register. Or a truncheon.
---
The Commentary on WNZF[media id=161 width=250 height=100]
While that may be the case in authoritarian regimes where government is, in fact, in the exclusive business of preserving power, accumulating wealth and repressing whatever freedoms come in the way of either—where government, in other words, is a corporation—it isn't yet the case in the United States. The irony of Scott's pronouncement is that he's doing his best to get it there. He'd like to reduce the relationship between citizen and government to nothing more than that of customer to business: a transaction, preferably money-making, preferably to the advantage of corporations, now that he intends to use privatization as a blank welfare check to private business.
It's a fundamental misunderstanding of government's purpose. I have a hard time not thinking of the nation's public universities, the best public universities in the world, as anything other than a resource. The same goes for our public schools. They have their limitations and they're certainly no longer the best in the world, particularly in Florida, but they are a colossal government resource. I have a hard time thinking of the National Institutes of Health, which invest $31 billion a year in taxpayer money into medical research, as anything less than a vital a resource that gives back a value far greater than the cold cash it takes in. Scott might also have a hard time putting a price on a soldier's defense of the nation, though who knows: maybe he thinks privatized mercenaries should take over the nation's wars. ExxonMobil, AT&T and Disney could perhaps have their own militias.
Scott thinks government is the enemy. But government, in a representative democracy, is its people. In that sense, Scott can't be faulted for dishonesty. We, the people, are his enemy. He's making it his business to make that very clear.

Previous Reality Checks: