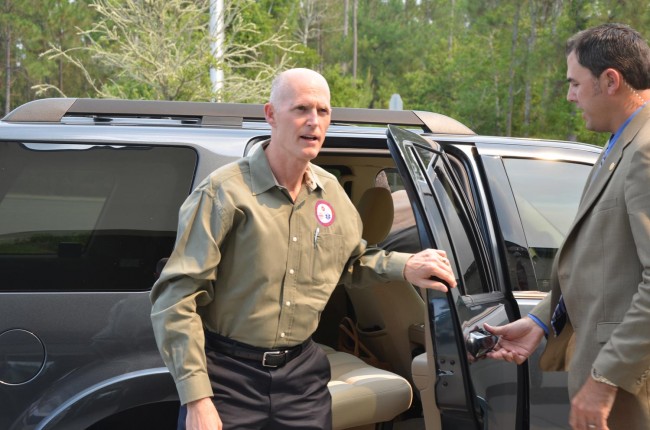 Gov. Rick Scott arrived at Flagler County's Emergency Operations Center at 4:08 p.m. today, wearing a brown shirt sporting Flagler's emergency operations insignia, and immediately went into an incident command briefing with the county's and region's commanders managing some 22 wildfires.
Twenty minutes later he made himself available for a nine-minute press conference that shed little light on his intentions or the state's specific commitment–financial or material–to fight the fires beyond the Scott's emergency declaration on Monday.
There'd been speculation that Scott would tour some of the fires locally; the White Eagle fire appeared on some fire officials' schedule of the governor's visit. But while Scott seemed aware of the severity and size of the Espanola fire, now beyond 4,000 acres, he said he had not been to an actual fire since they began, and was not about to.
"I saw the fires as I was flying in, I saw the fire yesterday as I was flying to Orlando, and I saw some today as I flew over from Orlando," Scott said during the press conference. "I'm not going to go tour right now any fires locally. I'm also going to be flying to Naples and I'll be seeing fires–about I think three days ago I was flying into I think Fort Myers and you could see the fires out in the west, I guess east, Lee County, some fires there."
The governor appeared to have been only lightly briefed about the situation in Flagler or Northeast Florida as he went into the closed-door briefing. During that session, one of the briefing participants said, the governor was filled in on the various fires and the local command structure in place. He in turn asked asked such questions as how long a fire chief had been on the job locally, and what resources may be needed.
Asked about forwarding a request for a federal emergency declaration in response to the wildfire, Scott suggested there were no such plans at the moment. "We'll continue to monitor this and see where we are," Scott said.
So far Flagler County government has spent $472,700 on fire-related expenses, including $147,562 in overtime pay for county personnel and $177,000 on supplies and food, which is being distributed to firefighters on the line from area shops, according to figures distributed by county officials immediately before the press conference.
The governor spent a few minutes at the start of the press conference thanking the various agencies and states (including Virginia and Kentucky) involved in fighting fires and talking about the fire, but with few insights beyond the burn-ban regulations and recommendations this and other counties have been disseminating to the public for the past several months (don't have open fires, be vigilant, don't drive your catalytic converter over dry grass).
He read from a prepared statement: "Almost 80 percent of Florida wildfires are started by humans. For that reason we all should be careful of these guidelines: don;t burn anything on days that are hot, dry or windy, which seems like every day now for a little while. Check with your local fire department or the Division of Forestry before burning anything. Never leave any fire, no matter how small, unattended, be careful using anything outdoors that involves flames, high heat or can cause sparks to fly into dry vegetation, and everything is dry vegetation now." He went on with additional guidelines, down to the heat of catalytic converters in cars, matches and "smoking material."
Scott gave little indication, beyond the executive order he issued on Monday, whether and how additional resources might be channeled to Flagler County. He appeared only barely versed in the fire emergency's details, or in querying the line-up of firefighting and emergency response professionals lined up behind him, wall to wall, in the county's emergency operations room, where the press conference was held.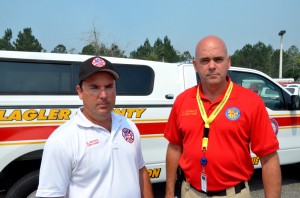 Marty Senterfitt, the regional incident command management team commander who's been coordinating much of the firefighting response in Flagler County for the past week, said before the closed-door briefing with the governor that his message would be clear: "I'm going to remind him of the history of this community," Senterfitt said. "I'm not going to talk speculation. I'm going to talk fact. We have proven in 85, we have proven in 98, we have proven in 2007 how this environment can create an incredible wildfire situation. Do not underestimate it. We're going to ask for all the resources possible. What I would like to see is for them to saturate us with resources, because we know, Chief Petito knows very well, this environment that we're in right now has the potential to go bad very quickly."
Don Petito is Flagler County's fire chief and the overall commander of the fire emergency in the county. "That's what Chief Petito has been doing since I've been here is get ahead of it, stay ahead of it, and don't ever fall behind," Senterfitt continued. "And part of the secret of getting ahead of a fire like this is make sure you've got the right number of resources on the ground. If you try to do with just a limited number of resources, then you start juggling too many balls in the air and you're going to drop some."
Mike Kuypers, the Division of Forestry's district commander, was also in the closed-door briefing. The division has taken over command of the Espanola fire, and will be taking over additional fires in coming days.
"The most important thing is that with this continued dry weather, we may not have peaked yet," Kuypers said, summarizing his remarks to the governor. "We still have a potential for a lot of fires, a lot of big fires, and we need to continue to staff up accordingly, because really any one of these lightning strikes that will sit out there for two or three days as things dry off can just take off and run for thousands of acres. That's the big concern, is trying to keep them small, catch them small and be able to put them out before they do any damage, particularly to structures."