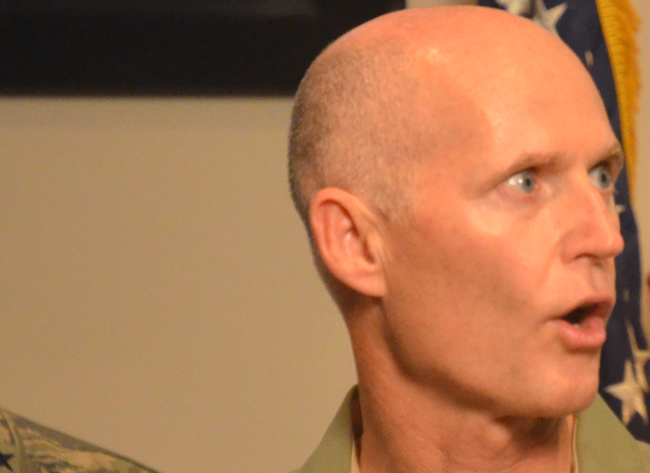 Gov. Rick Scott this week said Florida is ready to weather a potential federal shutdown and if he were put in congressional shoes he'd oppose efforts to raise the federal debt ceiling.
Scott conceded that the nation, which has never failed to pay its bills, is entering new territory if Republican lawmakers and President Barack Obama cannot reach an agreement, but he added that financial markets have likely already figured in such a scenario and would not overreact if it comes to pass.
"I don't think anybody knows because it's never happened, but I believe the markets understand where the federal government is," Scott said. "They understand where the spending is so I think the market has already priced it in."
Scott's assessment may be overly optimistic. He spoke on Monday. On Tuesday, the Dow Jones average lost 0.73 percent, or 91.50 points. Today (Wednesday, July 27), it had lost another 161 point an hour from the closing beel, or an additional 1.29 percent, one of its steepest one-day drops of the year.
More than markets would be affected, of course: if the federal government cannot pay its bills, Social Security checks, soldiers' pay and ammunition, traffic controllers' pay and innumerable other responsibilities would be jeopardized. The original date of the Treasury running out of money was Aug. 2. The Treasury says it may have a little more room–a few days' room, that is, not weeks. On Aug. 2, The Times reports, "the United States will owe about $307 billion during the rest of August, but is expecting to take in about $172 billion in revenues, according to an analysis by the Bipartisan Policy Center. Without enough money to pay all of its bills, the government will have to decide what to do. The possibilities range from "prioritizing" some payments and paying them first to paying bills in the order in which they were received."
Alex Sink, Florida's former Chief Financial Officer and the loser in a closely contested race for governor against Scott last November, called Scott's assessment "clueless."
"Heck yes our credit rating will be impacted. That's Florida budgeting 101," Sink told the Times/Herald. "Suggesting the debt ceiling should not be addressed is outrageous and irresponsible," Sink said in an e-mail. "A default by the federal government would have immediate impact on the state of Florida, our budget, and our credit ratings. The people of Florida know better, and we need our governor to know better."
Scott said his office did an analysis in April when federal shutdown talks first began and determined the impact to Florida "would be minimal." The governor said Monday that view has not changed, but the extent to which a shutdown would affect the state will depend on a host of unknowns that the state has minimal control over.
"We'll have to see what they pay and what they don't pay," Scott said.
Scott's analysis misses a crucial element relevant to Florida homeowners, who already have one of the highest rate of properties in foreclosure or under water: if the United States defaults, investors, abroad and at home, will likely demand higher interest rates on their loans. That will translate to steeper costs on credit cards and mortgages, especially adjustable-rate mortgages.
Others aren't so optimistic as Scott, either. With 2.9 million Medicaid recipients and thousands more on food stamps and other federal assistance in Florida, the potential of a government shutdown could prompt the loss of critical services at a time when Floridians have already been subject to the most severe recession since the Great Depression.
Carol Weissert, political scientist and director of the LeRoy Collins Institute at Florida State University, said bedrock federal programs like Social Security and Medicare will likely not be affected (an assertion contradicted by federal officials), but Medicaid may not be so lucky if lawmakers have to choose what programs to fund. Other vulnerable areas are grants to states for education and transportation programs.
"I would say we are entering into new territory," Weissert said. "And I do not believe that it is fertile ground."
In April, more than 3 million Floridians receive food stamps through the U.S. Department of Agriculture. The figure represents an 18.3 percent increase in the number of food stamp recipients from April 2010.
Meanwhile, Florida's Medicaid program costs $20 billion a year, with more than half of that coming from the federal government. The program is run through the Agency for Health Care Administration.
"AHCA is monitoring the situation in Washington," said agency spokeswoman Shelisha Coleman. "It is too early to comment on how the federal government's budget negotiations may affect services provided by AHCA."
–Michael Peltier, News Service of Florida, and FlaglerLive