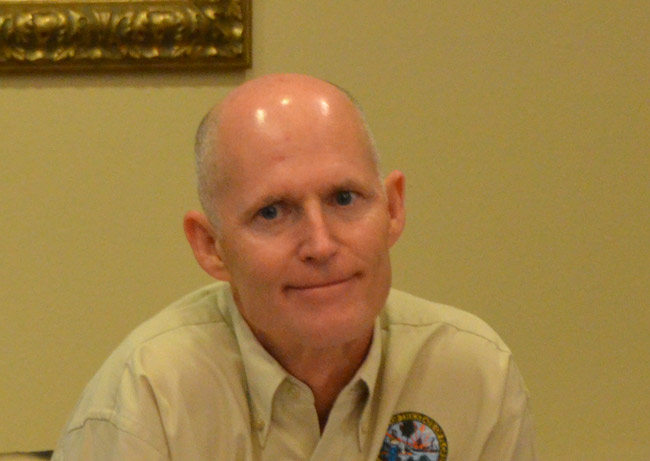 Gov. Rick Scott is set to propose a $1 billion increase in education spending over this year, planning to call Wednesday for a boost to per-student spending despite a state revenue shortfall and lower local school tax dollars.
In a conference call with state school superintendents Tuesday, Scott, who will be proposing his second budget since getting elected in 2010, said he plans to call for lawmakers to increase per-pupil spending from $6,262 to $6,372, even after factoring in expected growth of about 30,000 more students over the current school year.
A spokesman for the governor said late Tuesday that officials in the governor's office believe it would be one of the largest increases in K-12 spending in recent history if lawmakers were to go along.
Scott plans to make public his proposed budget for the fiscal year that starts July 1 on Wednesday afternoon.
His spokesman, Lane Wright, declined to say Tuesday where the governor will propose to cut spending to be able to afford the proposed boost in education spending – a cut that will need to be even larger because of revenue projections that are off by nearly $2 billion over what legislators earmarked this year.
Scott has also made it clear that he agrees with Republican legislative leadership's anti-tax viewpoint, and has said publicly a few times that he won't call for any tax increases.
The governor's recommendations are merely the first formal step in a months-long process and the final budget will eventually be written by the Legislature, though Scott has line item veto power.
Senate budget committees are expected to receive presentations on Thursday about Scott's recommendations.
"Education pays, and we clearly must find a way to increase our investment in Florida's students," Scott said in a recorded radio address distributed to stations on Tuesday.
But he acknowledged the difficulty of finding the extra money, noting the student increase, which will mean it will cost $191 million more over current year spending just to keep per-pupil funding flat.
"Florida's growing student population comes at a time when we also estimate a loss of local revenue," Scott said in his radio address. "This means Florida school districts will have over $200 million less to spend. In spite of this bleak budget picture, I am committed to increasing Florida's investment in the education of our young people."
As Scott leaked small details of his budget to various outlets on Tuesday, Democrats quickly pointed out that the Republican-dominated Legislature has cut education spending as the economy has tanked – meaning that any increase only serves to get Florida back to where it was a few years ago. The current year budget, for example, cut more than $1.3 billion from education, Democrats said, arguing that even a $1 billion increase still leaves education coffers lighter than they were before Scott took office. Per-student spending dropped by more than $500 last year.
"The current state education funding levels are at the lowest levels since FY 2005-06," House Democrats said in a statement sent out late Tuesday.
Per-student spending peaked at more than $7,100 per child during the 2007-2008 fiscal year, just before the economic downturn.
Regardless, Scott told a Jacksonville TV station that it was time to put the money back into education.
"I'm going to tell the Legislature, 'I'm not signing the budget unless we substantially increase state funding for education,' because that's what our hard-working Floridians want," Scott told WJXT. "We've got to put this money into education."
–David Royce, News Service of Florida