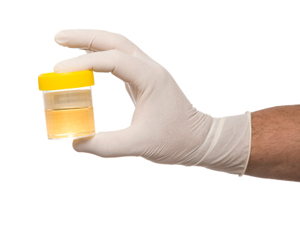 Gov. Rick Scott has at least temporarily backed away from requiring drug tests for state workers, putting the plan on hold amid a constitutional challenge.
Scott, who issued an executive order in March requiring the tests, quietly sent a memo to agency heads last week suspending implementation. The plan will only continue moving forward at the Department of Corrections — which already tests most of its employees.
In the memo, Scott said he is "confident that the drug testing called for in the order is consistent with the constitution, with the government's rights as an employer and with sensible practice to ensure a safe, effective, productive and fiscally accountable workforce."
But Scott also said that while the federal court challenge is pending, it "does not make sense for all agencies to move forward with the logistical issues involved in instituting the new policy."
The American Civil Liberties Union of Florida, however, said Scott was backtracking from the drug-testing plan. The ACLU filed the lawsuit May 31 and contends that the plan violates the U.S. Constitution's ban on unreasonable searches and seizures.
"This is nothing less than a massive and embarrassing retreat on the part of Gov. Scott," ACLU Executive Director Howard Simon said in a statement posted on the group's website. "Despite his continuing rhetoric, he must now realize that Floridians won't simply roll over but will stand up and defend our constitutional rights."
Added Randall Marshall, the group's legal director: "We are pleased that this new order has delayed subjecting thousands of state employees to demeaning, invasive and illegal tests of their bodily fluids. But it does not change our constitutional challenge."
After a Cabinet meeting Thursday, Scott insisted that the decision was simply a minor — and temporary — delay.
"We're going forward with it," Scott said. "We're going forward, it's just a process."
Scott said taxpayers expect state workers to be drug free, and he was committed to finding a way to implement the plan.
"The private sector does this all the time," Scott said during a regular availability with the media. "Our citizens of this state expect our workers to be productive."
Scott's March executive order called for drug testing before workers are hired and random testing for already-hired workers. It raised the possibility of employees being tested at least quarterly.
The executive order gave agencies 60 days to amend drug-testing policies and notify employees. Agencies were supposed to begin tests for prospective employees immediately after the policy amendments and start random tests 60 days after notifying current employees.
Scott's memo last week, however, indicates that state officials had been working on the "feasibility and logistical steps" of multi-agency contracting for testing services. With that process ongoing, agencies did not have to meet the executive order's deadlines for starting the tests.
Two of Scott's spokesmen downplayed the suspension of the testing plan Thursday, with press secretary Lane Wright saying the governor is "not backing off."
Deputy Communications Director Brian Hughes said the governor's office had built in time for implementing the program to account for possible logistical problems.
Hughes said the Department of Corrections was told to continue with the program because it already tests many employees and was ready to move forward.
Gretl Plessinger, a spokeswoman for the prisons agency, said correctional officers and probation officers are already subject to drug testing. She said the executive order also will lead to testing of administrative staff.
–Jim Saunders and David Royce, News Service of Florida