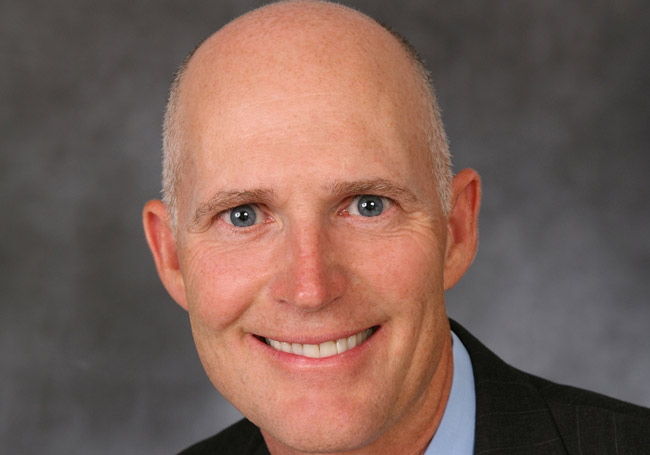 Gov. Rick Scott's $74.2 billion budget proposal unveiled Thursday is the largest in the state's history and includes a $4 billion spending increase that targets constituencies Scott hopes to win back as he seeks re-election in 2014, among them teachers, environmentalists and what state workers will remain on the payroll.
The budget includes a proposed $1.25 billion spending increase on education, which Scott had already revealed earlier this week. The increase includes a proposed $2,500 across-the-board pay increase for teachers, but is also somewhat less than it appears: included in the figure is almost $300 million in state contributions to state educators' pension fund, which has no effect on current employees, let alone students or classrooms. The increase also does not yet make up for the severe education cuts that took place before Scott took office as well as the $1.3 billion cut he approved in 2011. It begins to make up the more than $300 million cut to university budgets he approved last year.
Scott is proposing $393 million in new funding for universities, including $167 million in "performance funding" and $118 million that universities have said would allow them to avoid a tuition increase.
Nevertheless, Scott was flanked by teachers and University of Florida President Bernie Machen as he announced his budget today at the Capitol in Tallahassee. The reason: Scott's spending plan would give $15 million to UF as part of an effort to put the university in the Top 10 in the nation. Machen, who reversed his decision to retire after receiving budget commitments from Scott, defended the school's unique treatment in the budget.
Scott's office pointed out that the budget was the third-lowest since 2000 on a per capita, inflation-adjusted basis. The two smaller budgets by that measurement were Scott's first two spending plans.
"What Florida families care about is they want an effective, efficient government," Scott said when asked about the size of the budget.
Scott has been cutting the state workforce, and privatizing it, aggressively for two years. He is gambling that by cutting the workforce more, but giving remaining state workers a raise, he will satisfy his conservative base while perhaps diminishing the alienation government workers have felt toward his administration.
The state workforce would drop by more than 3,600 positions, a 3.1 percent decrease, under the budget proposal. About 1,200 of those positions are vacant, and most of the rest would come from the privatization of health-care services at state prisons. Contractors have promised to retain almost all of those workers if they are allowed to take over. The budget would provide a fall-back option funding the services as state operations if the privatization is overturned by the courts, as has happened in recent attempts to move some prison functions into the hands of for-profit companies.
Remaining state workers could get a bonus. The governor's proposal earmarks $167 million for state employees who have received at least a satisfactory evaluation to get a bonus of $1,200. Scott's proposal also includes a merit pay award for state workers – allowing agencies to give employees who get better evaluations bonuses of up to $5,000 to up to 35 percent of their employees.
"You have to look at state workers and thank them," Scott said. "I want to reward the most effective employees, no different than what I did when I was in business," Scott said. A bill (HB 289) filed in the House by Rep. Michelle Rehwinkel Vasilinda, D-Tallahassee, would give state employees a 7 percent raise.
Rehwinkel Vasilindsa said the governor's proposal was a good start, but not as good as a raise, which state workers haven't had in years. "The reality is the bonus proposal would still leave Florida's state workforce seriously underpaid and perhaps dangerously overburdened," she said. "We must remember it is our state workforce that ensures that all Floridians are safe from crime, warned of and helped through natural disasters, have safe and plentiful water to drink, safe roads to travel, healthy food to eat, and are protected from abuse."
Environmentalists, too, got a surprise in the budget, though the fine print may be a little weedy. With $75 million earmarked for the Florida Forever land buying program and another $60 million for the Everglades, Scott's spending blueprint met with applause Thursday from environmentalists encouraged by a seeming re-commitment to their causes.
Florida Forever was created in 1999, the successor the state's Preservation 2000 program. It allocates funds for public land acquisition through the Florida Department of Environmental Protection, the water management districts, the Florida Fish and Wildlife Conservation Commission, the Florida Forest Service, and through Florida Community Trust grants to local governments. Some 2.5 million acres have been bought and preserved since the program's inception. The Florida Forever List is a carefully vetted group of projects to preserve our state's natural areas and establish community parks. But the program has been virtually de-funded for the past several years.
To pay for Florida Forever purchases, Scott has proposed earmarking $50 million from state land sales, which typically revert to the general revenue fund.
"We'll see how much land there is and what we have that is extra," Scott said. "I've set aside $25 million for additional land purchases for sure, and then depend on how much land is sold up to $50 million."
Environmentalists say they will watch to see where the money comes from but at first blush are encouraged at funding levels of Florida Forever and the Everglades , which have been hit hard by recent tough fiscal times.
"This is really good news on both fronts," said Eric Draper, executive director of Audubon Florida. "It's the first time in several years that we will see over $130 million in potential funding for both these programs."
A 1998 constitutional amendment prevents state officials from selling conservation lands unless they no longer serve that purpose. Draper said that early concerns were tempered after meetings with the Department of Environmental Protection officials, who pledged to abide by the spirit and intent of the constitutional requirement.
"With the economy recovering, it is important to allocate funds to preserve our state's natural areas and protect the places that make Florida special," the Florida Forever Coalition said in a statement. "We look forward to working alongside the governor this legislative session to advocate for the appropriation of funds for Florida Forever."
"We appreciate the governor's commitment to Everglades restoration and we believe the Florida Legislature will more than match his recommendation," said Eric Eikenberg, CEO of the Everglades Foundation, in a statement. "We look forward to working with Gov. Scott and the Legislature during the upcoming session to ensure that this funding proposal moves forward."
No Scott budget is complete without tax breaks to business. Nor was his latest one. His request includes millions in tax breaks for manufacturers and more to help state economic developers to entice companies to relocate or expand in the state.
The governor repeated his call for expanding the sales tax exemption for machinery used in manufacturing, a $140 million savings that will impact 17,500 manufacturing companies in the state. Other provisions in Scott's plan include $200 million more for economic incentives and $35 million more to market's the state through Visit Florida, the state's tourism arm.
Earlier Thursday, Enterprise Florida President Gray Swoope defended the state's economic incentive programs, saying recent fiascos including Digital Domain, a member-driven project that received $20 million from the state before closing shop last year, circumvented Enterprise Florida's review process, which has largely been successful in vetting projects. Other spending priorities include $50 million for affordable housing through its State Housing Initiatives Partnership program. Funds can be used for down payment assistance, repairs, renovations and other incentives created local governments and private partners.
Democrats were already looking for new avenues to knock a plan that seemed to hew closer to their priorities than Scott's early spending blueprints. House Minority Leader Perry Thurston, D-Plantation, was muted in his acknowledgement of the increased spending on education.
"But I would hope Floridians understand that even with an additional $1.2 billion in education, Florida would remain about $850 million shy of education spending levels of 2007-08 when there were fewer students in our public schools," he said in a statement.
Others griped that Scott had undergone a change of heart directly related to his approval ratings, mired at 36 percent in a Quinnipiac University poll taken in December.
"This budget is not an investment in the things that actually turn around an economy," said Senate Minority Leader Chris Smith, D-Fort Lauderdale in a statement released by his office. "It's a taxpayer-financed down payment on courting votes for 2014."
–FlaglerLive and News Service of Florida