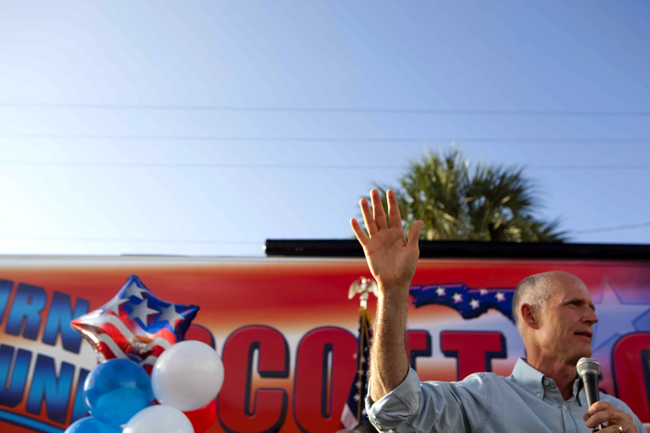 Gov. Rick Scott this afternoon (Feb. 7) unveiled a budget unlike any in Florida's history in scope and implication: Scott is proposing to cut $5 billion in spending from the state's $70 billion budget and provide for $4 billion in tax cuts over two years. The budget-slashing is the equivalent of 7 percent of the budget. Budget cuts of that size are unprecedented. The tax cuts would also be among the state's largest, and coincide with a budget shortfall of at least $3.6 billion.
But if Floridians expected to hear details on how Scott would achieve his double-barreled agenda, they did not hear them Monday afternoon as Scott spoke to a large tea party crowd in Eustis, where the budget unveiling was purposefully moved from the state capital. The budget unveiling was absent of almost all specifics, focusing instead on campaign-like rhetoric to enact "seven steps to 700,000 jobs in seven years." Scott was more than a third of the way into his brief, 1,500-word speech before mentioning the first substantial numbers (corporate tax cuts).
It also became clear that at least half of the budget "cuts" Scott is proposing are not, in fact, cuts, but "savings" to the budget that would instead be assumed by increased costs to Floridians, especially in the retirement system of public employees. "By modernizing the Florida Retirement System, we will save taxpayers $2.8 billion over two years," Scott said. Included in that modernization: requiring public employees to increase their contributions to the system.
By leaving Tallahassee and delivering his speech in Eustis, a strong tea party town north of Orlando, Scott wanted to underscore his debt to the tea parties across the state, and his disdain for government. He achieved both, using at times pointedly derisive language about government ("Let's never forget," Scott said, "that government has no resources of its own. Government can only give to us what it has previously taken from us – minus a huge cut for the government middleman.") But tea party activists don;t pass budgets in Tallahassee. Lawmakers do. Few of them, despite the Legislature's overwhelming Republican advantage this year, were in Scott's audience. And aside from generalities familiar to those who'd heard Scott's proposals on the campaign trail, he shed little light on his aims.
"It's not a budget that dabbles. It doesn't offer a little something for every special interest or sweeteners for certain people," Scott said. "It's a two year budget that faces realities now, rather than putting them off for later."
What Scott repeatedly has been calling a "jobs budget" calls for reducing Florida's corporate tax, among the lowest in the nation already, from 5.5 percent to 3 percent, and completely phasing it out by 2018. No state is without a corporate tax. Scott would cut property taxes by $1.4 billion over the two year term, adding up to a $4 billion tax cut in two years.
"Critics have said we can't afford to cut taxes now. They repeat the same misguided claims we hear in Washington. I say they are wrong. I say we must cut taxes now," Scott said to cheers, claiming that if Florida eliminated its corporate tax, more corporations would move here. Florida is among a handful of states without a personal income tax. The advantage has not translated into more companies moving here in the last few years primarily because Florida's schools are ranked among the poorest in the nation, primarily because the Legislature is not funding schools adequately.
Scott's budget promises to reduce school funding further, while increasing economic development funding to $800 million. Scott did not specify how or where that money would be spent.
The budget cuts Scott proposed were general: renegotiating purchasing and lease contracts and eliminating "wasteful spending," Scott said, would save $660 million–by any measure, a large number that has little relationship with reality, as every governor before Scott has pledged to eliminate "wasteful spending" and streamline purchasing and contracting. That was part of the rationale behind the creation of Florida's Chief Financial Officer position.
Consolidation of government services, along with privatization and other reorganizations would save $120 million, Scott said, and an additional $150 million would be saved by "eliminating programs that are not core government functions." The two sets of numbers appeared to be the result of the same plan: consolidation and privatization. Scott essentially doubled the projected savings without explaining the difference between the first set and the second–or providing a single example of "programs that are not core government functions" that he would eliminate. A week ago on Fox News, he said he would cut $1 billion from the budget "through things such as consolidating services and things like that."
By far the largest budget-cutting plan, however, applies to health care, particularly health care for the poor, as Scott–without mentioning Medicaid, the government health care insurance system for the poor, by name–said the system would save $4 billion over two years by being "patient directed." That's a euphemism for privatization, and the transformation of Medicaid into a voucher system. "This," Scott said, "will reduce utilization of this health care safety net for the poor, provide freedom of choice for patients and significantly reduce expenditures over the long run." Reducing utilization, however, is not equivalent to reducing needs, which are rising in Fliorida, the state with the third-highest proportion of uninsured people: Scott did not address the discrepancy.
Scott said his budget would also cut half a billion dollars from the juvenile justice system and state prisons. Scott didn't say how. But Republican lawmakers in the past have tried and failed to eliminate the sort of programs that seek to counsel juveniles, provide mental health services and battle recidivism.
The numbers were slightly at odds in Scott's remarks: he promised to reduce spending by $5 billion "while returning $2 billion directly to the taxpayers," but earlier spoke of a $4 billion tax cut in two years. That would add up to a combined reduction in services, and in revenue, of $9 billion.
Scott never spoke about the proposed $1.4 billion property tax cut other than to say he would seek it. He did not explain how he would enact it or what segment of Floridians' property taxes would be affected, though he spoke of targeting the schools' portion while on the campaign trail, and never hinted at the consequences on the state budget or on government services, including education, of his proposed cuts.