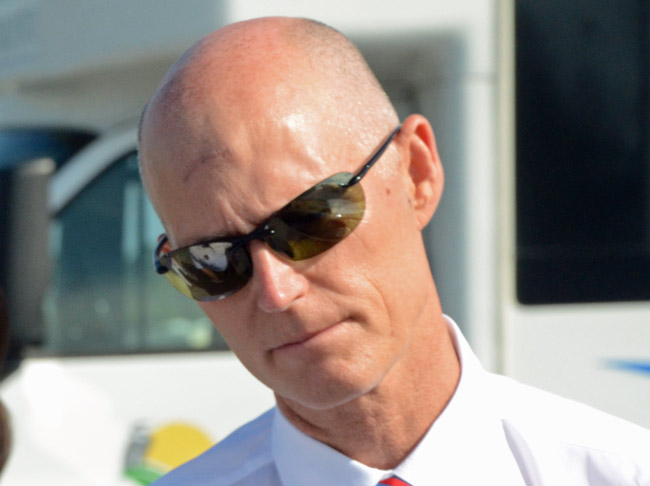 Gov. Rick Scott's 2014 re-election campaign manager and deputy manager issued a joint memo Sunday with the subject line: "100 Days Out, Gov. Scott Campaign is Poised to Win." It was addressed to "Interested Parties," so it quickly turned up in the Miami Herald.
Of course, that was Team Scott's plan to begin with, to get their boldly self-congratulatory status update in front of as many eyes as possible. Rally the troops with news of how great everything's going, rah-rah, kick some dirt in the faces of Team Crist, rah-rah, and serve up some right-wing red meat, rah-rah.
But what the memo serves up most effectively is a reminder that arrogance remains at the hostile heart of a campaign built on deception and divisiveness.
After crowing "the Scott campaign has outpaced, outworked, and outmatched Charlie Crist in every measurable way," the memo gets down to business, boasting that "Since January 1, 2013, the combined efforts of our campaign, Let's Get to Work, and the Republican Party of Florida have raised an astonishing $84 million."
Cue the darkly threatening organ music and cut to hidden camera footage of Crist & Company shaking and quaking! Be afraid! Be very afraid, because many, many more Scott TV/radio ads are coming!!

The memo doesn't mention how much of that astonishing $84 million was piled up by big business donors and other private special interests that have benefited from Scott's anti-taxation and anti-regulation crusade for almost four years now. It doesn't say how many small " Mom & Pop" donors threw 10 or 20 bucks in either. And, it doesn't mention that Scott's "Let's Get To Work" committee stands accused of breaking the law in an effort to exploit glaring weaknesses in campaign finance rules.
As usual with Scott & Company, you learn at least as much about their mindset and strategy from what they don't say, as from what they do.
For instance, the memo claims "voters remember how badly Charlie Crist mismanaged Florida's economy and budget." It doesn't mention that it was, in fact, The Great Recession starting in 2008 that blew a hole in Florida's budget, not Crist's management of it.
In fact, if Crist hadn't put his political butt on the line by taking federal stimulus funds, Florida's economic meltdown would have been worse, and its recovery that much slower.
By the way, those are actual facts not opinions. You can look them up, if you're interested in the whole truth. And you'll have to, since you won't find them in any Scott re-election campaign messaging or memos.
No, what you'll find is a "pot calling the kettle black" mentality that gives you lines like this one from the "100 Days Out" memorandum: "We will continue to arm ourselves with the funding necessary to fight against the continued smear campaign of personal attacks from Charlie Crist."
That combination of bravado and BS might fly with hardcore conservatives, your real knee-jerk right-wingers. But anybody anywhere near willing to be a little objective knows it's the Republican Party of Florida and the Scott campaign that have been in scorched-earth, fear and smear attack mode since before Crist even announced his candidacy.
Personal attacks against Crist are so tired, the Scott campaign and memo have to up the ante with this classic kind of bait and switch fear mongering:
"After all, the Governor is not just running against Charlie Crist – he is running against the Obama machine, the trial lawyers, and every other liberal special interest that wants to take control of our state."
Yeah, right. And Fox News is fair and balanced.

Daniel Tilson owns a Boca Raton-based Full Cup Media, a communications firm specializing in online video and written content for non-profits, political candidates and organizations, and small businesses.