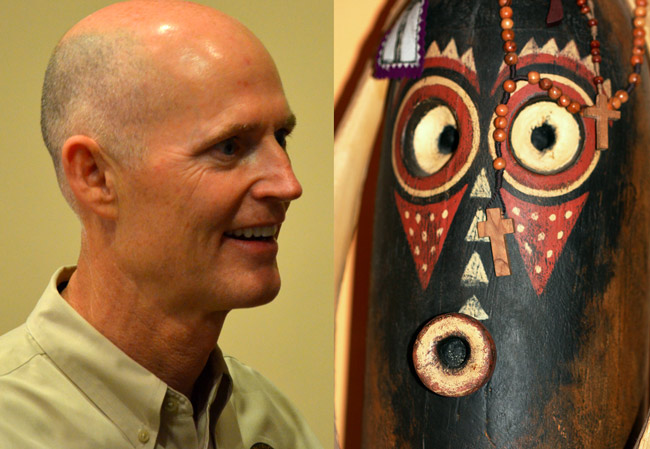 By Cary McMullen
Question: What do novelist Kurt Vonnegut, Animal Planet host Jeff Corwin and evangelist Billy Graham have in common? Answer: They studied anthropology in college.
This is more than a curiosity because some in Florida's political leadership believe that degrees in the social sciences are worthless. The degrees that lead to jobs, we are told, are the ones in science, technology, engineering and math – the so-called STEM disciplines. Degrees in the liberal arts and social sciences, not so much.
Gov. Rick Scott drew attention to anthropology's supposed uselessness in two separate interviews in October. "It's a great degree if people want to get it. But we don't need them here," he said. We don't need Billy Graham here in Florida? Really?
Scott wants to redirect state higher education funds to privilege the STEM degree programs, convinced that technology-related degrees are our economic salvation. There is scant evidence for this, but even if there were, why would a governor from a party that supposedly wants to keep its nose out of citizens' private lives compel them to study a particular field? And why is someone who would trust the free market with everything from prisons to pharmaceuticals unwilling to let the market guide students' decisions?
Scott's office recently pointed to a database compiled by the Georgetown University Center on Education and the Workforce that correlates degree majors with unemployment rates. It's true that liberal arts (7.4 percent) and general social science (8.2 percent) majors have relatively high unemployment rates. But consider some of these unemployment numbers for a sampling of other majors: math, 5.0 percent; music, 5.2 percent; economics, 6.3 percent; counseling psychology, 5.2 percent; computer engineering, 7.0 percent; art history, 6.9 percent.
The numbers show you'd be better off studying psychology or music than economics and about the same studying art history as computer engineering
Vonnegut, Corwin and Graham are good illustrations of a key feature of human nature: Our destiny is not fixed by the college degree we earn. They applied their degrees or changed their vocations in ways that suited their interests, something people have been figuring out how to do for centuries without the oversight of the state.
An undergraduate degree is often little more than a launching pad that enables us to pursue our interests as they mature. Imagination and flexibility are the keys to finding a vocation, which writer Frederick Buechner has described as "the place where your deep gladness and the world's deep hunger meet."
In my own case, I got a degree in computing science, went to work in the IT department of an oil company and hated it. Eventually, I found my way into journalism.
And consider the degrees of some of the state's political leaders who are so keen in redirecting students into STEM fields: Presumptive Senate President Don Gaetz got a degree in religion and political science; Speaker of the House Dean Cannon got his degree in journalism; and Scott got a degree in business administration.
A job is different from meaningful work. How many people have had the miserable experience of being forced to study a discipline for which they were neither suited nor interested because of a parent's threat: I'm paying for this education, and you'll study what I say.
It doesn't work any better for a daddy governor to tell people what to study. Scott comes from a party that constantly complains about the nanny state, and the role doesn't become him.
The state should lay off the behavior modification and let people study everything from art to zoology. Don't worry. We'll figure out what we want to be when we grow up.

Cary McMullen is a journalist and editor who lives in Lakeland. He can be reached by email here.