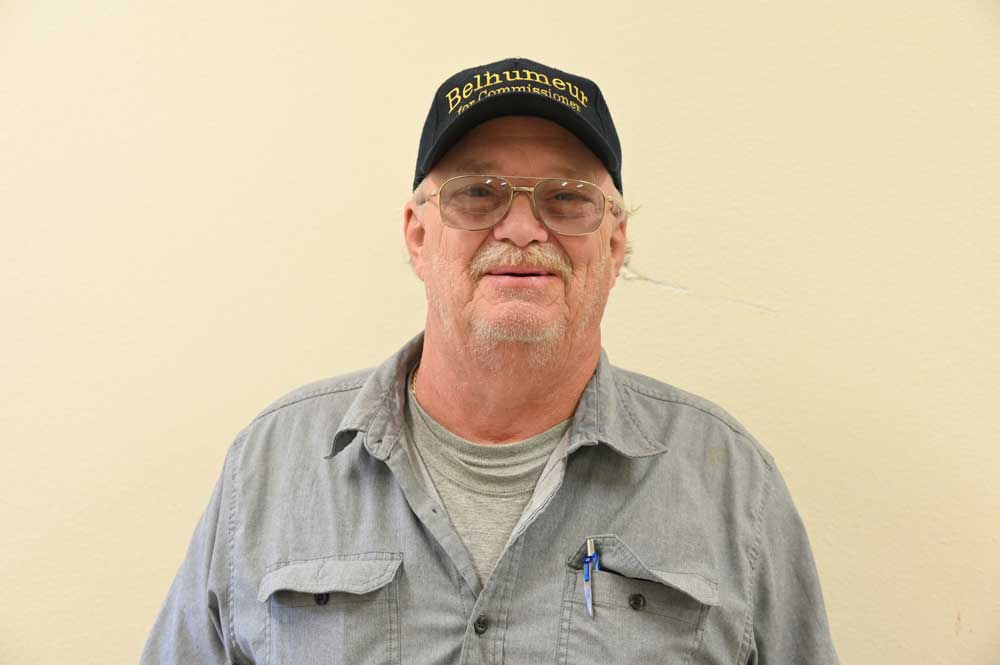 Rick Belhumeur is one of five candidates for two seats on the Flagler Beach City Commission, along with Bob Cunningham, Doug Bruno O'Connor, first-term incumbent Deborah Phillips, and Scott Spradley.
The non-partisan municipal election will be decided on March 7. Voters registered in Flagler Beach have been casting ballots by mail since early February. All registered voters in the city, regardless of party or non-party affiliation–Democrats, Republicans, independents and others–may cast a ballot. Here's a sample ballot.
The top two vote-getters will be elected to a three-year term on the five-member commission plus the mayor. The position pays $9,502 a year.
FlaglerLive submitted identical questions to all candidates. The Live Interview's customary follow-up questions have been in most or all cases dispensed with in this race: the interviews are intended to provide a brief if substantive snapshot of each candidate while still eliciting as much candor and transparency as possible. We have asked candidates to refrain from making campaign speeches or make lists of accomplishments. We have also asked candidates to reasonably document any claim or accusation.
The candidates received the questions last Sunday and all but Phillips completed them before the meeting on Feb. 9, where the commission fired City Manager William Whitson. The questions had included one about Whitson's performance. Those answers have been preserved since they reflect the candidates' analysis of city leadership. An additional question went out after the meeting, asking what next.
Note: the Flagler Woman's Club is hosting a Candidate Forum featuring the five candidate for city commission, on Feb. 21 at at 7 p.m. at 1524 S Central Ave, Flagler Beach.

The Questions in Summary: Quick Links

Place and Date of Birth: October 20, 1953, Baltimore, Md.
Current or last job: Retired January 2011 Sims Crane & Equipment, Daytona Beach (Heavy Equipment Mechanic).
Party Affiliation: Republican.
Resume here.
Website, social media: Facebook Page https://www.facebook.com/rick.belhumeur.3/
1. What makes you qualified to be a city commission member? How have you specifically prepared yourself to be ready to succeed from day one? Tell us about you as a person: your personality, your temperament, your foibles: what character flaw do you bring to the council? Who do you admire most in office today among elected officials in Flagler County—the person you'd consider a model of leadership?
Six years on-the-job experience as a Flagler Beach City Commissioner. Having already been the Commission Chair once and Vice-Chair twice, I could easily take the gavel again as the Chair on day one and run our City Commission meetings.
I already know and understand the structure of municipal government. I have studied our ordinances and have played a part in changing/updating many of them. I have studied and have a very good understanding of the City's Land Development Code and I participated in depth with its rewrite. I have been involved as a Commissioner six times in the process of putting together the City's budget.(in the end I voted against three of them) I have been to no less than five Florida League of Cities Conferences during my tenure as a Commissioner where elected officials from all over the State come to share notes. I've made multiple trips to Tallahassee during Legislative Session where the City's State Lobbyists took the City Manager and I to meet with our Local Legislators (Renner and Hutson) as well as other State Legislators to discuss our City's biggest challenges. Each time while at our State Capitol, the lobbyist escorted the City manager and I to meet with senior staff of many State agencies including Florida Department of Transportation, Florida Department of Environmental Protection, Florida Department of Emergency Management, Florida Department of Law Enforcement and Florida Fish and Wildlife to discuss matters relevant to our City. I was chosen by Commission consensus to represent our City on other boards and committees such as St. John's River Water Management, River to Sea Transportation Planning Organization, Friends of A1A Scenic and Historic Coastal Byway and our own Economic Development Task Force. I have personally developed relationships with all of the County Commissioners(with the exception of Pennington who just started) along with the County Administrator and many other senior County Staff members(several of which I have served with on different County Committees)
First of all, I'm a Libra. I get great satisfaction from helping others. After all, that's what Commissioners do, represent our constituents. I believe that no one is better than anyone else because of their status. I believe in playing by the rules and making sure that those rules are enforced consistently. I'm passionate about our City and protecting its character.
Character flaw? My occasional use of sarcasm.
Most admirable: Flagler County Commissioner Andy Dance. He's always well prepared for the meetings and asks the hard questions even if the others seem disinterested.
 See how they answered:
Bob Cunningham | Doug Bruno O'Connor | Deborah Phillips | Scott Spradley


2. Cite three issues or concerns that in your view the city is addressing poorly or not at all, and explain with as much specificity as possible how you intend to convince the commission to change course.
Spending is out of control: I would try to convince my fellow Commissioners to pay closer attention to our quarterly budget reports and ask more questions about discrepancies.
Poor transparency/communicating with the public: I would ask my colleagues that they take the City Manager's evaluations more seriously while extending some tough love by insisting the City Manager take responsibility for underperformance. The City has added three additional staff persons to help Mr. Whitson with his duties. I would also remind the other Commissioners that one of them was supposed to take on the responsibility of communicating with the public.
Not taking care of what we already have: As a mechanic my entire working career, I can certainly explain to the others that maintenance makes things last longer.
 See how they answered:
Bob Cunningham | Doug Bruno O'Connor | Deborah Phillips | Scott Spradley
3. Flooding is now a recurring problem in various parts of the city. Evaluate the city's response to flooding from last fall's storms. To what extent is the city capable of addressing the problem, at what cost, and with what revenue?
I think that the City did a great job of sharing the information that was available with the public. The hurricane Nicole information forum at Santa Maria Del Mar was very informative.
There are two parts to the problem. Storm water from rain events and surge water from storm events.
Storm water control in the city needs major improvements. The City collects a $13.50 stormwater fee every month from anyone that pays a utility bill and it's time more of that money is used for the reason it's collected. There was $797,000 budgeted last year for stormwater. At the end of the budget year only $162,000 of that money had been spent. I remember when I introduced our new City Manager to Representative Paul Renner in 2021 and Mr. Renner told us that there was lots of money coming available for controlling storm water. He stated that he would help us any way he could and that all we had to do was ask. That may still be an option for finding additional funds for stormwater improvements.
Unfortunately there is no way to control the storm surge short of what was done in New Orleans after the hurricane Katrina floods. New Orleans added flood walls and levees plus built pump stations designed to carry water away from homes and into the wetlands at the cost of $15 billion dollars. Even though anything similar built here would be a smaller scale, it would be cost prohibitive for a city our size.
 See how they answered:
Bob Cunningham | Doug Bruno O'Connor | Deborah Phillips | Scott Spradley



4.Relations between business and residents on one hand and the city on the other seem poor, and "communication" appears to be a problem, judging from the long but not entirely conclusive discussions of the city commission to date. Have relations deteriorated, in your view? Is there a communication problem? If so, explain why, and what your specific remedy would be.
I don't know that communications have gotten worse as much as there is so much more going on recently that it may seem that way. There is absolutely a communications problem. My remedy: Compile notes about everything going on each week and electronically publish a weekly newsletter, always at the same time and by the same means so people can depend on it for information. The City Manager has the budget and staff to do so.
 See how they answered:
Bob Cunningham | Doug Bruno O'Connor | Deborah Phillips | Scott Spradley






5.City Manager William Whitson's tenure has been rocky, as reflected by a recent three-month probationary term. Since you've attended almost every meeting for most of his tenure, how would you evaluate his strengths and weaknesses from your vantage point? Given the chance would you fire or retain him?
Strengths: Experience and Knowledge. Weaknesses: Missed opportunities, lack of transparency, failure to maintain day to day operations, deceptive and arrogant. His deceit and outright lies, lack of transparency and pure arrogance are too much to overcome. How can you keep a City Manager that you can't trust?
In light of the commission's firing of Whitson on Feb. 9, What key factors would drive your decision, first on an interim manager, second on a permanent manager? What skills would you bring to the table to avoid another managerial misfire?
We need an interim manager that is experienced and knowledgeable in how to manage a city that has a lot going on. Ideally someone familiar with our city and the challenges we face. The ideal manager should be capable of multitasking and delegating staff for maximum efficiency. We need an interim manager that can help us find a capable replacement for his/herself.
Our next permanent manager should have the same attributes as the interim and someone young enough to be our city manager for a long time to come.
I would never again accept a candidate for City Manager without doing my own extensive background check. I've learned that we can't rely on others to do that for us, even if it's our own Police Chief doing that background check. "Trust but verify".
 See how they answered:
Bob Cunningham | Doug Bruno O'Connor | Deborah Phillips | Scott Spradley



6. Have you ever been charged with a felony or a misdemeanor anywhere in Flagler, Florida or the United States (other than a speeding ticket), or faced a civil action other than a divorce, but including bankruptcies, or faced any investigative or disciplinary action through a professional board such as the bar or a medical board? Have you ever been demoted? If so, please explain, including cases where charges or claims did not lead to conviction or disciplinary action.
No.
 See how they answered:
Bob Cunningham | Doug Bruno O'Connor | Deborah Phillips | Scott Spradley