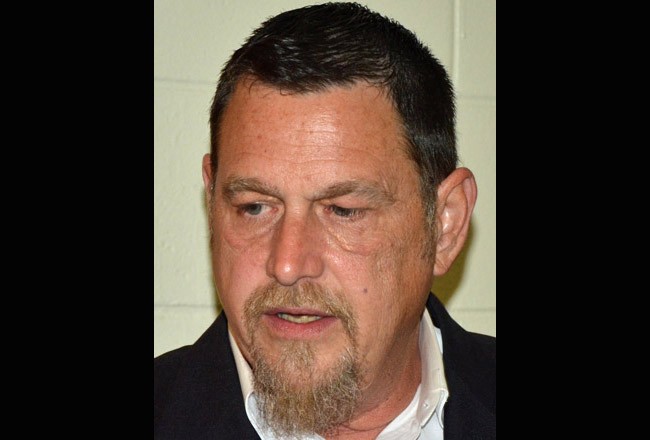 Note: The following story, by Tony Holt, was published in today's Daytona Beach News-Journal. FlaglerLive is grateful to News-Journal Editor Pat Rice for granting us permission to reproduce it here.


Mark Richter, who narrowly lost in the Republican primary for Flagler County Commission in 2014, emailed a sexually explicit image to local media Wednesday and included a warning.
"This was sent to me this AM!" Richter wrote above the image. "I figure this is what happens when media crosses that line!"
The emailed image depicts Osama bin Laden engaging in a sex act with a camel.
During a phone interview later in the day, Richter offered no specifics regarding the origin of the email but said he had a "constitutional right" to send it to a News-Journal reporter, as well as to the publisher of the Palm Coast Observer and the founder and editor of FlaglerLive, a Web-based news site.
Richter specifically referred to a story posted Monday on FlaglerLive that was critical of the Ronald Reagan Republican Assembly of Flagler County, of which Richter is a member. The email calls on people to boycott FlaglerLive and its advertisers.
"This is out there," Richter told a News-Journal reporter about the email he had forwarded. "Evidently, there are people out there who are very upset about what the media is publishing."
FlaglerLive's founder is Pierre Tristam, a Lebanese-American who was born Pierre [Fouad] Haddad. Tristam was the author of the story critical of the Ronald Reagan Republican Assembly.
Tristam said he forwarded Richter's email to Flagler County Sheriff Jim Manfre and is contemplating what to do next.
"What are you supposed to do with a complete idiot?" Tristam said about Richter after being contacted by The News-Journal. "He could be a dangerous idiot, too. On one hand, I don't want to play it up, but at the same time, I don't want to ignore it."
This isn't the first time Richter has criticized Tristam. In August 2014, Richter wrote a letter to the chairman of the Flagler County Commission stating Tristam should not be allowed to walk unguarded through county government buildings. He said at the time that it was unacceptable for Tristam to "roam freely" during a "heightened alert state," suggesting Tristam might have ties to Islamic terrorism.
Richter ran against Nate McLaughlin in the 2014 Republican primary for the District 4 County Commission seat and lost by 4 percent of the vote.
Richter said Wednesday he is the Ronald Reagan Republican Assembly's "sergeant-at-arms." But Bob Hamby, a former president and current second vice president of the group, said Richter has not officially been appointed to that position.
Hamby said he had not seen the email Richter sent Wednesday. He said that Richter has the right as a private citizen to send such material over the Internet, but added that he shouldn't do so in the name of the Ronald Reagan Republican Assembly.
"I don't necessarily agree with him sending emails that are offensive," Hamby said.
He added that, too often, local media link the group with the behavior of its members acting outside the interests of the group.
"This whole guilt by association, I don't appreciate it," said Hamby.
Richter declined to identify who sent the image of Osama bin Laden and the camel to him, but said it did not come from another member of the Ronald Reagan Republican Assembly.
Manfre said Wednesday he told media members during the "last election cycle" that if they ever feel threatened by anyone from the Ronald Reagan Republican Assembly to contact the Sheriff's Office.
"We're not going to let mad men affect our elections process," the sheriff said.
Manfre, a Democrat, wouldn't comment specifically on the email forwarded to him by Tristam other than to say he's "looking into it."
Richter's message in the email also referred to a stock photo Tristam posted Monday of two Middle Eastern women voting with their heads and faces covered and included the sentence, "Was that picture his sisters or family members on his site?"
Richter added in his email that he agrees Tristam "does deserve to be put out of business" and closed by stating he wondered what other "advertising rag" would be next.
Richter told The News-Journal he has no personal beef with Tristam, but added he doesn't think people "should be talking about clubs that they don't know anything about."
He said he is tired of the media attacking the Ronald Reagan Republicans and he mocked those who suggested the club is made up of radicals.
"The radicals down there are about 70 to 80 years old," he said. "They're constitutionalists. If that makes you a radical, then the Constitution is radical."

Disclosure: Mark Richter and the Ronald Reagan Republican group both had multi-month advertising contracts with FlaglerLive.