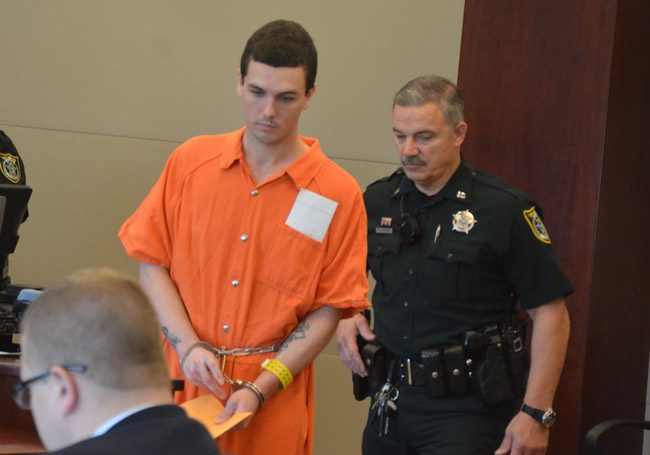 Evasion in 26-year-old Richard Westervelt's character is not a metaphor. It's what's repeatedly landed him in jail, what has aggravated the case against him, and what he still tried to pull off even today as he was facing sentencing in a plea agreement before Circuit Judge Dennis Craig: Westervelt was willing to go to prison for four years. The judge wanted nothing less than five years.
"48 is not good enough," Craig told Westervelt, the prosecution and the defense, all of whom had agreed to 48 months. Westervelt had actually conceded to two years. The prosecution wanted five years. The four years was supposed to be a compromise.
But not in Craig's view. The judge, barely finishing his first year on Flagler's criminal bench (he'd been a civil court judge for the previous six years in Flagler and Volusia), has been developing a distinctly more punishing side of late, rejecting plea bargains for being too lenient, which has resulted in considerably more trials on his watch than on his predecessors' watches. "I was barely agreeing with the 60 months," he said. He was almost certainly aware of Westervelt's past, which includes fleeing from cops–three times, the last one in July–committing violence on a law enforcement officer, committing violence on a paramedic, contempt of court, failure to appear, numerous probation violations, drug charges and more.
Westervelt, last a resident of 56 Ryland Drive in Palm Coast, stood in front of the judge silent, but apparently not willing to go with the judge's offer. His only other choice would be to go to trial, where, if found guilty, he could have faced 28 years in prison. The judge made yet another offer: Westervelt could take his seat again and think about it while other cases were dealt with. Westervelt sat down and spoke with his public defender, Regina Nunnally.
By the time the courtroom was nearly clear of the dozens who'd turned up either to be sentenced, scheduled for trial or disposed of, Westervelt stood back up and said he was willing to accept the plea at 60 months, or five years, in prison–what will be his first prison stint after no fewer than 13 arrests and some 44 felony and misdemeanor charges in the past seven years: perhaps he couldn't be blamed for thinking he could always elude prison one way or the other, as he had for those many years. But Craig was no longer so inclined and had little patience when Westervelt claimed he's not had a chance at drug rehabilitation.
"You used up your chances," Craig said. Craig was not pre-disposed to leniency in Westervelt's case: he had previously allowed him on furlough only to have Westervelt commit yet another offense. The Westervelt tried yet another approach: he said his grandfather was on his deathbed. That didn't go anywhere with Craig, and finally sentence was passed.
In this case, he was being sentenced for a mixture of felonies and misdemeanors, including fleeing from cops, possession of hydrocodone, assaulting a paramedic, possession of drug paraphernalia, of less than 20 grams of pot, and knowingly driving without a license. Since he's already spent 228 days at the county jail since his last arrest. That's credit off his five-year prison term. The judge considered that time to be enough to cover the misdemeanors. But not the felonies, which including the more violent charges: the hydrocodone charge alone got him five years. But since the judge was willing to let all the charges run concurrently rather than consecutively, the prison term would be limited.
That's on the Flagler charges. Westervelt still faces more charges in Volusia County, where he was arrested in July on his latest fleeing-and-eluding cops charge, a hit-and-run charge at a crash with property damage, and driving on a revoked license, among other charges. He is scheduled for trial on those charges in early 2018, in Volusia, assuming there's no plea beforehand.
"Good luck to you, I hope you have a better start next time through," Craig told Westervelt, who thanked him. The judge also told him to stay away from drugs in prison. "I talked to somebody the other day, substances are available," the judge told him. "Don't do that. Don't do that.; Take a different route in the department." Judges refer to prison as the Department of Corrections.
That ended a more-than-two-hour string of pleadings, dispositions and further scheduling of dozens of cases before Craig, which also included the case of Maria Howell, the 20-year-old Palm Coast woman accused of molesting a 14-year-old girl when Howell was 18. Hers is another case where Craig's harsher approach was evident. A few months ago prosecution and defense had agreed to a plea agreement that would have Howell serve 10 years' probation and avoid the designation as a sexual offender. Craig rejected it, saying he wanted prison time. The two sides returned with some prison time. The alleged victim's mother appeared before Craig and said the two years offered was not enough. Craig agreed. Howell opted for a trial at that point, which is now scheduled for jury selection on Jan. 22. If found guilty, she faces up to 30 years in prison.