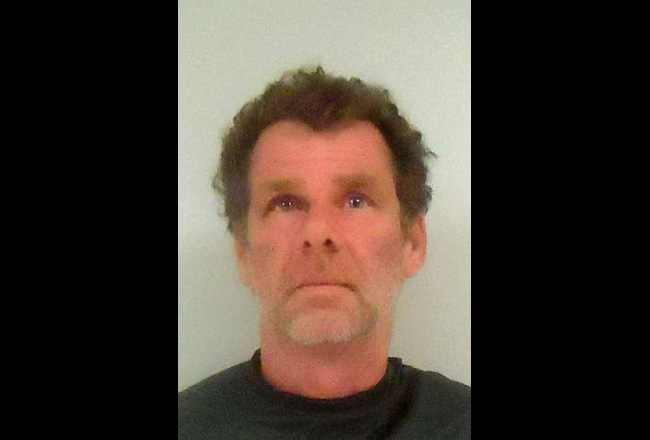 Richard Spear, a 50-year-old resident of Daytona North—also known as the Mondex—has a very long record in the Flagler County court system: it extends to four pages on the clerk's website and goes back to 1990. The record is replete with felony and misdemeanor charges, and four bookings at the Flagler County jail since 2009—for criminal mischief, shooting a deadly missile, domestic violence battery, and violating probation.
On Sunday, Spear was arrested again after confessing to battering a 30-year-old woman and threatening her and her ex-boyfriend with a Louisville Slugger baseball bat, which Spear's arrest report states he took to the ex-boyfriend's car as well, smashing the hood and windshield. Along the way, Spear also allegedly managed to run off when police were about to execute a traffic stop. Monday, he was being held on $5,500 bond on five charges—a pair of aggravated assault with a deadly weapon charges, battery, petit theft and criminal mischief.
It started late Friday night. Angela Rodriguez, a Daytona North resident, had been visiting Spear home at his home. She told police that he'd illegally bought 11 pills of Xanax for recreational use. Xanax is an anti-anxiety controlled substance, but not a narcotic.  Spear had placed the pills in a cigarette box, Rodriguez told police, and took two pills after drinking "approximately 18 cans of beer," the report states. The time frame of the drinking is not included.
Spear then "suddenly accused her of stealing his pills," the report states. Rodriguez denied taking the pills, "and that she even stripped down to show that she was not concealing the pills anywhere on her person." She claims Spear then "proceeded to strike her in the head four times with a closed fist and once in the stomach."
Rodriguez then called her ex-boyfriend, William Patterson, for a ride. Patterson lives nearby. When Patterson arrived at the scene, he told police that he saw Spear "with his arms around Angela, smashing the cigarettes that were in her hand." Patterson took the cigarette pack, at which point he said Spear "struck Angela in the head once again." Patterson, coming to Rodriguez's aid, then "struck [Spear] in the face with a closed fist several times."
Spear was angered. He grabbed a baseball bat, "then aggressively advanced towards [Rodriguez] and [Patterson] with the baseball bat in hand," the report states, forcing them to retreat to [Patterson]'s truck because they were in fear. [Spear] then struck the vehicle numerous times causing damage to the hood and breaking the windshield (approximately $300 in damage)." Rodriguez and Patterson say Spear ran back to his house, threatening them both: "I'm going to get my shotgun and kill you," they claim he said. Rodriguez and Patterson drove off.
It was after midnight—by the, Saturday morning—when deputies drove to Spear's home at 4861 Mahogany Blvd. On the way, the deputies saw an Isuzu pick-up truck run a stop sign and pull in front of the sheriff's deputy's cruiser. The tag identified Spear as the truck owner. The truck went south on Lancewood St. and toward Mahogany Blvd, where it ran the stop sign while turning east onto Mahogany. A deputy tried to execute a traffic stop. But the truck abruptly made a right into the driveway of 4889 Mahogany Blvd. "The driver of the pickup parked in the driveway and the driver, a white male, approximately 603 tall, 170 pounds, with brown hair and resembled Richard Spear," the report states.
As soon as the truck was parked, the man driving it ran off, away from the deputies, the report states. "Due to the lack of criminal charges at the time that [Sp[ear] ran on foot, it was determined not to initiate a foot pursuit with the subject," the deputies report.
Later that evening, a deputy was sent to the 4861 Mahogany Blvd. address to follow up. Spear was there. He claimed at first that he'd been battered by Patterson and robbed of $50 by Rodriguez the previous night, and that he had not been driving his truck when a deputy had attempted to stop him. As a deputy was conducting his investigation, Spear "stated on camera that he had illegally purchased approximately 11 pills of Xanax for personal use" and "that the $50 never existed," the arrest report relates.
He also said he'd grabbed and struck Rodriguez the way she and Patterson had described it, the report states, and admitted to using a baseball bat to threaten the pair. Spear showed deputies where he mkept his Louisville Slugger bat, which was taken into evidence. Spear said "he also had [Rodriguez's] cell phone and that he had been sending naked pictures at her to numerous people," the report states. Florida passed legislation criminalizing cyberbullying last spring, but the law applies to minors, not adults. Spear, according to the report, refused to turn over the phone.