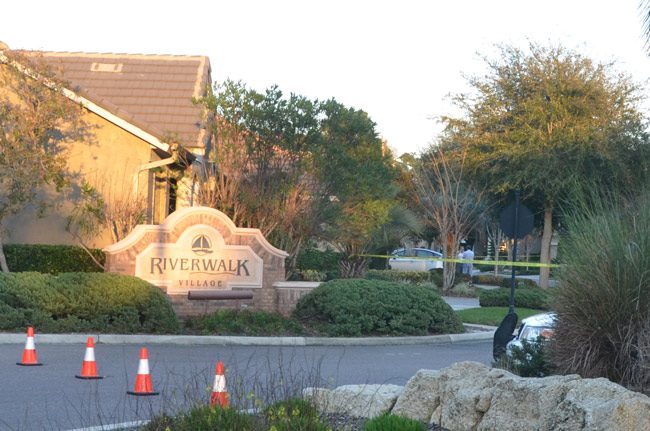 Lucille Horton, a 69-year-old resident of 7 Jasmine Drive in Palm Coast's Grand Haven, the gated community, was charged with vehicular homicide and arrested today over the alleged killing of her husband, Richard Michael Resnicoff, during a confrontation in front of their home three and a half years ago.
Horton, in court papers, claims Resnicoff had been violent to her long before that day, and that he had threatened her and been violent toward her that very day, causing her to flee. They had been married three and a half years.
Resnicoff had been a studio guitarist who'd played with Buddy Rich, Frank Sinatra, Dizzy Gillespie, Harry Belafonte, Barry Manilow, Tony Bennett and others, as he did in Broadway musicals and television shows, before retiring to Palm Coast, according to a brief obituary published in a New Jersey paper. The obituary also said he was "survived by his loving wife, Lucille, his son, Zachary, and his stepdaughter, Kira."
Horton was booked at the Flagler County jail this morning and released on $20,000 bond. She had also faced a charge of leaving the scene of an accident. That charge, included in the original affidavit filed by the Florida Highway Patrol, was dropped on June 14, the same day the State Attorney's office signed the information affidavit leading to the arrest warrant, which was served early this morning.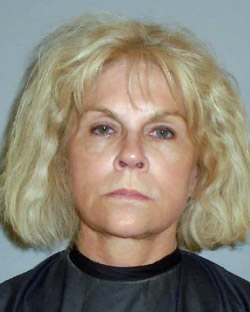 Horton is also facing a civil lawsuit, charging wrongful death as a result of negligence and battery. The suit, seeking more than $15,000 in damages, was filed filed by Resnicoff's son Zachary Resnicoff in January 2015. (The court papers list the plaintiff as "Zachery.") Horton has filed a counter-claim. The case is proceeding with depositions and the like, and with a hearing scheduled before Circuit Judge Scott DuPont on Aug. 16.
Richard Resnicoff's death had raised suspicions from the start of the FHP investigation, conducted by trooper Steve Howard. Howard had responded to the crash scene at 4:41 p.m. on Jan. 12, 2013, on Jasmine Drive, in front of Resnicoff's home, in a section of Grand Haven called Riverwalk.
According to Howard's investigation, Resnicoff "had at some point, as [Horton] was leaving her residence, positioned himself (riding) on that vehicle's trunk area." Horton was driving a 2012 Hyundai Sonata. Initially, Horton drove slowly west toward the intersection with Egret Drive. But as she approached the intersection, she accelerated, the investigation found, causing Resnicoff to be ejected from the trunk and to tumble onto the pavement. He struck his head and was apparently killed where he fell: his body remained in the middle of the road for several hours as the investigation proceeded, covered in a yellow tarp.
Horton blew through the stop sign and left Grand Haven.
A Flagler County sheriff's deputy later found the Sonata unoccupied at the Shell gas station on the east side of Palm Coast Parkway. Horton herself was at the CVS pharmacy. She was escorted back to the crash scene. Driving her back to Grand Haven, Howard asked her if she knew that her husband had been sitting on the trunk of the car as she drove. Horton said she did. "She further admitted that she accelerated to get him off her vehicle's trunk," the investigation's report states. But she told the investigator that she did not see Resnicoff fall.
At the gas station, she called a friend and neighbor, Thomas Shelko, asking him to come pick her up. Shelko convinced her instead to contact law enforcement, which she did–90 minutes after her husband had fallen off her car. "At no time did I observe any physical injury to her," Howard's report states, "and although she was upset, she did not express at any time that she was fearful at the time of the incident. At no time did she attempt to notify law enforcement until convinced by Thomas [Shelko] to do so."
That statement to the homicide investigator–that she had not been fearful for herself–will be key in the case against her, though it sharply contradicts what she would later claim in the civil lawsuit.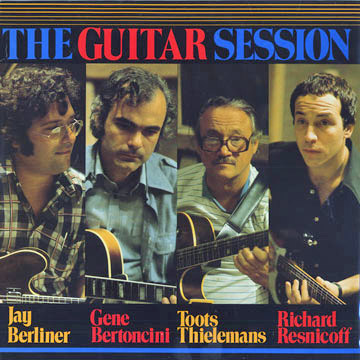 The investigative report and subsequent arrest affidavit give no sense as to the context of the January 2013 incident that led to Resnicoff's death. But Horton's response–and counterclaim–to the civil lawsuit does.
Resnicoff, one of the affirmative defense of the suit states, "was physically, verbally and emotionally abusive to [Horton] in the course of their marriage. Specifically, on the date of the accident, [Resnicoff] intentionally caused physical harm to [Horton] on multiple occasions, and [Resnicoff] was attempting to stop [Horton] from fleeing [Resnicoff's] ongoing, imminent use of unlawful force against her when she drove her car from the residence. If [Resnicoff], in fact, died as a result of falling from the trunk of [Horton's] car, [Horton's] actions were justified in that she was fleeing from being further injured by [Resnicoff]."
The response goes on to claim that Resnicoff was "committing or attempting to commit a forcible felony, namely, battery upon a person 65 or older […] at the time he was allegedly killed by" Horton. The defense also claims that Resnicoff was negligent for jumping onto the trunk of the car, and assumed the risks of that act, thus contributing to the cause of his death. In Horton's counterclaim–in which she, too, seeks damages in excess of $15,000–she charges that Resnicoff had threatened her with force and told her: "I'm going to get violent with you if you don't get in the bedroom." She claims he had "carried out numerous acts of violence" against her before the day of his death, and that day, had gone so far as to grab her car keys from her, as she was in the car, to keep her from driving off–forcing her to go to a neighbor's house for several hours in hopes of waiting him out and getting a set of spare keys later.
When she returned home, he "violently threw [Horton] against a pillar," but she was able to get her keys and flee. That's when the confrontation outside took place.
Horton's counterclaim reveals that according to the terms of the couple's pre-nuptial agreement, she was entitled to some equity from a second home Resnicoff had bought–money she alleges his son was denying her.
When deputies went to Resnicoff's house on Jasmine Drive this morning to serve the warrant, "it appeared the home was vacant and not currently being lived in," according to the sheriff's arrest affidavit. A neighbor told the cops that Horton had been at the house on Monday, but that she was staying elsewhere in Grand Haven–at the Shelkos. Deputies proceeded to that Sand Pine address, where Horton had been sleeping inside a pool-house bedroom.
She was arrested on a warrant signed by County Judge Melissa Moore-Stens on June 17, and booked at the county jail later this morning. She was released on bond. Vehicular homicide is a second-degree felony, exposing Horton to up to 15 years in prison if found guilty.