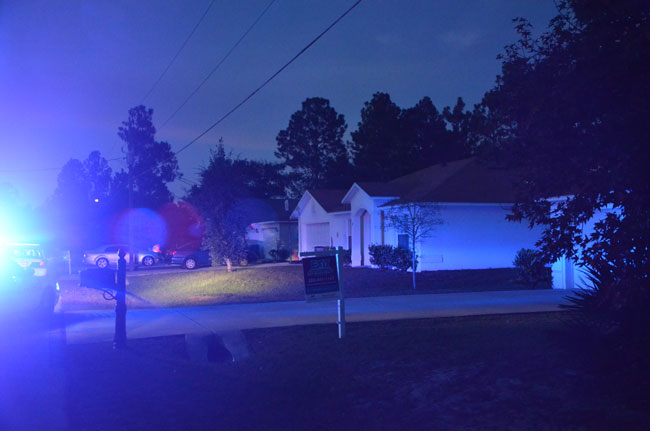 Residents of Palm Coast's P Section along White View Parkway and Pine Grove Drive would have noticed heightened police activity Friday evening just after dusk–cop cars whizzing by, cop cars parked along dark shoulders–with cops in them–cop cars driving in and out of the northeast section of the P's.
The activity centered on Pine Crest Lane where, at 5:45 p.m. that evening, police got reports of a stabbing. A little over two hours later, Richard Lorusso, a 44-year-old resident of 52 Pinecrest Lane, was in jail on aggravated battery and false imprisonment charges. He remains at the Flagler County jail today. No bond was set.
According to police reports, Lorusso allegedly tortured his 39-year-old wife for four hours before she managed to escape the house, run to a neighbor and have a neighbor call police.
The victim had bought the house on Pine Crest–which had been repossessed by a bank from a previous owner–just three months ago.
The victim goes by a different name than Lorusso. Her name is being withheld.
Based on the police reports, the events of Friday afternoon and evening went like this: Lorusso came home from work at 1 p.m. (His status on the sheriff's jail log is listed as unemployed.) The couple began arguing about Lorusso's truck. Lorusso didn't know its whereabouts. The victim says that during the argument the two began pushing pushing each other, ultimately resulting in Lorusso shoving his wife to the ground where, according to one report, he "kicked her in the face and ribs and stepped on the back of her neck while she was on the ground.
When the victim got back on her feet, Lorusso "pushed her into a wall and began punching her in the face and spitting on her," according to the victim's account to police. Her husband then "retrieved a razor blade knife and a kitchen knife from the kitchen and cut hers several times on the arms and back." The victim tried to leave the house several times, she told police, but he prevented her from leaving.
The ordeal lasted four hours.
After 5 p.m., while Lorusso was in the kitchen, the victim managed to escape through a sliding glass door and run across the street, down a few houses, to her 69-year-old neighbor, who called 911. By the time Flagler County Sheriff's deputies responded, Lorusso himself had vanished (and the victim was transported to Florida Hospital Flagler). Several sheriff's units, including a K-9, conducted a search of the neighborhood. It was fruitless. Lorusso had run to his father's at 30 Rymsen Lane, three miles away.
At the hospital, an investigating deputy reported, "I observed several marks and bruises on [the victim]'s forehead, neck and back. Her nose was red, swollen and bloody, and cuts were observed on her forearms, wrists and back. One of her front teeth was chipped and her upper lip had several cuts on it."
Lorusso's father advised his son to turn himself in, which Lorusso did at 8 p.m., at the county jail. Speaking to deputies, Lorusso said the argument began over his truck, but that it was his wife who got a knife and began to cut her own wrists. Lorusso said she had a history of cutting herself. He attempted to take the knife from her, saying he was fearful she would hurt herself. It escalated the fight. She bit him, he said (and teeth marks were detected on Lorusso's right forearm). It's not clear, from Lorusso's account, how his wife ended up with the severe injuries to her face and cuts on her back, among other injuries.
A red and black, box-cutter-type razor blade was located at the couple's house and placed into evidence.