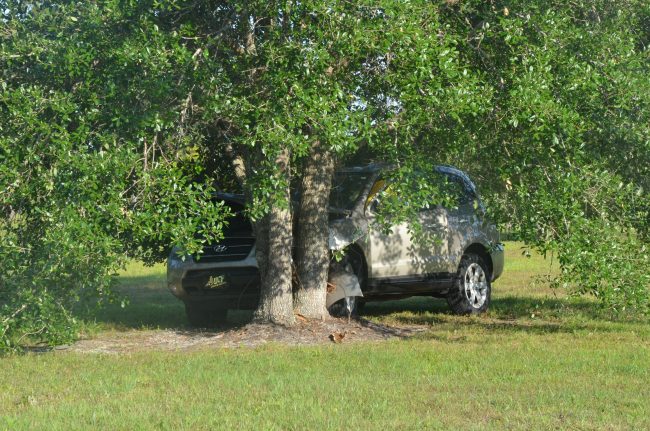 Richard Kuhn, 79, a resident of Palm Coast's W Section for the past 25 years, died at the wheel of his vehicle this afternoon as it left the road on U.S. 1 and crashed into a tree just north of the weigh station.
Kuhn was taking his wife Joan, 77, to the Mayo Clinic in Jacksonville as she was suffering a bout of high fever. She was taken to Halifax hospital in Daytona Beach by ground. The couple's daughter, Tracy Kuhn, 51, a resident of Oxford Lane in Palm Coast, was in the back seat and was not hurt, authorities said.
According to the Florida Highway Patrol's preliminary investigations and indications at the scene, the Kuhns were traveling north on U.S. 1 a little before 5 p.m. when Richard, who has a history of heart trouble, may have suffered a heart attack or a related medical incident. He may have pulled the car off the road–his foot was found on the brake–and struck one of the few trees along the road in that area, a few dozen feet off the asphalt, between the road and the walking trail further east.
The vehicle, a Hyundai SUV, sustained some damage on its front left section, but nowhere near the sort of damage usually seen when a vehicle strikes a tree or a utility pole at full force, and not the sort of damage that would appear to cause severe injuries. Florida Highway Patrol investigators at the scene concluded that it appeared Kuhn may have died from the medical condition rather than the crash.
The crash was reported minutes after 5 p.m. The Flagler County Sheriff's Office, Flagler County Fire Rescue and the Palm Coast Fire Department responded, followed by a Florida Highway Patrol investigator who happened to be driving by the scene soon after the crash. Other FHP troopers followed, as did the Palm Coast Fire Police, though traffic regulation was minimal as the vehicle and most of the traffic-homicide investigation scene was off the road: two bright-orange yellow paint spots marked the point at which the vehicle left the road, with clear tracks in the grass showing the Hyundai's straight trajectory toward the tree.
The vehicle was mostly dissimulated by a large oak tree and the crash scene would not have been discernible to passing traffic but for the line of FHP vehicles on U.S. 1's shoulder, there past 6 p.m. as they awaited the arrival of the medical examiner to take the victim's body to St. Augustine.